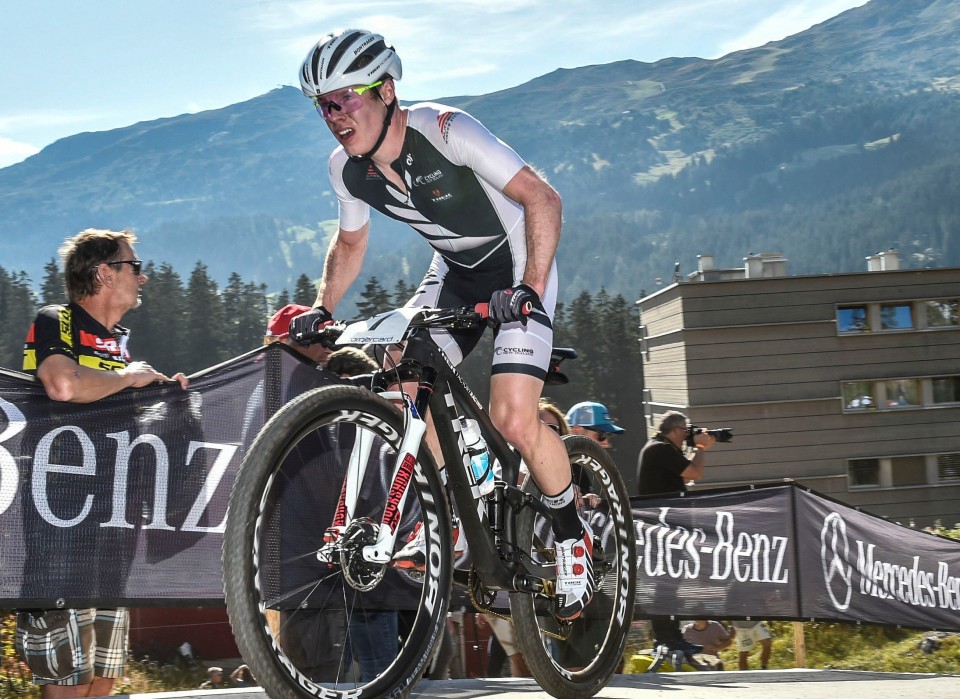 ANTON COOPER

Altherm Stats and Facts
Born: 1994, Christchurch
Age: 25
Star Sign: Leo
Category: Mountain Bike
Joined programme: 2011
Podiums
World Championship:
Gold, XCO Under 23, 2015 (Vallnord)
Gold, XCO Under 19, 2012 (Saalfelden)
Silver, XCO Under 19, 2011 (Champery)
Commonwealth Games:
Gold, XCO, 2014, Glasgow
Silver, XCO, 2018, Gold Coast
Anton Cooper – Competitive Spirit Burns Bright
He may be small in stature, but the flame burns big and bright inside for Anton Cooper, already a double mountain bike world champion, who is aiming to be the best.
How did you get into mountain biking?
"My father rode to work and started riding a mountain bike for recreation before it became a big thing. I enjoyed challenging myself, jumping off stuff and having a good time. We would bike down through the local forests and as bikes got better and I got better, it went from there."
Do you remember your first competition?
"My first race I was 11 – I lied about my age to get in as I was racing against year 7 and 8 kids and I was year 6. I was expecting to get my arse kicked but I won it against riders who were bigger, older, and more developed. I thought to myself "I like winning", and every kid likes to find something they are good at.
"I always raced people older than me and I enjoyed going through the categories. That was how it all started and how I fell in love with the sport."
What do you love about the sport?
"I love the competition. I am a competitive bastard and I like to beat others and prove to myself that the training was worth it and to get the best performance possible. I am driven by a fire in the belly and a desire to win and be the best I can be.
"There's no better feeling for me than to race World cups, World champs, Comm Games and hopefully Olympics – and doing quite well in it.
"I still love the fun element. Mountain biking is next level – the things you can ride, the types of terrain you can test yourself on. It is fun to test yourself around corners, jumps, over roots and rocks – all these things test your skills and ability and how fast you can do it how smooth you can do it, how consistent you can be. I enjoy these elements of it.
"I also enjoy the big back-country rides through Old Coast Rd, the Heaphy track, Banks Peninsula etc – and see so many awesome places."
Did you enjoy others pursuits?
"I loved playing all sports. I loved tennis – watching Nadal and Federer. I had dreams of being a professional tennis player. Then you go through the ranks and realise it's not going to happen. I was good at cross-country running too but at some point, you find out that you are not as good as you thought you were. "Cycling was for me and with mountain biking, I thought I could be world-class at this."
The sport is a stronghold in Europe. What are the challenges in breaking through from New Zealand?
"To become a professional mountain biker from New Zealand is a massive challenge. Being good in New Zealand is one thing but to be good and secure a job coming from New Zealand is hard to do. If you are a top-10 under-23 rider from Europe then you might get a contract. But there's no way you can get a pro contract with those results if you are a Kiwi.
"You have to win as an age grouper to stand out to get a good pro contract and carry it through to the elite ranks, or they will take the easier option. That is the tough thing to achieve – to secure that deal and breakthrough.
The other challenge is to find a base in Europe where you are comfortable living away from home up to eight months of a year. I am a home-body, I love everything there is about living in New Zealand – getting out into the backcountry, or go snorkelling – you can't do these things in Europe.
"If you want to do it right, you have to be based in Europe. It can certainly be lonely living overseas."
What was the key moment for you as a young rider?
"The defining moment was my first World Cup as an under-19 rider in the Czech Republic at Nove Mesto. I had no idea at all about how I was going to stack up. I was hoping that maybe a top-10 would be a good result for me. I ended up winning by over a minute. I thought wow I've just beaten all the European riders who had been winning the previous world cups – this little young kid from New Zealand winning as a first-year junior. That was a bit of a shock for them and myself. It was massively exciting.
"I got some interest from the big teams in the sport, some approaches from big team bosses and it all came from that moment with a big result."
What were the major challenges in Europe?
"It was tough to go to Europe as a young teenager on my own. It was tougher on my parents though. That made those sacrifices. I was young, excited and ready to take on the world. I didn't realise the sacrifices my parents had to make to get me on the start line – the travel, the accommodation, race starts and good equipment.
"I look back on what they had to do and it is humbling – along with a lot of fantastic support from friends and supporters, people who recognised the talent in me – and I am forever grateful for that. That is what got me overseas and allowed me to get a foot in the door.
"I am proud that I have been able to work my arse off to create this opportunity – but you can never do it alone. There have been so many people who have helped open a door for me."
There have been health issues and crashes in the pro ranks. How do you deal with adversity?
"I drew on previous setbacks and how I learned to deal with them. As a Cantab we've had so many things happen since my high school age with the earthquakes, the fires and the terrorist attack – these are all things you go through in your life and have to deal with – and when you adapt and overcome, they make you stronger. So, when you have things to deal with in your personal life you think that you have been here before, times have always been tougher for others, remind myself that I know how to deal with this. You think of it in that perspective that it is going to get better."
How will you re-set your goals with Tokyo Olympics now in 2021?
"In terms of the Olympics, I am by no means at the physical peak of my career so I can look at it that I will be a year faster, a year stronger and a year older. That is an exciting way to look at it. I will be 12 months faster and 12 months more prepared – I am excited by that and ready for it."
Altherm Options
What do you like doing when not riding a bike?
"I like to drive cars – the thrill of it. This probably is in part to having a Subaru sponsorship! I love getting out in the backcountry on foot or bike, deep into the mountains and experience what New Zealand has to offer. In more recent years I've enjoyed getting into the ocean – snorkelling and spear-fishing."
Favourite meal – Roast lamb and kumara
Any Superstitions - none
Your Favourite movie – any of the modern James Bond movies with Daniel Craig
Tea or coffee – neither don't do hot drinks
Smile or game-face – I think of myself as a smiler but when I look at the photos on race day it is definitely game-face
Cats or Dogs
Denim or Leather
Gaming or Exercise