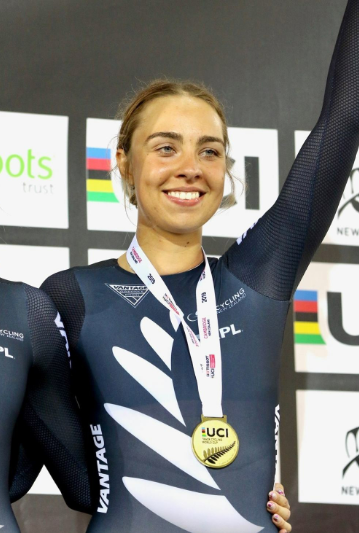 BRYONY BOTHA

Vantage Stats and Facts
Born: 1997, Auckland
Age: 22
Star Sign: Scorpio
Category: Track Cycling
Joined programme: 2018
World Championship:
Bronze, Team Pursuit, Poland, 2019
Junior World Championship:
Gold, Team Pursuit, Kazakhstan, 2015
Bronze, Team Pursuit, Korea, 2014
Commonwealth Games:
Silver, Team Pursuit, Gold Coast, 2018
Bryony Botha – multi sport fan gets on the right track
How did you get into cycling?
"I found cycling through my dad who had taken it up, so I decided to do it as well … and I was also doing triathlon at the time. Dad was a marathon runner but moved to cycling when his friends started. I was around 12 years old at the time."
What is it that interested you most about the sport?
"It was something that me and my dad could do together and I seemed to be naturally good at it and had a bit of success early on. The family were into sport. My mother was a representative hockey player and Dad was into running, so sport was always a given for me."
Did you play other sports?
"I played every sport under the sun. I did gymnastics for 10 years, netball for the same time, as well as hockey and volleyball… then I moved into triathlon and athletics through intermediate and into high school. I was into triathlon at high school – and cycling was my strongest leg so I just got more and more interested in cycling."
How did you get interested in track cycling?
"I started track cycling when I was 16 – mostly I was on the road until then. Initially I did not want to do the track because it looked so scary. Dad told me how a girl had broken her collarbone – so I thought I would not go there. But I had my first try at the Manukau Velodrome and I absolutely loved it.
"I loved the thrill of it – the feeling of excitement and exhilaration with the speed of it … and of course there's no hills on the track. I went to Rangitoto College on the North Shore so Dad would pick me up from school to take me to Manukau and I would sleep in the car on the way before racing."
What was the catalyst for your move to the elite squad?
"I had some success with the New Zealand team at Junior Worlds. But the change for me took a while – I was always in the B team for two or three years. Suddenly I was thrown in to the deep end and told I was in the top team. And the pressure was on to perform. Honestly I do not know the reason but one day I was in the B squad and the next it was in to the A squad.
"There were a number of things that had to change from that point. Nutrition was a big part – and I got a lot fitter, and leaner. I worked really hard on my weaknesses – I have always done that – but it was important to reflect on what I needed to improve and then go out and address it."
What do you love mostly about track cycling?
"I love it all. I love being part of the team, with the girls and working hard for eachother.
"When you are part of a team you do not have to be friends. But with our endurance team, we are all friends. Some of the girls are my best friends which is pretty cool. We know eachother inside out. We have had so many meetings about how we all work – I know how each of them will react in different situations. It is a really fun group and we make eachother laugh a lot.
"We are always pushing eachother to be better. When we go onto the track there is this unspoken trust in eachother, that each of us has done all we can to be in a position to perform in this moment."
What motivates Bryony Botha?
"I want to be successful - to make me and my family proud and I work really hard to achieve that. While the team aspect is so important, there is an individual aspect to the sport too, so you have to be self-motivated. It can be hard to cram in the training when you are juggling a bunch of things like university and other aspects of life. I am at Waikato Uni studying psychology and marketing. The study is beneficial both for my life as a cyclist and life after it. It is important that athletes have a Plan B for life after sport, and I also find the study helpful to get away from sport and be able to do something that interests and challenges me."
What is the key to resetting for Tokyo 2021?
"We need to keep ticking along. It can be easy to lose some motivation now the Olympics are a further year away. But it is important that we have our goals and keep eachother accountable in training and racing so we can be even better than we are now."
Favourite things when you are not on a bike?
"I like baking – and enjoy walking my dogs when I am back in Auckland. I like going out to dinner with friends.
What is your favourite meal?
Granola – breakfast. 100per cent I would eat it three times a day if I could.
Superstitions – If I go to sleep on one side of the bed I have to get out of the bed on that side or I will have bad luck for the rest of the day.
Favourite movie – The Choice which is a romantic drama.
Tea or coffee - neither
Smile or Game Face
Cats or Dogs
Leather or Denim