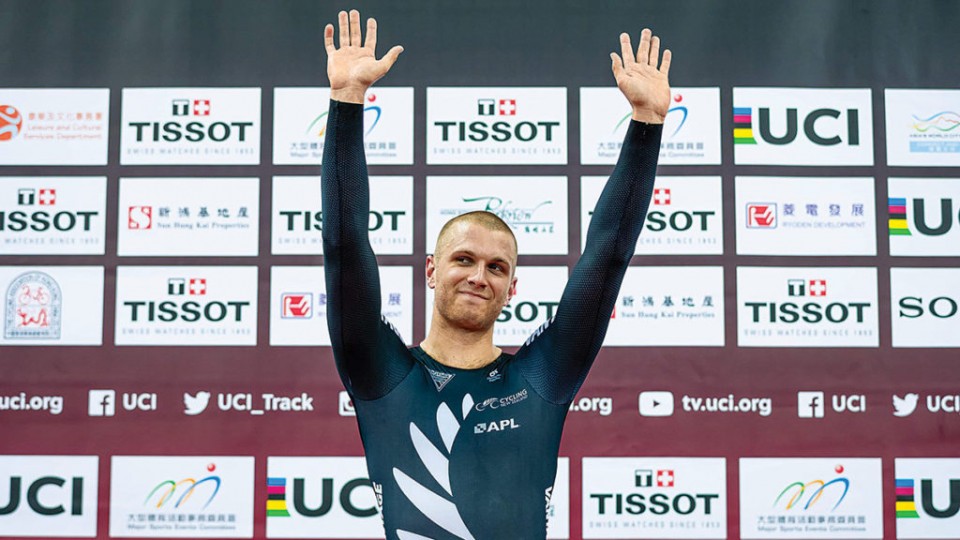 CALLUM SAUNDERS
Vantage Stats and Facts
Born: 1995 Blenheim
Star Sign: Libra
Category: Sprint Cyclist
Joined programme: 2019
Pathway:
NZ Team – Junior Track World Championships 2013
NZ Elite Team – Gold Medal, elite men's keirin, UCI Track World Cup, Hong Kong
Callum Saunders – persistence proves the key
Callum Saunders is one of New Zealand's leading sprinters who has overcome injuries and hurdles to establish himself as an outstanding sprint prospect.
How did you get interested in cycling?
"I grew up rurally in Marlborough, 15km from town with my best mate 1km away, so I quickly figured out it was easier to ride a bike than walk or pester mum or dad for a ride. It flourished from there. Mum and Dad were doing some longer mountain bike rides which I did too. Then it became Weetbix triathlon races, mountain bike races and then track … and it has taken its own path from there.
"I ticked off a number of sports as a kid like most young kiwis do. Basketball was a focus before I found cycling – my friends will attest that my hand-eye coordination is not too flash so the NBA was never going to be a serious career option. I tried rugby, volleyball and karate for a few years but when I decided to zero-in on a sport, then cycling is what I went with.
What is it you love about cycling?
"The constant pursuit and challenge of growth in the sport is what I love. It is both individual as well as having a massive team element to it. Success of my teammates drives me to be a better rider and a more professional athlete. But there is always the chase for individual perfection running along side it. I love riding my bike. There's been a couple of times in my career that I have met a cross-road and while I've known that cycling will always be part of my life, I have therefore refused to shut the book in this chapter. I just love riding and racing my bike.
What is it about sprinting that grabs you?
"The rush from the speed. The difference between winning and second comes to fractions of a second, and often it is about instinctive decisions. Seldom in sprinting is there an occasion when something happens and there is time to process it, weigh up the outcomes and act on it. In sprinting something happens had you have to react in a split-second. Sometimes it blows up in your face and sometimes you stand on top of the podium. Bumping elbow to elbow at massive speed is a rush. In the years I have been involved, sprinting has changed and morphed into something special in New Zealand.
What are the main challenges?
"I have low days with motivation like everyone does. I am doing this because I want to be here. There have been points especially with injuries where the easy route would have been to turn my back on the sport. I love making coffee. But the difference between good and bad is not massive. But for something I am really passionate about like racing bikes, getting a bad result feels like the bottom of the hill and getting a good result feels like standing on the top of it. Growing through the moments can be challenging but ultimately that is why I do it.
You have had to overcome challenges including injuries?
"Even as a junior I was a guy who was there or thereabouts but not one who got records or a heap of gold medals around my neck. The idea of persistence and learning the value to be gained from those low points and those losses has been really important for me. Now as an older athlete when I find – like I had a back injury last year and earlier this year a minor heart procedure – that they have been points that sucked but on the other hand I found points of growth and a lot of light in the dark.
What motives you?
"The challenge to be the best version of myself and using this sport as a vehicle to do that. I have an album on my phone that I look at of people who are really special in my life – my parents, grand-parents, siblings and friends and my partner – all that stuff – the people who have helped mould me into the person I am. And it comes back to personal growth and how I can use this sport to maximise that.
With Olympics pushed back a year – what is the effect for you?
"I have taken a pathway where I was lucky enough to go to the junior worlds and then have a few years in limbo. I only really only started training in cycling fulltime after Rio so for me it is a blessing to get another year to really build that engine and get more power, speed and strength under the belt. I was gunning for the Games in 2020 – and even a period of time with no racing was something to overcome. It will be the best thing for myself and the rest of the team.
What is the favourite thing to do when not riding a bike?
"I like photography - I enjoy that even when I am out riding. It is a good thing to look back on from campaigns away. I enjoy cooking too and right now have a group of flatmates who enjoy cooking too so we have fun taking a few hours preparing meals together. I just like being with people.
What is your favourite meal? – When I was a junior in the Marlborough winter then coming home for freshly backed sourdough bread, some home-kill venison and home-made ratatouille. That is a meal with plenty of nostalgia – and made my mum of course.
Any superstitions? – I read once that superstitions are bad luck – which I found really funny. I have habits and routines but I cut them off on race day so it is not something I am reliant on.
Your favourite movie? – Jurassic Park. I was a dinosaur nerd as a young kid
Team of coffee? – coffee of course
Smile or game-face? – Smile – I do not have a very convincing game-face.
Cats or dogs? – dogs
Leather or denim? – Denim. Double denim preferably.