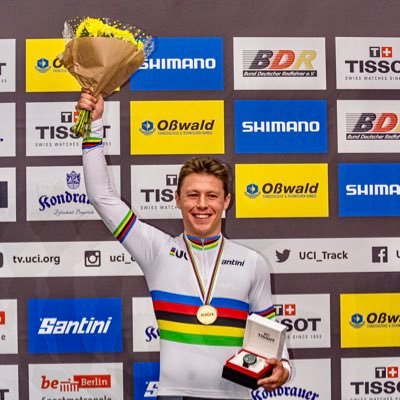 CORBIN STRONG

Vantage Stats and Facts
Born: 2000, Invercargill
Age: 20
Star Sign: Taurus
Category: Endurance Cyclist
Joined programme: 2019
World Championship:
Gold, Points Race, 2020, Berlin
Silver, Team Pursuit, 2020, Berlin
Junior World Championship:
Gold, Team Pursuit, 2018, Aigle
Bronze, Team Pursuit, 2017, Montichiari
Corbin Strong – rainbow riches for talented tyro
Southland has produced a long line of world class endurance riders, but none has made the jump from junior world champion to an elite rainbow jersey wearer quicker than Corbin Strong.
How did you get interested in cycling?
"My brother competed and my father also rode competitively. I remember going down to club races to watch my brother and father. What really won me over was following my brother compete in the Yunca Junior Tour when he was Under-13. I followed it for the weekend in a support car and it really got me motivated to start. I started when I was 10."
What was it that sparked the interest?
"My brother had a really good age group where they were all good friends but the racing was so competitive. I saw how they were great mates and just how cool that Yunca Junior Tour was, and how competitive it was – and how the competition changed so much throughout. I couldn't wait after that to get on to the velodrome and take lessons."
What to you love most about cycling?
"The thing I enjoy the most is how complex it is. There is so much to cycling. It is not all physical. The strongest person does not always win. There's so much more to it – with different courses, different races, different conditions often mean different people winning. No matter who is in the race, everyone has a chance of winning."
Did you ever consider other sports?
"I was a keen rugby player until taking up cycling more seriously around 13. I made the decision then that I liked cycling more but continued playing rugby until I was 15. I represented Southland through the age groups and captained South Island and South Island Marist. I had a bit of success in rugby for my school also in Years 9 and 10, playing mostly at centre and a bit on the wing. I still have a lot of interest in rugby but from a young age I knew cycling was what I wanted to do."
What motivates you in cycling?
"I enjoy most aspects of cycling. I love the freedom of getting out on the bike - putting in the hard work is something I enjoy and there's a lot of reward for those efforts."
What are the main challenges?
"Growing up in Southland the biggest challenge was the weather. You had to cope with a lot of cold, winds and rain. Up in Cambridge the weather is a lot nicer. Cycling is a good sport in that we get to race so often. Other sports might have one or two events a year and they are training all the time. In cycling we race so much and in so many different events which keeps it interesting."
Do you have a preference on road or track?
"I enjoy both road and track and I want to continue to do both of them for as long as I can. One complements the other. It took me a long time to learn that my road work really complements my track work. My first couple of years in juniors going to junior worlds, I didn't carry on doing as much on the road but I do now. And then it took longer to realise the track work can also help the road as well which I found out last year. The two complement each other."
How has life changed with a rainbow jersey?
"I have not experienced too much since the world championships because of Covid-19 lockdown. I had two weeks isolation coming back from overseas and as soon as that was up, we were into full lockdown as a nation so I have not had the chance to see too many people and celebrate too much. But I definitely gained a lot of respect and support from my teammates which was pretty cool."
What will be the key to reset the goals for the endurance team for Tokyo 2021?
"Initially the postpone was hard to take because the endurance boys were really well prepared and things were going well. We have a good group of guys and were tracking well for the Olympics for this year. But giving us another year is not going to disadvantage us. There are a lot of things we can work on and a lot of things we can do given another year. Nothing really changes in that the focus is still there. But we have more time to perfect the little things and get faster."
What was the big learnings from the world championships this year?
"We had a lot of confidence going in and our build-up was really good. The coaches' planning was really good. Everything building up to the champs went really well and we definitely worked out what worked for us. We had a clear plan going through to the Olympics. We came away from the worlds pretty happy with the results. We went faster than we have gone before but coming away we knew we have a lot more in us. We will have to go faster next year- the whole world is getting faster. We are excited about it."
What is the favourite thing you do when not riding a bike?
"I love water sports. I like going out surfing and going out on the lake with the family behind the boat. I haven't got my surfboard up in Cambridge so not much I don't do much else lately. I've not done much up in Cambridge yet. Mostly it is spending time with the flatmates. I just enjoy cycling."
Favourite meal? – My brother and I loved coming home to my mother's chicken pie – that would be my favourite.
Any Superstitions – "I used to have a routine I always did the same. But as I travelled more those superstitions became harder to replicate. If you are overseas and can't do things the same it can play with your head. So I don't have any superstitions anymore."
Favourite movie? – "Chasing Mavericks – I really liked Jay Moriarty in that –he has a really good attitude to life."
Tea of coffee – "Definitely coffee although with the isolation we were in, the tea consumption has gone up a fair bit."
SMILE or game-face – "I enjoy the sport and it is about having fun and not getting too serious. I think I ride better too when I am enjoying myself."
Cats or Dogs – "I grew up with cats around the house but I don't mind either to be honest."
Leather or denim – neither - I don't wear either of them.