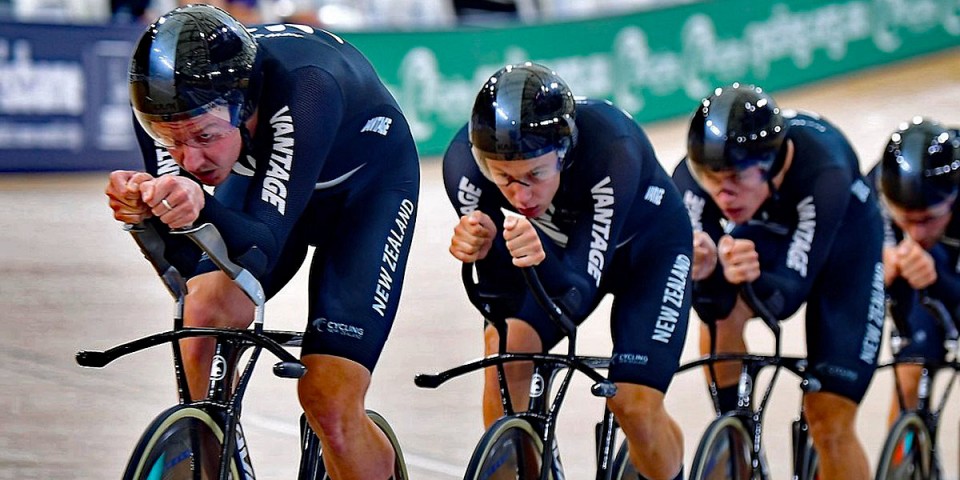 JORDAN KERBY

Vantage Stats and Facts
Born: 1992, Queensland, Australia
Age: 27
Star Sign: Leo
Category: Endurance Cyclist
Joined programme: 2018
World Championships:
Gold, Individual Pursuit, 2017, Hong Kong
Silver, team pursuit, 2020, Berlin
Junior World Championships:
Gold, team pursuit, 2010, Italy
Gold, points race, 2010, Italy
Jordan Kerby – following in mum's path for Olympic dream
Queensland-born, Jordan Kerby, not wanted by Australia despite winning a world title, switched allegiances to his mother's birthplace of New Zealand where he has found his home.
How did you get interested in cycling?
"It was a family sport on dad's side. I played a lot of rugby, cricket, football as a kid and got into triathlons. I swam and rode well but even if a bear was chasing me, I couldn't run to save myself. So, I stuck to what I was good at and did more and more riding. I got my first track bike when I was around 11 so I have been pedalling in circles for around 16 years now."
What was it that you loved about cycling?
"I love the sport of cycling but I also like the personal challenge of setting your mind on something to achieve. Cycling is definitely the avenue in which I have chosen to push myself and chase my dreams.
"I don't know if it is sport-dependant. I might have ended up with a different sport in trying to achieve the same thing. The thing about cycling that is really appealing is the fresh air and freedom which you can't get with all sports. The wind blowing in your face. You can just jump out and do it – you don't have to find a gym or a football field – just start riding.
"I quite like doing a lot of my training by myself, alone with your thoughts. Sometimes that's not so good (haha) but I find it quite enjoyable."
Did you consider other directions?
"I did try a lot of sports as a kid but as Dad rode a bit and this was a sport that I enjoyed some success early, so I just stuck with it from that point on."
What motivates Jordan Kerby?
"It is trying to get the best out of yourself every day. And setting yourself a goal that is not so common – like going to an Olympics or a World Championships. And focussing on pushing yourself to attain those goals. I have had my share of hurdles along the way which are big motivators for me.
"Then there is family who are the people who take the burden of having a professional sportsperson in the family and support them through thick or thin. Part of the motivation is doing your best for them as well."
What have been the major hurdles?
"Losing contracts with pro teams – like what happened with my road team in 2016. I decided I would not ride around Europe anymore. It was not where I was happiest. I was watching the Rio Olympics on TV in my apartment in Girona. I thought – well I used to be quite good at that as a junior.
"I came home and they were building an angled velodrome there at the time. So, I decided to throw a leg over and do my retirement race at the national championships in 2017. I won it and got picked up by the Australian team. I managed to win the world individual pursuit title and then the gold medal in the team pursuit the Commonwealth Games for Australia.
"I hit another hurdle there when they told me I would not be good enough to go to the Tokyo Olympics and they didn't give me much of a chance in the programme. So, I thought it was their loss, I will go elsewhere and I had the Kiwi heritage so I decided to make the most of it. I am so glad I did because it has been a brilliant experience on and off the bike.
"In hindsight telling me I was not good enough at something wasn't that smart. I don't think your capability in life should be governed by the thoughts of others. It is not their choice what you do. You decide, put your mind to it and you do not let other people beat you down. It is as simple as that."
What is the key to reset your goals for the Olympics?
"For me it is sorting some of the things that have got mixed up because of the Coronavirus - like a wedding and honeymoon that were planned for September after Tokyo 2020. The big thing is to reset and we have to push it out another year. So instead of five months together we have 16 months.
'For me it is just another hurdle. I was not too fazed about it - let's deal with it and carry on. I like the routine and habit of training every day so I have no issue about motivation.
"From a team dynamic, to have the Olympics pushed back after the world championships probably affected us more than others because we were on a super-strong trajectory - every time we went on the track we went going faster. Big things were coming for us in 2020 so now a few countries have a bit of time to get back in the playing field for 2021. I think there will be eight super-fast teams in Tokyo next year as opposed to this year where there were probably four of five teams.
"We have to identify the weaknesses and shortfall in each of our physiology and make changes and shifts so we can perform even better in 2021. The team has a great attitude and the boys have their heads screwed on – and I love the kiwi attitude- so let's just get on with it."
What are the favourite things you like to do when not riding a bike?
"Eating and drinking with friends, hanging out with my fiancé and taking pleasure in the simple things. I don't have any major hobbies so spending time with the people I care about. I tend to bounce around a bit so when ever I get back home or into Cambridge, I tend to just catch up with those I am close to."
Your favourite meal? – "At the moment, spicy Ramen and a nice cold beer."
Any superstitions? – "I've been forced (by my fiancé) into the superstition of not clipping your nails on a Sunday. Apparently it's bad luck."
Favourite movie? – "I don't have one – but most recently I enjoyed the John Wick 3 movie – I love how he is just unstoppable. The whole world is after him and they just can't get him"
Tea or coffee? – "Coffee 100%"
Smile or game-face – "Game-face, I think."
Cats or dogs? – Dogs. Very allergic to cats and can't trust them.
Leather or denim? – "There is a time and place for both. More on the leather side. But there's a fair bit of denim in the cupboard that makes an appearance. I am a man of comfort though."