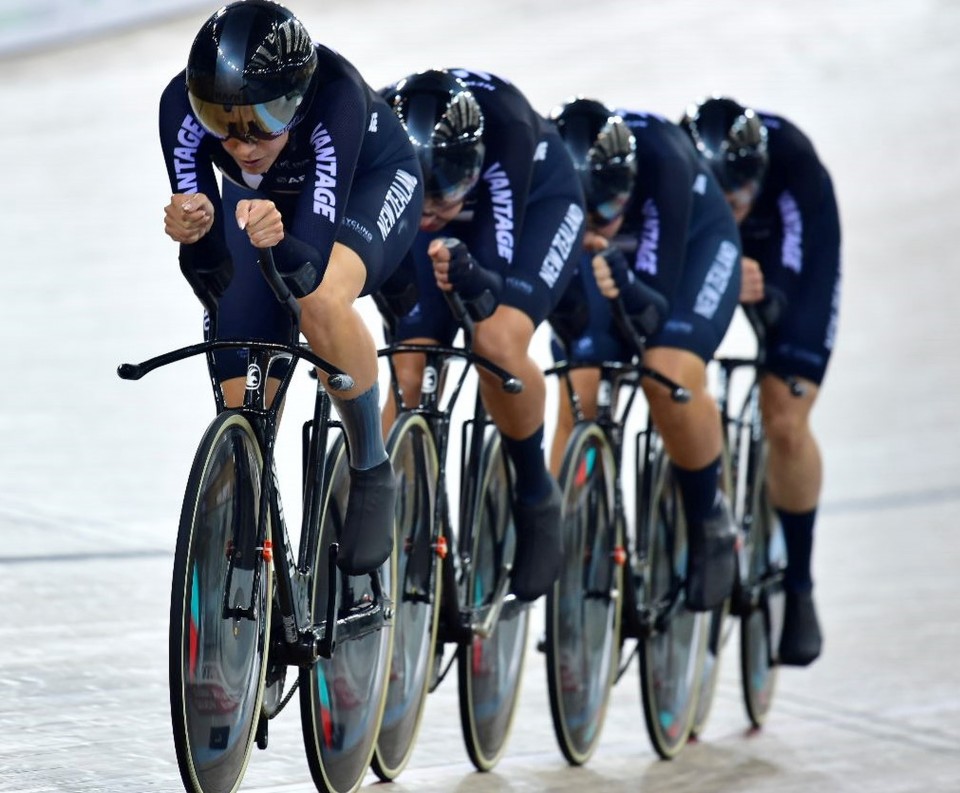 RUSHLEE BUCHANAN
Vantage Stats and Facts

Born: 1988, Hamilton
Age: 32
Star Sign: Aquarius
Category: Endurance Cyclist
Joined programme: 2009
Olympics:
2012 London
2016 Rio
World Championship:
Bronze, Team Pursuit 2010 (Copenhagen)
Bronze, Team Pursuit 2017 (Hong Kong)
Bronze, Omnium 2018 (Apeldoorn)
Bronze, Team Pursuit 2019 (Poland)
Commonwealth Games
Silver, Team Pursuit 2018 (Gold Coast)
Rushlee Buchanan – Enjoying a Global Cycling Life
How did Rushlee get into Cycling?
Rushlee found cycling by pure chance as part of a school study before she reached her teens.
"In 2000 I did a project on the Sydney Olympics. To be honest, I did not know that cycling was a sport. I thought it was something you did riding up and down the road with your mates or you rode to school. I picked track cycling and Sarah Ulmer. I mailed a hand-written note to Sarah – and she not only wrote back but sent me a kit. From this I became obsessed with track cycling and that was the start of the story and Sarah became my new role model.
You live in a cycling-mad town of Te Awamutu but never noticed cyclists?
"Once you start noticing something, then you see it all the time. Once we discovered that cycling was a sport you can do, then we realised that the weekly club race basically went past our driveway throughout the year. I started doing that. TA is one of the strongest cycling clubs in New Zealand especially for juniors. So, I was hooked and they were super-supportive.
What do you love most about cycling?
"I love the freedom – the ability to go out and explore and get outside, ride where ever I want. It is always an adventure. Obviously now it has taken me all over the world, and I have seen so much – of New Zealand – my own backyard – and all over the world being on a bike. I never ride with headphones because I just enjoy being out in the outdoors and in the environment and take it all in. It has made me a bit obsessive – I do need to go outside most days to get my fix.
How did your cycling life develop?
"After picking it up at the age of 12, I never wanted to do anything else. As I went on in cycling I got in to it at a great time because women's professional cycling was growing as a sport and so by the time I left the junior ranks I was able to go to America and Europe with a full professional job as such and have that be my lifestyle. Had it been any earlier, I would have struggled because women's cycling was not as big.
"It was a big culture shock to go from Te Awamutu to base myself in San Francisco with a big cycling team. It was a challenge but I thought I hit the jackpot. I loved living in San Francisco and the States and travelling to Europe. Most teams were super-supportive and had great teammates especially at the beginning of my career. It was challenging because it was a big cultural shift but one that I enjoyed."
How did you mix road with track?
"Track and road cycling complement each other. For most of my life I was a professional road cyclist as well as try to go to the Olympic Games and Commonwealth Games for track cycling. They were full schedules – in American racing on the road and come back in the New Zealand to do track fulltime. I love them both equally – they are both different and was able to switch over and enjoy them both.
"With the Tokyo Olympics opportunity, I decided to focus solely on track because the New Zealand track team is the strongest that it has ever been and at this time of my career it is best to focus on one."
How do you and your husband sort out time together?
We used to be both on the same pro road team in the States. That was strange too because we would go to the same races but not see each other. We would see each other in the plane to and from, then spend a few days together at home and do it all over again. It was a bit strange but we always knew what we were doing and going through.
"While we missed out on some things, we did some pretty cool stuff together like race in Europe and go to world cups and world championships together. It has been part of the journey and we have enjoyed it and made the most of it."
What motivates Rushlee Buchanan?
"I have not yet reached my potential in cycling. That is what drives me now to hopefully my third Olympics, knowing I have more to give. I hope that when I finish that I can be content with what I have done, what I have given. I have enjoyed all the experiences and I am grateful for what the sport has given me. But I feel I have more to give the sport and the women's endurance team.
Have you changed in your approach to the sport over time?
"I immerse myself in every aspect of my training. I like to understand all the aspects of what I am doing so when I go out to train that I know why and how it is going to benefit me. I enjoy that aspect and learning how each aspect of the sport fits together.
"I have a lot of knowledge now that you can only collect by lived-experience and I want to share my learnings. I would love to impart this knowledge to the team and help our women's endurance team grow.
What are the keys to re-setting for the Olympics?
'The key is consistency and determination to push on. We have everything we need. We are in a good position as a country. Our government is doing all the right steps to ensure as athletes we can continue to train to a high level while we are in lockdown and throughout this year of uncertainty.
"It is easy to be overwhelmed with what is going on in the world. The key is to control what you can control – your personal training and your personal daily life. So, if you can bring it back to the simple things you can still keep the consistency in your training.
"Even with the Olympics a further year away, it is not long and you can't take your foot off the throttle."
What is your favourite thing to do when not riding a bike?
"Playing with our new puppy. I've always been a dog person. I have walked dogs for people in our community because I love them so much. Now we have our own dog and he is keeping us occupied."
Favourite meal? – Breakfast. I could have breakfast for every meal of the day. My two favourites are a bunch of fruit with cereal, granola and yoghurt which is my training breakfast. If I have a day off it is eggs and avocado on toast.
Any Superstitions? – I used to. I would wear the same earrings or the same socks in a race. I have grown out of that in my "old age" mainly because I would forget them, and the race would go really good even without that special pair of earrings. So, I ruined my own theory."
Favourite Movie? - Hunt for the Wilderpeople
Tea or Coffee … for sure
Smile or Game Face – I am always game-faced. Google image me and my resting game face is everywhere. People think I am scary but I am not. Honest.
Cats or Dogs
Leather or Denim
Gaming or Exercise