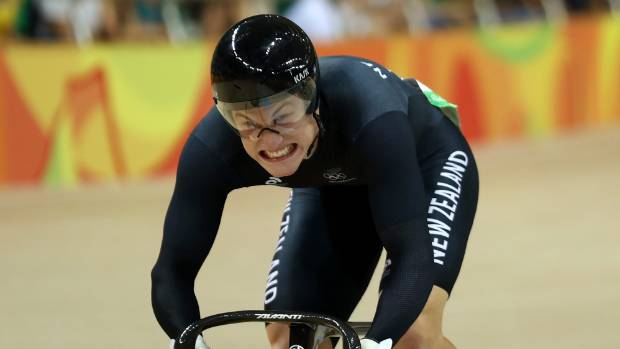 SAM WEBSTER

Vantage Stats and Facts
Born: 1991, Auckland
Age: 28
Star Sign: Cancer
Category: Sprint Cyclist
Joined programme: 2009
Olympics:
Silver, Team Sprint, 2016 Rio
World Championship:
Triple Gold, Jnr Worlds 2009 (Russia)
Bronze, Team Sprint, 2012 (Melbourne)
Silver, Team Sprint, 2013 (Minsk)
Gold, Team Sprint, 2014 (Cali)
Silver, Team Sprint, 2015 (Paris)
Gold, Team Sprint, 2016 (London)
Gold, Team Sprint, 2017 (Hong Kong)
Commonwealth Games
Gold, Team Sprint, 1st 2014 (Glasgow), 1st 2018 (Gold Coast)
Gold, individual sprint 2014 (Glasgow), 2018 (Gold Coast)
Silver, Team Sprint 2010 (Delhi), Keirin 2014 (Glasgow)
Bronze, Individual Sprint 2010 (Delhi)
Sam Webster – Doing his best to become the best he is capable of becoming
How did Sam get into Cycling?
I saw the Tour de France on TV and decided that was something I wanted to do. It was not something my family had done. I started with a group of my friends and from there, I enjoyed exploring the freedom of being on my bike and that graduated to speed. We all started at the track and I've rammed it since then.
Meeting Ethan
I had been on the track for about four months when I met Justin Grace and two years before he began to coach me. Until then my coach was Neil Ludlum who coached me through to my first Junior Worlds. I had been competing against Ethan on Friday nights and having good competition but after that time it made more sense for my career progression to move to Justin. He was a more experienced coach and it gave me the opportunity to train with Ethan and push each other.
We became top level athletes without knowing it just because of the environment that Justin created and that the two of us were pushing each other.
When did you realise sprinting was your thing?
My first race night at Manukau – I knew straight away. It suited me. I enjoyed it – even the longer races which I now know don't suit my riding style or physiology. I knew from that moment.
How has your relationship with Ethan developed?
Ethan and I turned up for our first ever session just a few weeks apart and it all happened quite organically. From that young age at school we have been racing against each other. From our first junior worlds together in September 2008 we have trained together almost every day and pushed each other as training partners ever since. In 2014 or 2015 we jokingly worked out we had already roomed together more than 1000 days. I would hate to think how many it is now.
It was just fortunate for me that there was a guy in the same city, with the same set of interests who turned up at the same time. We are both very different personalities but that is what makes it work.
It has been incredible and it is so fortunate that it has worked out – and helped us both get to where we are today both on and off the track. Without the relationship with Ethan, there would have been that bump in the road with no-one to share it with, or someone to help you through those hard days.
We have able to bring a competitiveness and keep at a level which has always been productive and helped us both improve and it has never got in the way off the bike.
What I love about cycling
I love the speed. But cycling is also so diverse. I can be on the track going 80kph. I can ride my bike to the top of mountains or on the flat where I can push myself in an endurance effort – there's a lot of freedom. I get a lot of self-worth out of what I do.
It is about bettering myself and finding new ways to work harder or develop new techniques or find a way to be more compliant with training, improving my body … always evolving.
What motivates Sam now
As an older athlete I have faced a lot of adversity and now I have the benefit of perspective and more ability of understanding a bigger picture and not stress about one bad training day or a niggle or a small injury. It is about compartmentalising things – what the key goal or target was in each training session, or each phase. With a goal for each day, then if you hit a road bump, you can still find purpose. And as long as you can find purpose with your input into training or whatever you are chasing, you get the ability to focus on that input and not on any adversity.
That input will put you in the best position to overcome adverse outcome.
It's about the people
The other key thing is to have a good network of people around you – which takes time. I decided that my own personal network should be independent from High Performance Sport rather than only have people who are part of the team to get me through things. So I have people in my personal life like my partner Stacey or others, and those relationships will be sustainable for my transition in life after sport which is something every athlete has to acknowledge is going to happen eventually.
The upside of Tokyo 2021
The situation now gives us a good opportunity to build a really good base and do a lot of foundation work which is something we need to build to Tokyo. With the calendar we have operated under in recent years meant we have not had as many weeks to do that work – with travelling to USA or Europe to do Grand Prix racing to get eligibility for World Cups to then race world cups to qualify for the Olympics.
Now the qualification is secured, we have the opportunity not to do as many races. Rather than the downside, you have to look at the opportunity in this situation.
What would success look like in Tokyo?
Success in Tokyo would be evolution from where we came from at Rio - that is the biggest thing we have been working very hard to reach. We have not got to the point where we have fully delivered on that but I believe the pieces are coming closer and closer together and we have seen evolution in our approach, in many inputs into training. We have a new coach who has defined our training and the way we execute and I feel there is a lot of benefit in that. With more time we have time to achieve that.
To be solid, consistent and technically execute. Everyone will bring their best physical attributes to Tokyo so it will be about who can execute technically, who has the fortitude to back-up and be super-consistent. They are the keys for us to unlock our best performances at the Games.
Vantage Views
Favourite pastime when not on a bike? - Tinkering with bikes, my dog for a walk, with my partner Stacey, listen to records and relaxing. I am more introverted and a home-body than going out-and-about.
Favourite Meal? – something spicy, vindaloo or spicy Mexican burrito – the two things I crave the most.
Any superstitions? – None. I have routines on race day which keep me in the mindset I need for clarity and the right place to perform.
Favourite Movie? – The Darjeeling Limited by Wes Anderson - incredible cinematography, storyline and humour.
Tea or coffee
Game face or Smile
Cates or Dogs absolutely
Leather or Denim
Gaming or Exercise