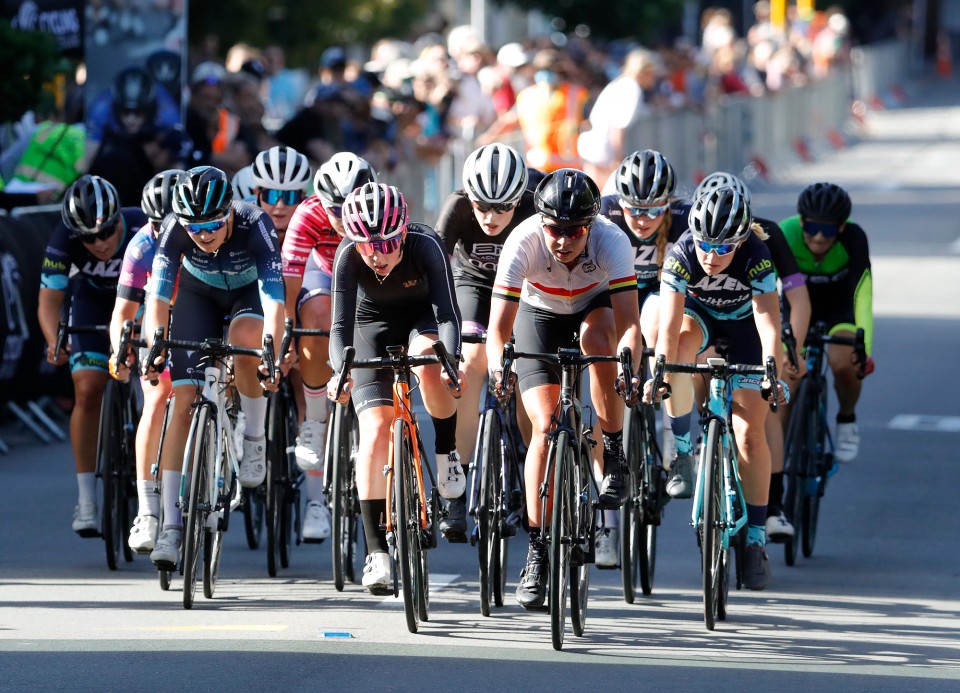 WorldTour cyclist Shane Archbold and rising star Ally Wollaston grabbed the honours in the Criterium National Championships in Christchurch today.
Archbold scored his first win back with the Bora Hansgrohe team, saving his run until three laps out and outsprinting the outstanding mountain biker Ben Oliver and in-form Nick Kergozou for the victory.
Meanwhile Wollaston saved her renowned sprint kick until the home straight to score a photo finish victory in the women ahead of Georgia Danford and Olympian Nicole Shields.
Twenty-one-year-old Wollaston became a two-time criterium national champion after winning in Christchurch in 2020, and had to settle for runner-up last year which fired her to push for the victory this year.
"There was some fire in the belly after last year. Some good-natured anger," said Wollaston. "It was quite tough with the cross-winds and that made it hard for anyone to break away, That suited me, because I was confident that I could back my sprinting ability."
It has been a strong few months for Wollaston, who switched to ride for a women's professional team in Europe which has provided real benefits to her strength on the track, as she competed at the track world championships and took out the Omnium and Madison titles on the track in Cambridge before Christmas.
Wollaston will return to Europe with her professional team again this year, after she targets the Grassroots Trust Elite Road National Championships in Cambridge next month, with eyes on selection for the Commonwealth Games.
Europe-based professional Danford (Auckland), twice on the podium in this event, sprinted home for second ahead of Cambridge-based rising track star, Shields.
The men's race came alight mid-race when 2020 winner Laurence Pithie, the Groupama FDJ professional from Christchurch and Archbold pushed for the break along with Keegan Hornblow. They opened a five second advantage before some strong riding from Regan Gough brought the peloton back.
Midway through the 45minute race, Bolton Equities Black Spoke rider James Fouche slipped off the front, put the hammer down and opened a 15-second advantage with 20 minutes remaining.
With help from his teammates, he stretched the lead that was eventually extinguished with eight minutes remaining after a strong move from Oliver and Ollie Jones.
With three laps remaining Oliver, Kergozou and Archbold made it to the front with the WorldTour rider's class proving too much.
"I won the criterium here in Christchurch 17 years ago and it has taken this long to get back. I had just enough in the tank to get up in what was a really enjoyable race," said Archbold.
"I love criterium races with the crowds out, it was great. It is good to come home and compete in races in New Zealand and it was cool to get a win for my Bora Hansgrohe team.
The age group races all came down to sprint finishes and victories to first-time criterium national champions.
After a successful Canterbury Track Club carnival in Christchurch on Saturday, three local riders dominated the 20-minute Koha Fitness Street Race won by Yancey Arrington from the Leeston club.
The Under-17 honours both went to local Christchurch riders and both in three-way sprint finishes. The female title went to Meg Baker who edged out Caoilinn Gray (Cambridge) and Jodie Blackwood (Auckland) while the male battle went to Matthew Davidson in a photo finish with Noah Hollamby (Timaru) and Lucas Bhimy (Auckland).
It was the same in the Under-19 females after Rolleston's Sammie Walker was hauled in by the bunch after claiming the early sprint prime. It was left to Seana Gray (Cambridge) who prevailed by the narrowest of margins over Amelia Sykes (Christchurch), with the pair having fought a number of battles on the road and track.
Talented South Canterbury rider Jaxson Whyte (Timaru) claimed the under-19 titles in a photo finish over Southland's Marshall Erwood and Auckland's Lewis Bower (Auckland) – all recording the same time.
Click here for all the results.
Photo credit: CMG Sport