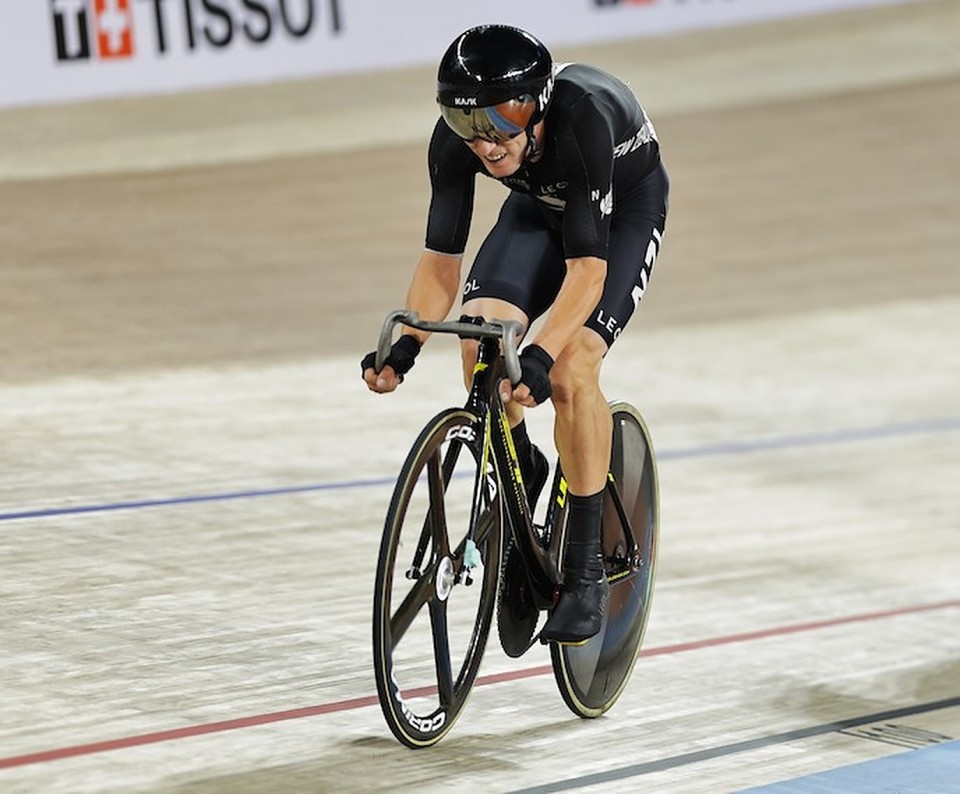 New Zealand teams topped the standings in the two-rider madison competition on the penultimate night of finals at the Oceania Championships in Brisbane.
The madison, developed from racing at Madison Square Garden in New York at the turn of last century, operates as a points race but with two riders, with one in-play at all times. They swap out with a hand-slinging action.
The experienced New Zealand track campaigners, Bryony Botha and Tom Sexton led the way to gold medals in the madison competition.
Botha joined with Sami Donnelly to win the 25km women's event on 23 points, which was clear of fellow New Zealand combination of Rylee McMullen and Emily Shearman on 16 with Australia third.
The experienced pairing of Sexton and George Jackson in their Black Spoke Bolton Equities professional road team colours, dominated the men's event to put two laps on the field to win with 79 points ahead of ACT and fellow kiwi riders Keegan Hornblow and Dan Bridgwater third.
The madison is now part of the world championship track programme.
Keirin champion Kristina Clonan of Australia made it two wins with victory in the 500m time trial. She topped qualifiers in 33.456 to be 0.5s ahead of Rebecca Petch with Olivia King a further 0.1s behind in third.
It proved the same order in the final, winning in 33.400 with Petch second 0.64s behind and King third a further 0.2s back.
New Zealanders Dan Bridgwater took out the elite men's elimination final over compatriot Tom Sexton, with seven kiwis among the final 10 riders still in contention
In Under-19 action, Southland rider Magnus Jamieson topped qualifiers in the junior men's 1000m time trial in 1:04.598, to be closely followed by compatriot Austin Norwell (Auckland) and Australian Oscar Gallagher.
Despite qualifying in seventh in a 1:06.977, the in-form endurance rider, Marshall Erwood from Southland claimed the kilo time trial final. He produced a strong 1:03.815 effort to win by more than a second from Jamieson with fellow kiwi Austin Norwell third only 0.2s behind.
Erwood continued his outstanding meet when he paired with Maui Morrison to win the 25km madison with 55 points, in a New Zealand clean sweep with James Gardner and Matthew Davidson second on 34 points and Austin Norwell and Kane Foster third on 24.
Both Australian teams were ahead of the Canterbury combination in the junior women's 4000m team pursuit, with the Australia A team winning the final.
However the combination of Megan Baker, Jodie Blackwood and Caitlin Kelly, racing under the G Force banner, took out the under-19 teams print in 51.940s, which was 1.6s clear of Australia.
Feilding rider Georgia Simpson carried the kiwi flag to finish runner-up in the under -19 points race, just five points behind winner Lauren Bates (AUS).
The championships conclude on Tuesday with junior omnium and keirin with elite racing in the time trial, elimination and finishing with the points race.