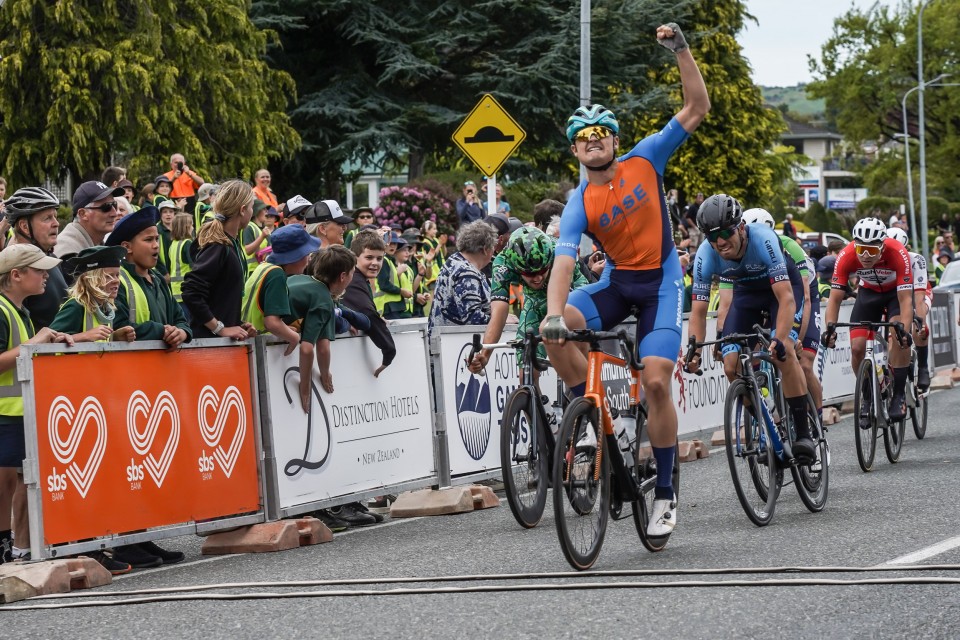 A big day in the wind has provided a record SBS Bank Tour of Southland field with its first major test of this year's race.
In the end it was rookie Zakk Patterson (Base Solutions Racing) who won a bunch sprint on the Te Anau lakefront, with overnight leader Boris Clark (Quality Foods Southland) retaining his slim advantage in a tight general classification.
The 148km stage from Riverton to Te Anau, over the Blackmount hill climb, saw a number of attempted breaks fail before Southland's Matt Zenovich (Share the Road-Macaulay Ford), a previous winner on the same stage, and Daniel Bridgwater (Base Solutions Racing) made the decisive break after Tuatapere.
Riding into what was at times a block headwind, the pair managed to extend their advantage out beyond 5min and crest the Blackmount together, with Zenovich assuming the leader on the road status.
However, the peloton was able to shut the pair down after the big climb of the day, eventually reeling in Bridgwater, the final holdout and Most Combative rider, with 10km to go to set up a big sprint finish where Patterson edged out fellow under 23 rider Kiaan Watts (Powernet) and George Jackson (Creation Signs-MitoQ).
"It doesn't get much better than that," Patterson said.
"The plan was to get into the break and we had Dan up there, who is probably one of our strongest guys. He stayed away all day and to cap it off I got the finish, which is perfect for us."
The result effectively retained the status quo, with Clark holding a 9sec lead over King of the Mountains leader Alex Heaney (Spoken Cycles), and leading under 23 rider Max Campbell third overall at 17sec.
After three stages there is still only 42sec covering the top 10 riders. "It was a pretty stressful day," Clark said.
"The break got out a long way and we had to start chasing it (but) it was a pretty special day for me. I had some of my best mates working on the front for me and I had one of the most experienced bike riders in New Zealand, Michael Torckler, just talking to me and keeping me calm, telling the guys what to do. It was awesome and it worked out really well for us."
Southland's Nick Kergozou leads the Sprint Ace classification, with Joe Cooper (Central Benchmakers-Willbike) leading the silver jersey standings for riders over 35 and his team mates leading the teams classification.
Clark, who is riding his fourth Southland tour, was relieved to be wearing the yellow jersey for a second night as the tour camped out in Te Anau.
"This is the first time I've led a race this big. I've done a lot of bike racing, but never been in this position. I was just glad to have someone like Mike there to keep me calm and talk me through it," he said.
"From 20km to go it was pretty stressful, just maintaining a position and trying to avoid any crashes, making sure it didn't split in the wind, and once I got through the 3km I knew if I punctured or crashed I'd still be in yellow with the 3km rule. To get through without losing any time was a huge relief."
Tomorrow's stage five is one of the shortest of the race at 108km but finishes with the hardest climb, a demanding 6km ascent of the Remarkables skifield access road.