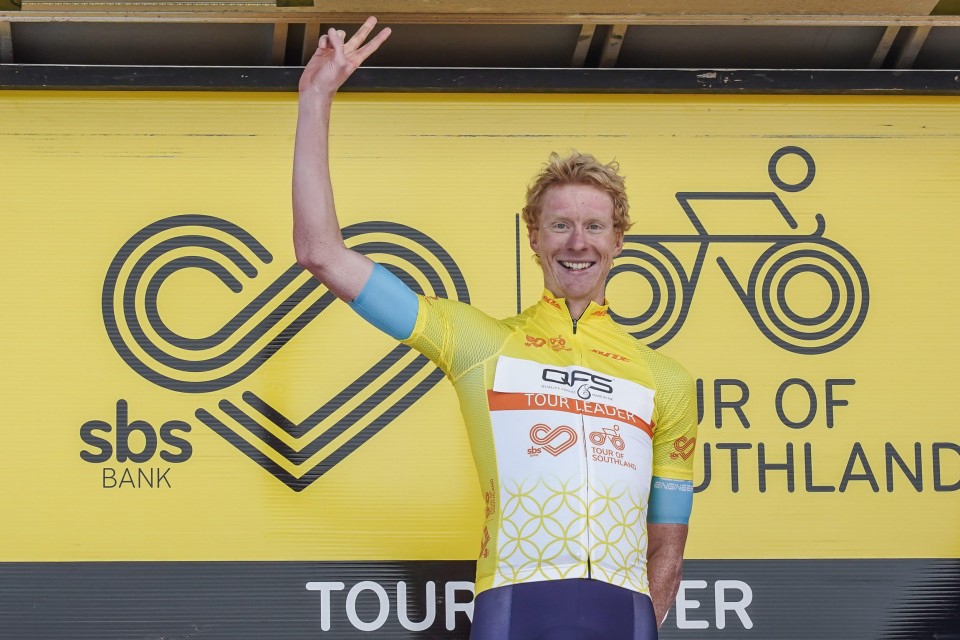 Ohaupo rider Boris Clark was as surprised as anyone to be wearing the yellow jersey after today's second stage of the SBS Bank Tour of Southland.
Riding in his fourth lap of the south, Clark (Quality Foods Southland) was happily preparing to collect the Most Combative jersey after being part of the breakaway and finishing third on the 166km stage from Invercargill to Lumsden, which was claimed by Australian rider Marcus Culey (Share the Road-Macaulay Road).
Instead Clark was stoked to collect his maiden yellow jersey along with his first podium finish, especially after having to miss last year's race due to Waikato's regional lockdown.
'It's pretty special to get yellow, I just thought I was lining up for Most Combative and then got told that I was in yellow with our team time trial. I wasn't even going to go in the break today but after about an hour I thought I'd get stuck into it," Clark said.
"It took a long, long time for us to get away. We were sitting at 25-30sec for a long time and eventually once a few of the guys went back and the other teams realised that we weren't quite so dangerous they let us get away. We just rode steady and everyone worked really well together."
The other big story of the day was the crash which involved more than 30 riders, a quarter of the field, on the way to Nightcaps.
The crash splintered the peloton across western Southland, with defending champion Michael Vink one of the riders forced to ride hard to catch up. Vink finished the stage in 92nd place and trails Clark by nearly 10 minutes.
Culey, who has previously ridden the Tour of Southland in 2015 and 2018, won a four-man sprint up the main street of Lumsden, with Alex Heaney (Spoken Cycles) second, Clark third and Max Campbell (Business South) finishing fourth to jump up to third overall and the race's leading under 23 rider.
"It was super tough," Culey said.
"In the last hour I think everyone was in a world of hurt, there were a lot of guys cramping and I managed to keep it together for the sprint and so I'm happy with that."
Heaney also moved ahead in the King of the Mountain classification, with Southlander Nick Kergozou (Transport Engineering Southland-Deep South) the race's Sprint Ace.
Michael Torckler (Quality Foods Southland) has shifted into the lead in the Silver Jersey for riders over 35 after Glenn Haden missed the break.
Overnight leader Ben Oliver trails Clark by 31sec, with 42sec covering the top 10 riders. Clark said he and the team will look to reassess after such a successful stage.
"We'll have to have a chat about that tonight, we didn't really expect to be in this position. We were going to wait until we got to the Remarkables...but now we are in this position we'll have a chat and see what we'll do."
Tomorrow's third stage takes the field 148km from Riverton to Te Anau, including the Blackmount hill climb.