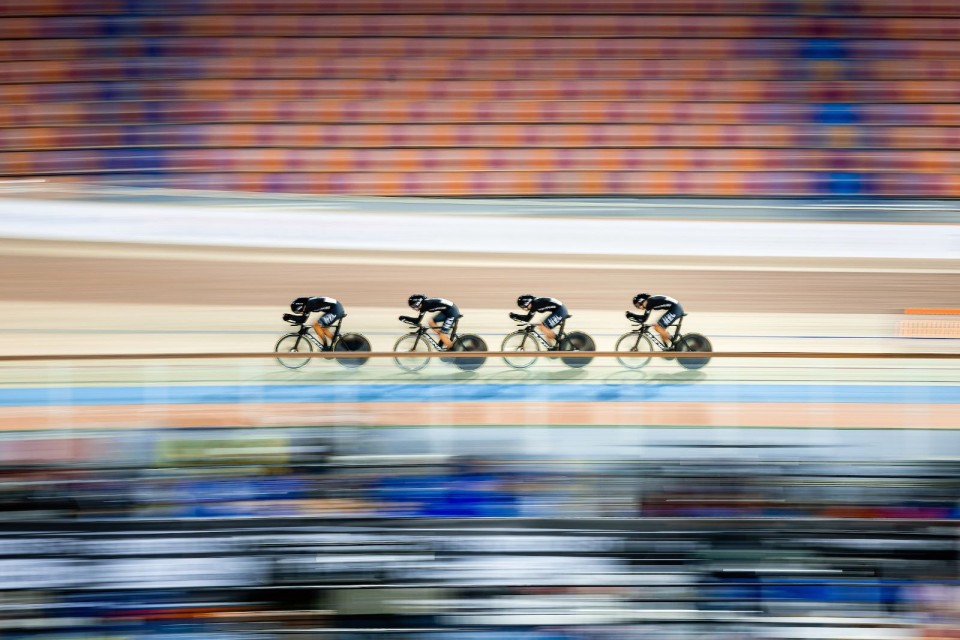 The New Zealand team, with several young riders joining the fray, were edged by their Australian counterparts on the opening day of the Oceania track cycling championships in Brisbane.
With some experienced riders now back in Europe with their respective professional road teams, the championships provide opportunity for the rest of the New Zealand endurance squad to stake their claims, along with the emerging young under-19 competitors.
In an opening day of close racing, it was the hosts who emerged on top at the Anna Meares Velodrome.
The New Zealand combination of Sami Donnelly, Pru Fowler, Jessie Hodges and Rylee McMullen rode 4:26.924 to qualifying four seconds behind Australia in the women's team pursuit.
They rallied with a strong effort in the final with Australia winning in 4:21.034 and the kiwis just 0.09s behind in second.
There was an Australian clean sweep in the women's 10km scratch race, won by Chloe Moran from fellow Australians Lucinda Stewart and Alexandra Martin-Wallace. The leading kiwi was Emily Shearman in fourth in the sprint finish.
The New Zealand team of Rebecca Petch, Ellesse Andrews and Olivia King clocked 48.026s to be 0.05s behind Australia in qualifying to set up a mouth-watering final in the women's team sprint.
It was just as close in the final where the Australian combination won in 47.603s with New Zealand only 0.09s behind.
The men's quartet of Nick Kergozou, Dan Bridgwater, Keegan Hornblow and George Jackson went 3:56.740 to be four seconds down on Australia in the men's 4000m team pursuit qualifying.
The Australians proved too strong in the final winning in a slick 3:51.233 with the New Zealand quartet 3.1 seconds down.
Jackson had to be content with second in the men's 15km scratch race edged by Australian Josh Duffy for the win.
The highlight in the under-19 racing was a superb come-from-behind performance from Auckland's Jodie Blackwood in the junior women's sprint.
She was second in qualifying in 11.569s and teammate Caitlin Kelly third fastest in 11.854s.
The gold medal final was a closely-fought affair against Australian Liliya Tatarinoff who won the first race in the best-of-three contest. But Blackwood fought back to win the second. The kiwi champion produced an excellent controlled sprint in the decider to hold off the Australian to claim the sprint title.
Kelly rode impressively to win the bronze medal in two straight rides in the best of three series over Australian Mirella Willis-Hell.
James Gardner (3:21.024) and Magnus Jamieson (3:22.268) were second and third fastest qualifiers respectively in junior men's 3000m individual pursuit.
Gardner earned the silver after finishing 4.7secs down on Australian Noah Blannin in the final.
Day two of five features individual sprint and individual pursuit for elites, with elimination and scratch races for under-19 riders.