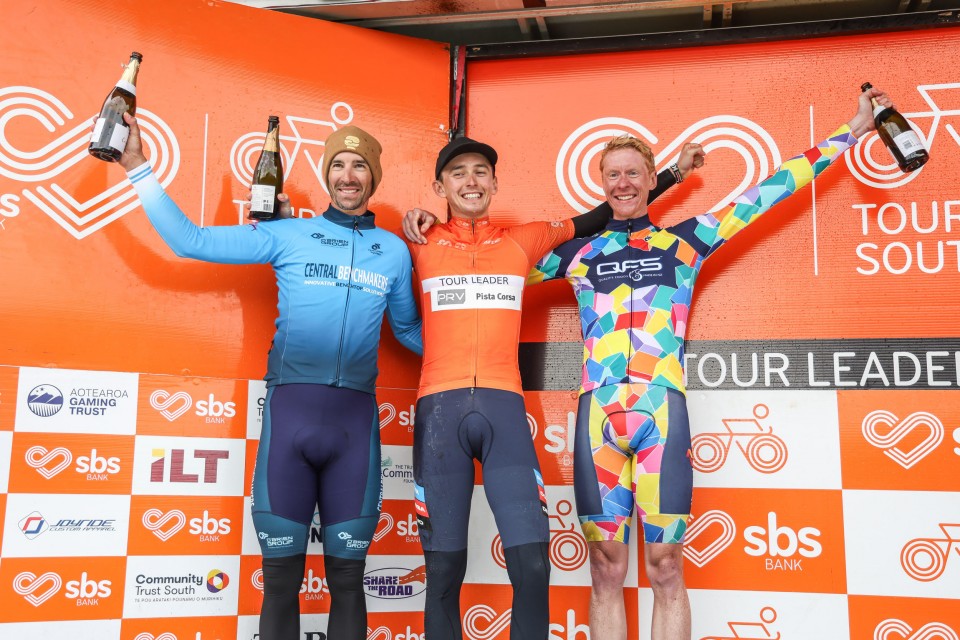 Auckland-based Dan Gardner has become the first Englishman since 1957 to win the SBS Bank Tour of Southland.
Gardner finished eighth in this morning's 13km individual time trial to see his lead cut to just 15sec heading into the final 77km stage from Winton to Invercargill, but was safely shepherded home by his young PRV-Pista Corsa teammates this afternoon.
New Zealand endurance rider Nick Kergozou (Transport Engineering Southland-Deep South) won the final sprint in Gala St for his first ever stage win on his home tour, with Gardner winning overall by 15sec from Joe Cooper (Central Benchmakers-Willbike) and 45sec from Boris Clark (Quality Foods Southland).
"We had to race our absolute hearts out as a team, and even in the time trial it came down to the small details where we were busy in the bike shop talking to PRV our sponsor and getting handlebars sent in so we could pull every trick out of the book," Gardner said.
"In the end it just came down to grit. It was a real Southland day out there and I'm so happy to pull it off."
For the first time this week some of the cross winds the Southland tour is famous for were on offer, stretching the peloton to the limit as they tried to crack Gardner's advantage over the final furious blast into Invercargill.
"We didn't really believe it was going to happen until the last pedal stroke. I'm so happy and I'm proud and I'm thankful to my teammates, the team managers and all my friends and family."
Gardner moved to New Zealand two years ago to follow his Kiwi girlfriend and former cyclist Kate Wightman, who is currently walking the Te Araroa Trail to raise funds and awareness for gynaecological cancer.
Before joining her on the trail next week, Gardner will be able to reflect on a race where he won the Bluff Hill stage for the second time in as many years and finished third on the Remarkables climb to set up his overall victory.
"I just love that (Bluff) climb. I have a real affinity for that final corner. This whole race just brings out the best in me, it's a great platform to perform and just race your heart out and I'm just happy to be here."
Gardner paid credit to the young riders from Auckland and Cambridge - Ed Pawson, Joel Douglas, Kyle Aitken, Matt Davis and Maui Morrison - who helped get him to the line.
"I was working in a bike shop a few years ago when Tim, the owner of PRV came in, and I was fixing a couple of punctures and winding down my cycling. Tim had the idea of putting me on as a kind of mentor for these young guys and that's completely turned on its head because they have been helping me out," Gardner, who followed in the tyre tracks of 1957 winner Tom Tindale as English winners of the Southland tour.
"I've followed Southland for years now, even back in the UK before I had a Kiwi girlfriend and knew about this race. It's got such a wide reach worldwide - I never thought I'd get my name on this trophy, but I'm so, so happy."
Ollie Jones (PowerNet) won the Most Combative jersey on the final stage, with Kergozou picking his third Sprint Ace victory in Southland and Max Campbell (C Brown Builders-Olphert Contracting) the King of the Mountains jersey.
Camden Feint (Oxford Edge) was the leading under 23 rider, and Cooper was first placed over 35 rider, with Quality Foods Southland winning the Teams Classification.