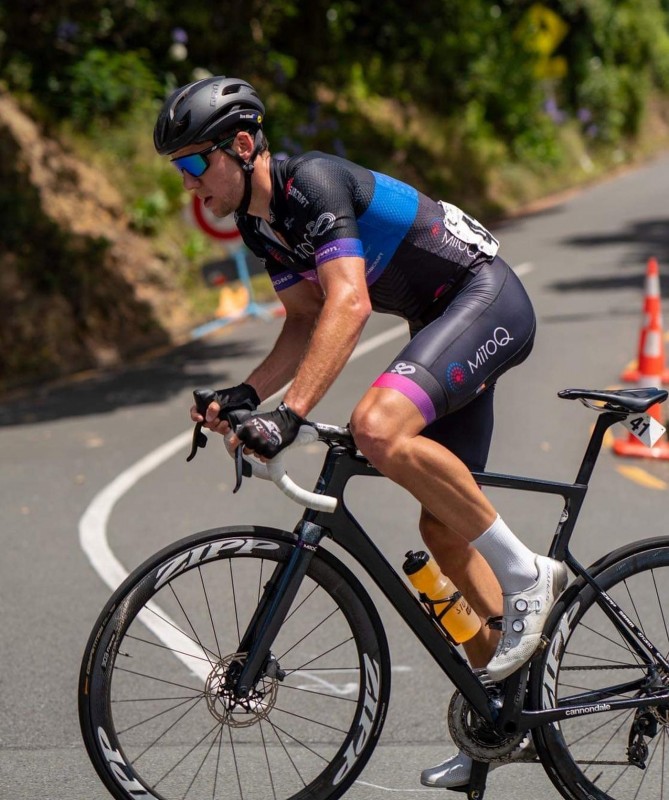 Commonwealth Games mountain bike medallist, Ben Oliver was at home in the conditions to claim the UCI Gravel & Tar race in the Manawatu today.
The only UCI sanctioned one-day road race in New Zealand, the Gravel & Tar event returned after a Covid-enforced break, with a demanding 133km race comprising tarseal and gravel roads with significant climbs in and around Ashurst, near Palmerston North.
Oliver, who finished one spot outside the podium at the recent New Zealand Cycle Classic for his MitoQ - NZ Cycling Project team, but was thrilled to grab the victory today.
The North Canterbury rider went away in a group of eight that included a number of riders from the powerful Bolton Equities Black Spoke team, with their leading rider James Fouche and Oliver pushing clear on the major gravel climb.
"I was making sure there were no surprise moves from Black Spoke that I couldn't cover myself or one of my teammates helping out. I always knew they would have numbers up there," said Oliver.
"I rode the gravel well and got to the big gravel climb where it was me with Fouche up that climb together but he got a flat.
"I was actually a bit gutted because it meant 40km riding into the wind by myself to hold off the three chasing Black Spoke boys. So I was pretty stoked to get to the finish in the end."
Oliver clocked 3:21:17 to win by 3:16 to Fouche and his teammate Paul Wright at 3:31.
"I was not going to trust any time gaps today and I didn't know what a good gap is on a road bike in this type of race, so I just kept my head down and drilled it the whole way. I didn't look behind – just worried about myself."
Oliver will now turn his attentions to Monday's National Criterium Championships around a road course inside Massey University in Palmerston North.
Oliver has finished third and second in the criterium nationals in Christchurch and would like to complete the treble with a win on Monday.
"My good form has surprised me because I haven't done much since the Tour of Southland. I had a boot camp in Akaroa to kick off the year and obviously a good week at Cycle Classic to get some good racing in the legs. I've had an easy week and today the legs came around which was great.
"I'm looking forward to the Crit Champs on Monday around the University. It looks like it could be an exciting course with speed bumps and a little hill which might make it bit tougher.
"I am chasing one more medal for the set and the jersey at the criterium championships – we will see how the cards are dealt out."
Oliver's only regret was missing the national mountain bike cup round in Christchurch today, but was heartened to learn his brother Craig took out the cross-country victory.