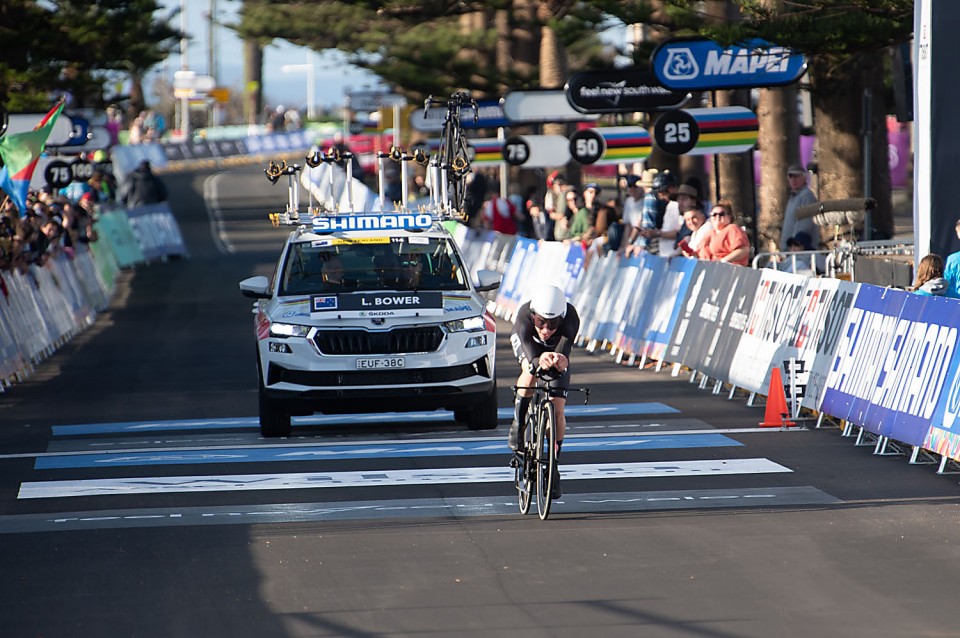 UCI ROAD CYCLING WORLD CHAMPIONSHIPS, WOLLONGONG, NZ WRAP DAY 3
New Zealand's junior riders were unsuccessful in breaking into the sharp end of the field on the demanding time trial course on day three of the UCI Road World Championships in Wollongong.
Canterbury's Amelia Sykes led the way in 19th place in the junior women's test over one lap of 14kms although the multi-national champion, who suffered significant illness in the lead-up to the recent junior world track championships, was still below her best after a compromised build-up.
Starting conservatively, Sykes finished strongly to be 2m33s from the winner Zoe Backstedt (GBR), who was a class above the rest, winning in 18:26.78s with 1m35s back to second.
Cambridge rider Arabella Tuck finished 29th, 3m30s behind the winner.
Auckland's Tom Stephenson, who competed in the New Zealand team at the recent Nations Cup stage race in Canada, finished 35th in the time trial today, 3m33s down on winner Josh Tarling (GBR).
Fellow Auckland rider Lewis Bower, who competed last year in Belgium, was cleared to ride after suffering from a virus this week which affected his performance. He produced a brave effort over the two laps to finish 4m34s back in 43rd place.
He is hopeful of joining Stephenson for the junior men's road race on Friday.
The mixed relay on Wednesday completes the time trial, before action moves to an equally demanding, challenging and technical course for the road races, starting with junior and under-23 men on Friday, junior and elite women on Saturday and elite men on Sunday.
Results, Junior Women Time Trial (14km): Zoe Backstedt (GBR) 18:26.78, 1; Justyna Czapla (GER) at 1:35, 2; Febe Jooris (BEL) at 1:48, 3. NZers: Amelia Sykes at 2:33, 19; Arabella Tuck at 3:30, 29.
Junior Men Time Trial (28km): Josh Tarling (GBR) 34:59;26, 1; Hamish McKenzie (AUS) at 10.19s, 2; Emil Herzog (GER) at 33.45s, 3. NZers: Tom Stephenson at 3:33, 35; Lewis Bower at 4:34, 43.