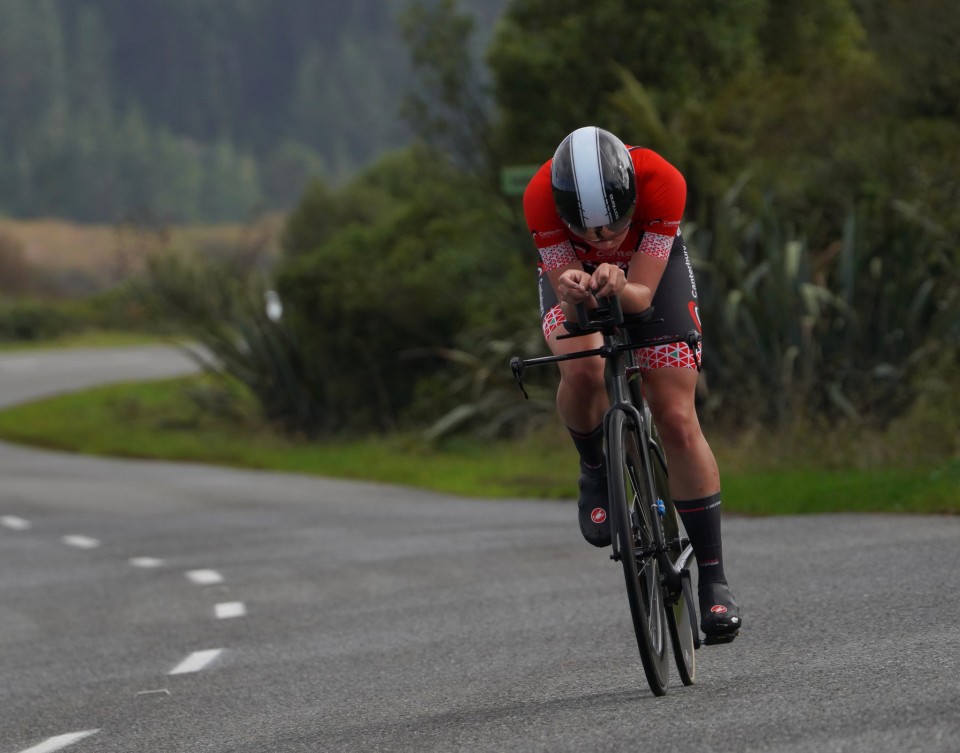 Two of New Zealand's most promising young cyclists have defended their titles on the opening day of the Age Group Road National Cycling Championships in Hokitika.
Around 400 riders from 34 clubs from Kaitaia to Invercargill are competing, the first time the region has hosted the national championships in nearly two decades.
Christchurch's Amelia Sykes and Auckland's Lewis Bower claimed the under-19 honours in the time trial today, to repeat their wins from last year in Rotorua.
Sykes, who won five titles at the recent national track championships, proved she is equally adept on the road to win the under-19 women's title over 15kms, clocking 25:05, which was the seventh fastest time overall.
She finished a minute clear of the second placed Arabella Tuck from Te Awamutu Sports.
"I was actually hoping for some rain. But the course suited me quite well as it had a few rises but a long flat as well. I am stoked with the win," said Sykes.
"It is such an awesome place to have a course like this. It is a great place to have this championship. We have a big contingent from our club because it's only a four-hour drive to get here."
She will now prepare for the road race at the weekend, and then focus on the world junior track championships in Tel Aviv in August.
Bower, the current North Harbour junior sportsman of the year, took out the under-19 men's title over 25kms in 32:37, the fourth fastest time overall.
The Auckland rider, who competed at the recent Oceania Championships and at the world championships last year, held off his friend and rival Tom Stephenson by nine seconds.
"I felt some pressure coming in that I needed to prove to myself having won last year. I am happy to have done that," said Bower.
"My good mate Tom (Stephenson) has been going well and we have been pushing. It's good to get that competition in New Zealand."
Bower will prepare for the road race, hoping the winds pick up to make things more interesting on a largely flat course, before shifting his sights further afield. He and Stephenson head to Europe together next week for a stint racing in Belgium.
Elite men's winner was Wanganui's Glen Haden clocked 31:40 ahead of the under-23 champion Guy Yarrell (Pegasus Cycling) in 31:50, with third fastest time of the day for the 25km races going to Masters 3 (45-49 years) Hawkes Bay rider Jamie Campbell (Ramblers).
The women's elite title went to Counties Manukau's Penny Pawson who clocked 37.06min ahead of Southland's Amy Hollamby, while the under-23 honours went to Southland's Rhylee Akeroyd.
In the 15km racing, fastest overall was multi-world masters champion Jim McMurray (Forestland Wheelers) competing in the M6 (60-64 years) class, clocking 23:476, the only rider under the 24-minute mark.
At the other end of the spectrum was under-17 winner Lucas Bhimy (Counties Manukau) in 24:09, ahead or Te Awamutu's Kane Foster.
In the under-15 grade, Auckland Schools' Harry Shannon prevailed in the boys in 27:30, while Canterbury's Shaylah Sayers, who won every race she entered at the recent track nationals, was the female winner in 29.36.
Standouts in the Masters grade included Southland's Bill Sutherland who clocked 36.17 to win the M10 (80plus) grade, while the oldest competitor 86-year-old Merv Grewar (Tinwald) finished in 43.08. The oldest female winner was W9 (75-79yrs) champion Chrstine Van Hoppe (Tasman Wheelers) in 34.35.
Winners in the Para-cycling time trial over 15kms included Tokyo Paralympian Sarah Ellington (Counties Manukau) in the C1-C3 category in 31.25; Jono Nelson (South Canterbury) in H1-H5 in 31.28; Jordan Milroy (Canterbury Track) with 57.29 in T1-2. The winners over the 25km course were Steve Knott (Marsden Wheelers) in C1-5 clocking 39.28 and Hannah Pascoe (Southland) in B/V1 in 39.34.
The road racing begins tomorrow with a loop course around Lake Mahinapua.
Credit: GEOSNAPSHOT
Details: http://roadnationals.nz/