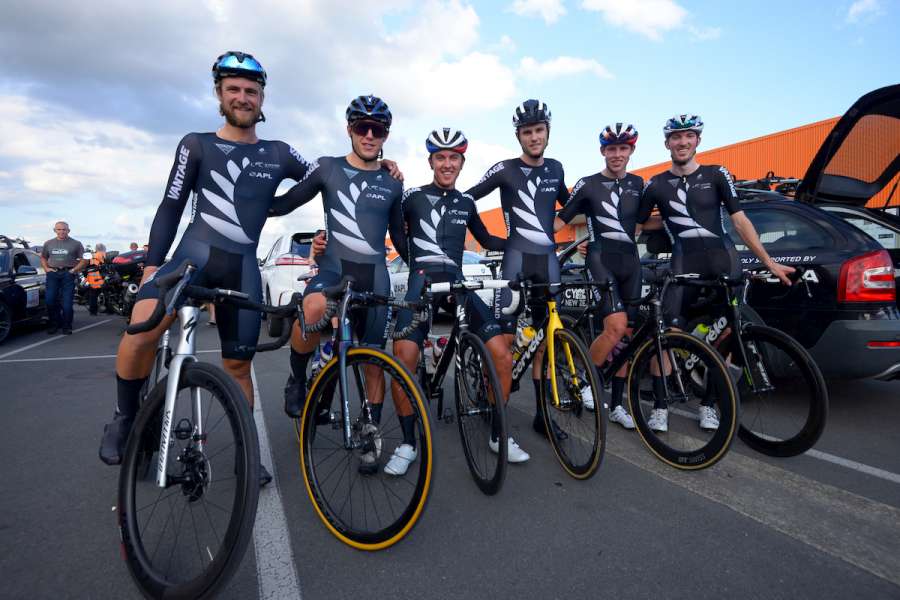 The New Zealand National team will take the leader's yellow jersey and the under-23 jersey into the second day of the NZ Cycle Classic in the Wairarapa.
The six-strong team finished together to win the opening 10km team time trial around the streets of Masterton, stopping the watches in 11m35s, four seconds ahead of the Black Spoke Pro Cycling.
Two Tokyo Olympic-bound track riders will wear the jerseys into the second day with Regan Gough wearing the leader's yellow jersey while Corbin Strong has the white jersey for leader in the under-23 category.
They were well supported by Ollie Jones, Laurence Pithie, Reuben Thompson and Finn Fisher-Black and impressed team manager Marc Prutton.
"It was a strong team performance. The boys decided they wanted to finish together and all rode well. They gained time later on as a result and Regan in particular was excellent."
He said the team were in good spirits and would not ride defensively on the first road stage, a 160km loop finishing back in Masterton tomorrow.
"It is lumpy but we would not expect it is a day for big gaps in the field. We plan to ride positively tomorrow and look to take our chances when we can."
"We were a group of guys who had not ridden as a team before but we're like-minded blokes and really enjoyed the fast conditions tonight," said Gough. "We executed the time trial really well … today really suited us."
Strong was thrilled with his team's win.
"(Before the race) I think we came in as second favourites to Black Spoke, but we were quietly confident and were really keen to give them a run for their money. It was actually the best time trial I've been in and want to say, hats off to Gough. He is the glue in this team and every time we were tiring, he carried us through."
The second stage takes riders north of Masterton towards Eketahuna and back, before a short hill climb sees them finish outside the Masterton Golf Club in Lansdowne.
The 2021 NZ Cycle Classic can take place thanks to the generous support from Trust House, Wellington City Council, Mobile Communications Service, Wizwireless, Fagan Motors, Mitre 10 Mega Masterton, Cross Country Rentals, Tineli and Lion Foundation plus all three Wairarapa District Councils.