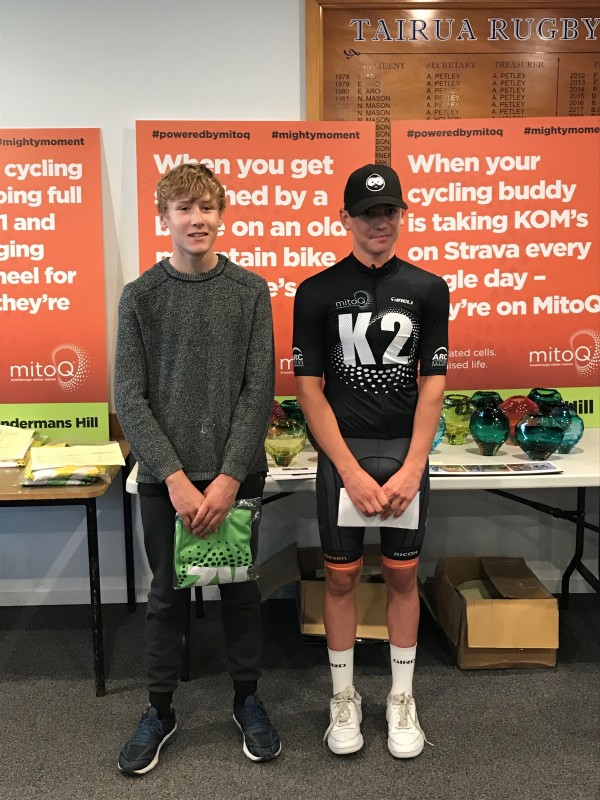 With K2 organisers early supporters of Cycling New Zealand's National Road Series initiative it was great to see this event taking place after two postponements due to Covid-19.
With the conversations more around the impact of the forecasted weather warning rather than Covid-19, 20 riders lined up to take part in the penultimate race for the U17's National Road Series. This race was conducted as part of the Nicholas Browne Challenge which this year started in Thames and finished in Tairua, taking in the iconic Kopu-Hikawai hill.
The boys race saw an early break of 6 riders near the top of the first climb with Wellington's Elliot Robertson taking the win in a sprint finish. 2nd place went to Auckland's Finn Wilson and 3rd Carter Guichard from Wanaka.
Robertson who made the decision to travel to the Coromandel to support one of his sponsor's mitoQ who were also the naming sponsor of the K2 event and also to continue his support of the National Race Series ahead of the final race at next week's Vantage Age Group Road National Championships.
"We broke away just after half way up the first climb and tried to work together to stay away. It was a fast ride but a bit messy with the wind. It was my first time riding this climb and it was great to get the win in the sprint finish. Was also a good hit out before Nationals next week".
Auckland's Bonnie Rattray also broke away half way up the first climb in the U17 girls race and stayed away for a 6min win over Waikato's Seana Gray and Kerikeri's Tiree Robinson in 3rd.
"I rode the hill on Monday so was bit familiar with it prior to today. I felt strong, so kicked half way up the hill to see if anyone would come with me. I enjoy climbing so this was a course that really suited me".
Rattray also a strong supporter of the National Road Series said having the NRS this season has provided real focus for her racing this year.
"After a disappointing 2020 with Covid-19 impacting so many races, it's been great to have the NRS as a motivating factor in my training and racing this year. I'm looking forward to the Age Group Roads next week to see how I place across the whole series".
Click here for series results for the National Road Series.