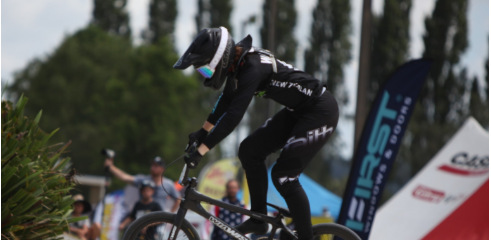 New Zealand's BMX girl-power will be looking to continue their strong start to the international season at the second stop on the UCI Supercross World Cup circuit in the Netherlands this weekend.
Led by a strong showing from Sarah Walker, the three-strong Kiwi contingent all scored invaluable ranking points which has seen New Zealand jump two spots to fourth on the Olympic nation rankings.
The top five nations at the qualification cut-off next year will earn two spots to the Tokyo Olympics.
Walker was ninth on the first day and fifth on the second when she made the grand final which was a massive boost to the London Olympic medallist.
Te Awamutu's Rebecca Petch made the one-eighth round on day one and quarterfinals on day two while teenage prospect Jessie Smith (Hamilton), still a junior elite rider, made it to the quarters on both rounds.
North Harbour's Michael Bias was the best of the Kiwi men on display at Manchester, making the eighth round on both days with he, former junior world champion Maynard Peel (Sunset Coast club, Pukekohe) and Te Awamutu's Cole McOnie looking forward to the bigger jumps.
It will be a different prospect for the double round at the Papendal near Arnhem, which is part of the Dutch Olympic Training Centre where a number of their key sports are based.
The opening stop was indoors at Manchester on a tight track where Papendal is outdoors with massive jumps and also open to challenging winds.
The World Cup is determined on an elimination process with the top four riders from each race progressing to the next round all the way to the grand final. The is a repechage (last chance) opportunity for the bottom four riders from each moto in the first round, with the top two progressing to round two.
Round one of the UCI Supercross World Cup is on 12.35 to 5.30am on Sunday (NZ time) and round two from midnight to 5am on Monday.
Live coverage: https://www.youtube.com/user/bmxlivetv
Photo credit: Nico van Dartel