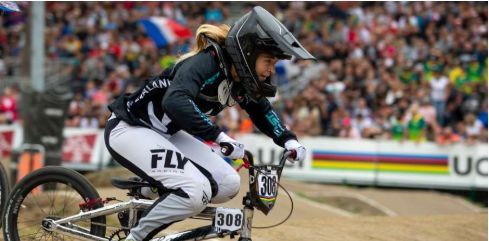 Petch and Bias impress in BMX opener
Te Awamutu rider Rebecca Petch has made an emphatic start the 2020 UCI BMX World Cup Supercross circuit, just pipped from a place in her second Supercross final in Australia.
Petch, New Zealand's top ranked rider at 21 in the world, made it through to the semifinals in the opening round of the vital 2020 Supercross World Cup in the new venue of Shepparton, in Victoria.
She has helped the New Zealand women' team rise to seventh on the UCI world rankings, just two spots off qualifying a second rider for this year's Tokyo Olympics.
There are 10 rounds to be competed before the qualification finishes for Tokyo.
North Harbour's Michael Bias also enjoyed an outstanding first day, making it through to the quarterfinals of the men's competition and finished 17th overall.
Petch won her qualifying moto before finishing second in the eighth-round behind Australian star Saya Sakakibara who went on to finish second in the grand final won by 2017 world champion Alise Willoughby.
The 21-year-old was second behind Willoughby in her quarterfinal to progress to the semifinal where she had to settle for sixth place, 0.8sec off a spot in what would have been her second-ever Supercross final.
Earlier Walker also qualified from the first moto in fourth spot and placed third in her round of eight but was pipped for a spot in the semifinal by the narrowest of margin, finishing fifth in her quarterfinal.
Bias was the only one of the five Kiwi males competing to make it out of the qualifying phase. He was second behind former world champion Sylvan Andre (France) in his opening moto, and then snuck through with fourth and last qualifying spot in the round of 16. The North Harbour rider, currently ranked 52nd in the world, rode a smart race to avoid some major collisions to finish third in his eighth-round before he was pipped by just 0.7s for the final qualifying place on his quarterfinal.
He finished 17th overall but further evidence of his improving international form.
Earlier Luey Cotton (Kapiti Coast) fifth, Cole McOnie (Te Awamutu) seventh, Rico Bearman (Waitakere) sixth and Rico D'Anvers (Cambridge) sixth were forced through the final chance repechage but did not make it in to the top two to qualify for elimination racing.
Former world champions Alise Willoughby (USA) and Niek Kimmann (Netherlands) won the finals with a further Supercross World Cup in Shepparton tomorrow before the next double round at Bathurst, NSW next weekend.
CAPTION: Rebecca Petch in action at the 2019 UCI BMX World Championships. Photo Nico van Dartel.