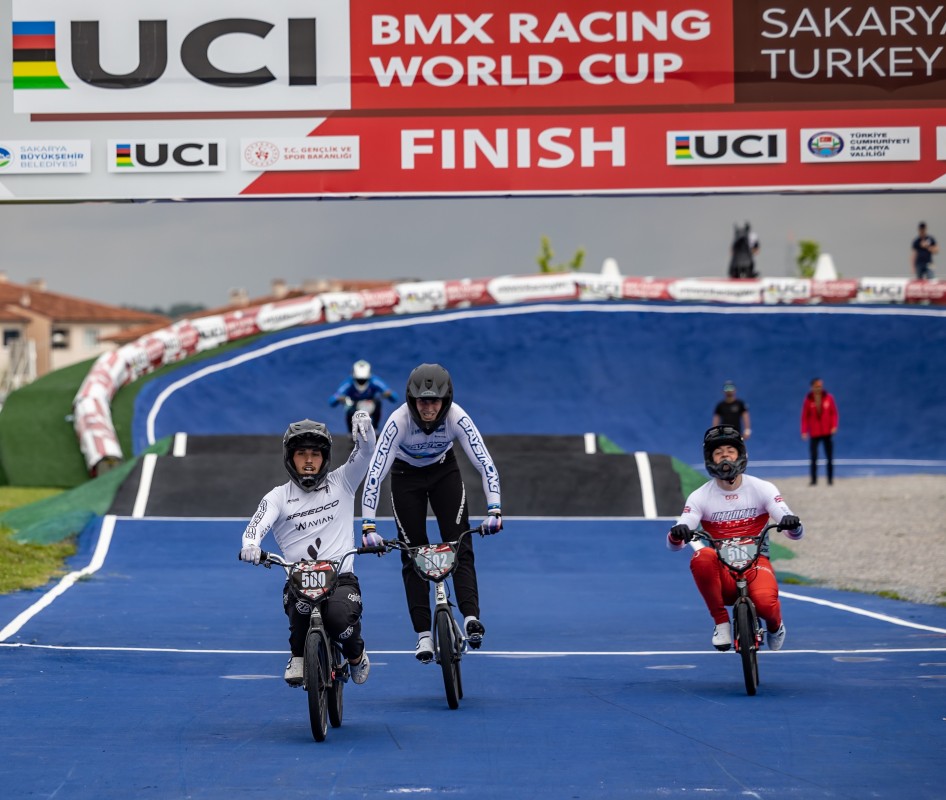 US-based professional Rico Bearman claimed back-to-back victories in the men's under-23 in the opening double round of the 2023 UCI BMX World Cup in Turkey.
After fighting hard to hold off his rivals in the first round final at Sakarya, Bearman worked his way through racing today, settling for qualifying placings before stepping up to win the semifinal and final, where he was the only rider under the 34 second barrier.
The North Harbour teenager has moved to the top of the Under-23 world rankings with his two wins, although he took a different mindset into racing.
"Yesterday I tried as hard as I could, winning every lap and by the time it came to the final I was super-tired but I managed to win which was good.
"Today I came in with a different mindset and not put in 100 percent into each race if I did not have to, leading into the qualifiers. As the races got more serious in the quarterfinals and semifinals, I stood on it more – got out the front and got a good time in to get my pick of gates for the final.
"I talked to my coach today that I was more pleased with how I approached the racing this weekend and how I took every race mentally. I set goals – to have consistent gates all weekend and little things across the day that went as I wanted them to. Those little goals all add up to the final result which I was happy with.
"I am super-happy with how it has started. We race again in three weeks in Holland and this has given me some good confidence to take into the next World Cup."
The 19-year-old said that racing professionally against older elite riders on the USA circuit has been a significant factor in his development.
He will remain in Europe leading to the next double round in Papendal, Netherlands before heading back to race in USA and then flying back to Europe for the world championships in Scotland.
His overall goal is to win the Under-23 world title and then move to the elite class, looking towards the World Cup double round in Rotorua in April next year, and hopefully gaining enough ranking points to qualify for the Paris Olympics.
"I want to perform at the top of the sport, and hopefully by the time next year comes and we race the World Cup in New Zealand, I want to be at the top, and I want to be in the final. It would be cool to do that at home.
"These races all leading to the Olympic Games and these points are all adding up. Coming from a small country like New Zealand, it is hard to gather big points as it takes your top three scoring riders. Getting as much points as we can is important, taking it to Paris and hopefully getting a spot."
Rotorua's Megan Williams enjoyed a strong day, making it through to the semifinals of the women's under-23 competition where she was pipped for a spot in the final by just 0.3s.
Both Cambridge riders Leila Walker and Baylee Luttrell made it to the quarterfinals.
All four kiwi under-23 male riders qualified through to the first round of elimination races where Jack Greenough was edged out. His brother Bennett won his race with Bearman and Rico d'Anvers also progressing.
Only Bearman made it through to the semifinals, with both Bennett Greenough and d'Anvers finishing fifth in their respective quarterfinals, both just 0.3s off a spot in the semis.
Michael Bias qualified well in the men's elite competition but he was edged out in the first round by 0.08s in getting through to the quarterfinals, with Te Awamutu's Cole McOnie missing out on the elimination rounds.