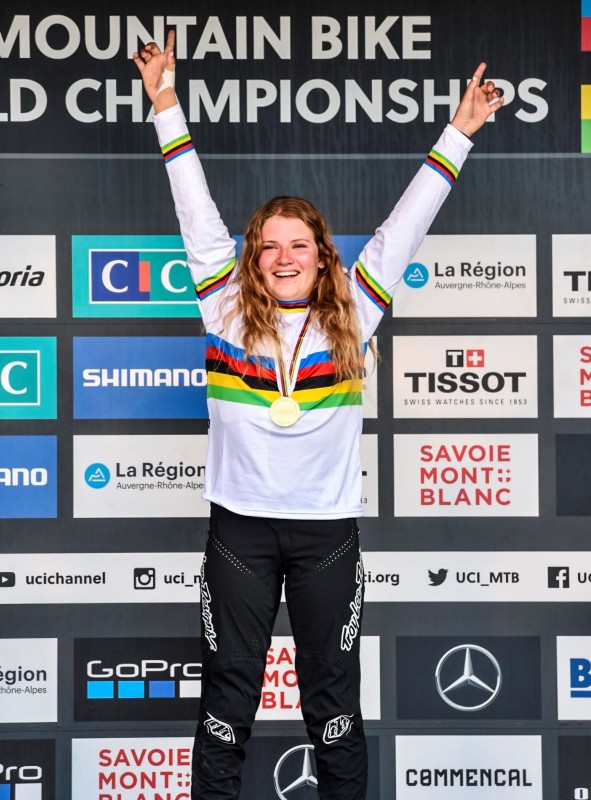 Eighty-six riders will comprise the Cycling New Zealand and Para Cycling Team to contest the historic combined UCI Cycling World Championships starting in Scotland next weekend.
The championships are a first for the sport, with over 200 events making up 13 separate World Championship disciplines over 11 days.
While this global-first is centred on Glasgow, it takes in many cities, towns and regions in Scotland from 3 to 13 August.
The New Zealand team will contest world titles in track, road, mountain bike (cross-country, downhill and marathon), BMX Racing and Para cycling road and track.
"It is a massive venture and extraordinarily challenging from an organisational point of view with most disciplines overlapping and spread from the Borders to Fort William in the Nevis Range," said Cycling New Zealand high performance director, Ryan Hollows.
"While this is a remarkable and ambitious venture for the UCI, for us it is about breaking down each sport and discipline, and dealing with their needs and preparations with our relatively small staff so the riders can realise their ambitions.
"We are fortunate that we have a number of additional skilled staff who are lending a hand to ensure we can deliver first-class support for our riders in what is an extremely important world championships, especially for those disciplines with their sights set on the Paris OIympics and Paralympics in 12 months."
The track programme gets things underway next Friday at the Sir Chris Hoy Velodrome in Glasgow, where kiwis enjoyed success nearly a decade ago at the Commonwealth Games.
The group comprises a nucleus of riders who were successful in last year's Commonwealth Games with the men's endurance squad led by world champions Aaron Gate and Campbell Stewart while the women's team includes Commonwealth record-holder Bryony Botha and Nations Cup winner, Ally Wollaston.
The women's sprint has hopes for Tokyo medallist Ellesse Andrews and interest in the courageous return of Shaane Fulton, after more than two years battling injury and surgery, while Sam Dakin is the sole male sprinter.
In Para cycling, double world champion Nicole Murray will be looking to defend her 2022 track titles, as well as cement her position as a top-ranked road C5 cyclist, having won golds at the Road Para Cycling World Cup in May. Other podium prospects include previous T1 road world champion Eltje Malzbender, and on the track, Devon Briggs (C3) and Anna Taylor (C4) will both be looking to build on last year's medal-winning performances.
There are real hopes for a group of young riders who are flying high.
BMX Racing is looking to the emergence of youth in the under-23 class led by North Harbour's US-based Rico Bearman, unbeaten in World Cup racing this year; and Cambridge teenager Leila Walker.
Equally there is excitement with mountain bike gravity riders Erice van Leuven and Sacha Earnest, both winning World Cup titles in junior women this year, while there is disappointment for elite women's champion Jess Blewitt, who has been forced out with a foot injury.
The good news is the return of 2022 junior world champion Jenna Hastings, with the Pivot Factory rider from Rotorua back after a significant injury layoff, moving up to the elite division.
Cross-country heads to a new venue in the Scottish Borders, with Cambridge professional Sam Gaze to defend his rainbow jersey in the short track race and he joins Anton Cooper and Ben Oliver to chase podium honours in the main race.
The best pedestal prospect may lie with talented Taupo tyro Sammie Maxwell after back-to-back under-23 world cup podiums, while Australian-based Wellington rider, Samara Shepperd could surprise in the marathon.
The road competition has attracted the world's best with competitive kiwi squads where the road course could suit the likes of Tour de France debutante Corbin Strong and Wollaston, while Logan Currie and Ella Wylie will look for opportunities in time trial.
This is the first time all 13 UCI World Championships will be combined into one mega-event, making it a cycling event unmatched in size and scale. The anticipated global TV audience will place the 2023 UCI Cycling World Championships in the top-10 most watched sporting events in the world.
The Cycling New Zealand team is:
TRACK:
Men's Endurance: Aaron Gate (Auckland), George Jackson (Wellington), Nicholas Kergozou (Invercargill), Tom Sexton (Invercargill), Campbell Stewart (Palmerston North).
Women's Endurance: Bryony Botha (Auckland), Samantha Donnelly (Christchurch), Michaela Drummond (Palmerston North), Emily Shearman (Palmerston North), Ally Wollaston (Cambridge).
Men's Sprint: Sam Dakin (Auckland).
Women's Sprint: Ellesse Andrews (Christchurch), Shaane Fulton (Nelson), Olivia King (Hamilton), Rebecca Petch (Te Awamutu).
ROAD:
Junior Women: Maia Barclay (Black Magic Women's Cycling, Auckland), Muireann Green (Black Magic Women's Cycling, Wanaka), Bonnie Rattray (Black Magic Women's Cycling, Auckland), Georgia Simpson (Feilding), Ruby Spring (Black Magic Women's Cycling, Auckland).
Junior Men: Carter Guichard (AG2R Citroen, Wanaka), Noah Hollamby (Oxford Edge, Timaru), Elliot Robertson (New Zealand Cycling Project, Wellington), Eli Tregidga (Gepla-Watersley, Queenstown), Finn Wilson (Auckland).
U23 Men: Lewis Bower (Equipe Groupama-FDJ, Auckland), Logan Currie (Bolton Equities Black Spoke, Ashburton); Josh Kench (Bolton Equities Black Spoke, Auckland).
U23 & Elite Women: Kim Cadzow (Jumbo-Visma, Wanaka), Niamh Fisher-Black (Team SD Worx, Nelson), Georgia Perry (Waikato), Georgia Williams (EF Education-TIBCO-SVB, Auckland), Ella Wyllie (Wahoo-Lifeplus, Auckland), Ally Wollaston (AG Insurance-Soudal Quick-Step, Cambridge).
Elite Men: George Bennett (UAE Team Emirates, Nelson), Ryan Christensen (Bolton Equities Black Spoke, Hamilton), James Oram (Bolton Equities Black Spoke, Auckland), Laurence Pithie (Groupama-FDJ, Christchurch), Tom Sexton (Bolton Equities Black Spoke, Invercargill), Corbin Strong (Israel Premier-Tech, Invercargill).
MOUNTAIN BIKE:
Cross-country, Junior Women: Maria Laurie (Christchurch), Katie Ramage (Whanganui).
Junior Men: Ethan Woods (Motueka).
U23 Women: Mia Cameron (Team Talley's, Taupo), Samara Maxwell (NZ MTB Academy, Taupo).
U23 Men: Ethan Rose (Team Talley's, Christchurch), Matthew Wilson (Team Talley's, Auckland).
Elite Men: Anton Cooper (Trek Factory, Christchurch), Sam Gaze (Alpecin-Deceuninck, Cambridge), Ben Oliver (MitoQ, North Canterbury).
Marathon, Elite Women: Samara Sheppard (Wellington).
E-MTB Cross Country: Bailey Fredericksen (Whakatane).
Downhill, Junior Women: Sacha Earnest (Auckland), Caitlin Flavell (Rotorua), Poppy Lane (Mt Maunganui), Erice van Leuven (Commencal les Orres, Wellington).
Junior Men: Joshua Bonnar (KiwiDH, Arrowtown), Angus Ferguson (Christchurch), Tyler Muirhead (Kiwi DH, Wanaka), Luke Wayman (Christchurch).
Elite Women: Jenna Hastings (Pivot Factory, Rotorua), Kalani Muirhead (Wanaka).
Elite Men: Sam Blenkinsop (Crestline, Christchurch), George Brannigan (NS Bikes UR, Queenstown), James Macdermid (The Alliance, Hamilton), Brook Macdonald (MS Mondraker, Hawkes Bay), Edward Masters (Pivot Factory, New Plymouth), Toby Meek (MS Mondraker, Queenstown), Tuhoto-Ariki Pene (MS Mondraker, Rotorua).
BMX RACING:
Junior Women: Brooke Penny (Te Awamutu), Leila Walker (Cambridge).
Junior Men: Jack Greenough (Cambridge), Will Skipper (Rotorua).
U23 Women: Baylee Luttrell (Te Awamutu), Megan Williams (Rotorua).
U23 Men: Rico Bearman (Speedco-Avian, North Harbour), Rico D'Anvers (Cambridge).
Elite Men: Michael Bias (North Harbour).
PARA CYCLING ROAD AND TRACK:
Nick Blincoe (Cambridge) C4 track/road; Devon Briggs (Cambridge) C3 track/road; Sarah Ellington (Greymouth) C2 track/road; Stevo Hills (New Plymouth) T2 road; Eltje Malzbender (Cambridge) T1 road; Rory Mead (Ohio, USA) H2 road; Nicole Murray (Otorohanga) C5 track/road; Anna Taylor (Cambridge) C4 track/road; Ben Westenberg (Tauranga) C5 track/road.