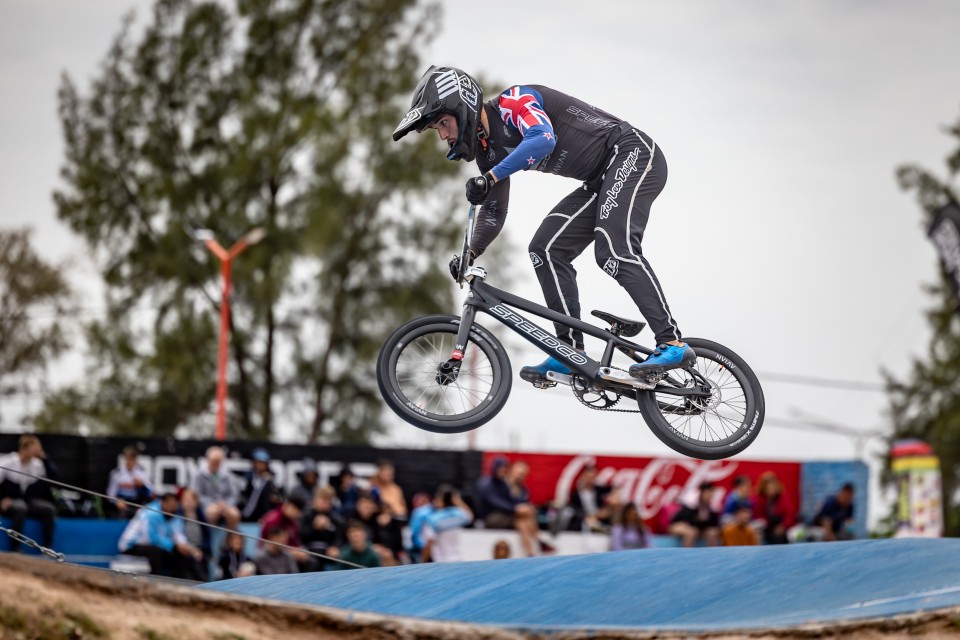 North Harbour professional Rico Bearman has sealed the UCI BMX Under-23 World Cup series title today with one round remaining.
The 20 year old was in imperious form in the penultimate round at Santiago del Estero in Argentina today, winning all heats, his quarterfinal, semifinal and final, all from the front.
Bearman, who rides for Speedco/Avian in the USA, saved his best for last, nailing the snap out of gate to dominate the final, streaking clear with a clean run to win in 30.44 seconds, a time which would have earned him a spot on the podium in the elite men's final.
It moves the kiwi rider to 1123 points, over 300 points ahead of second placed Mateo Colsenet (France), which means he cannot be caught with tomorrow's season ending round in Argentina in the under-23 men's world cup.
"It's cool and I'm glad to do it again. It feels good. I like winning and this was another win in the books," said Bearman.
"Last weekend (at the same venue) was not my flashest weekend but I talked to my coach Kurt (Pickard) back home and sorted some things out. We set some focusses today and ticked all the boxes so really happy with it.
"I was just focussed on keeping it together and doing my thing. A massive thank you to all my sponsors, my coach, parents, family and friends.
"I rode really well today and I am super-happy about it. We are back. This season I have just been having fun, enjoying everything I have been doing, training with a good group of people. The atmosphere where I've been training and the people supporting me have been amazing.
"I feel I am in a good place and I'm very grateful.
"I go to America after this to do a race on the Pro Circuit and then go home and begin to prepare for the World Cup at home in Rotorua which is super-exciting."
Bearman was the only New Zealand rider to progress to the sharp end of the competition today with elite Michael Bias eliminated in the second round of match racing; Cambridge brothers Bennett and Jack Greenough out in the quarterfinals in the under-23; and Leila Walker (Cambridge) crashing in the quarterfinal in the under-23 women.
Megan Williams (Rotorua) had another solid competition, finishing third in her under-23 women's qualifying heat, third in the quarterfinals but was pipped by just 0.1s in qualifying for the final.
There is a further round at Santiago del Estero tomorrow to conclude the 2023 season.