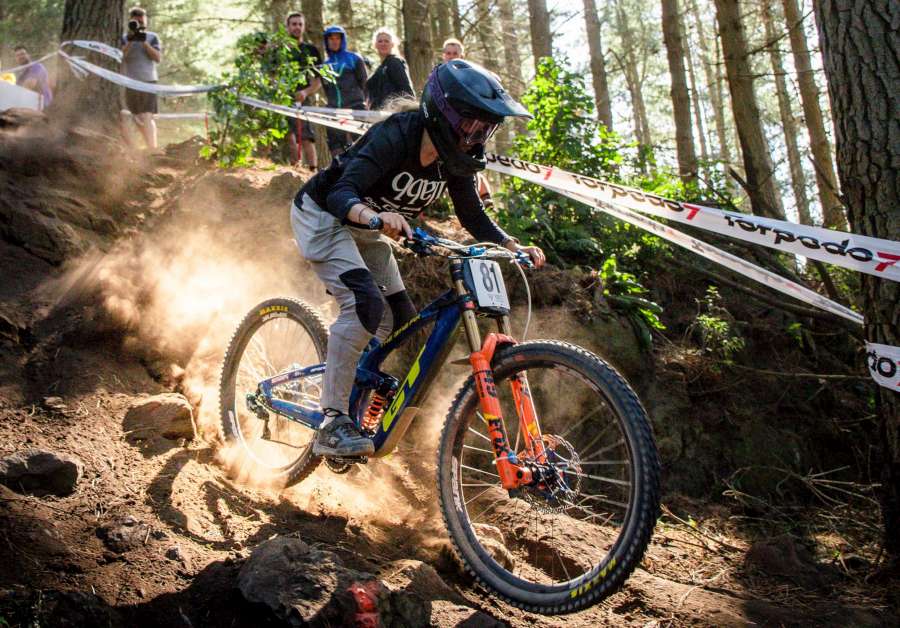 TORPEDO7 MOUNTAIN BIKE NATIONAL CHAMPIONSHIPS – DESIGN WINDOWS DOWNHILL
Christchurch-based Sam Blenkinsop had to wait 16 years to win his first elite downhill New Zealand title but he made it two in a row with a stunning display at the super-impressive Christchurch Adventure Park hosted by Gravity Canterbury.
The Norco Factory professional stormed home with the final run to make it back-to-back titles at the Torpedo7 Mountain Bike National Championships.
His time of 3:04.383 was four seconds faster than another Christchurch local Boaz Hebblethwaite, who set the early pace as 16 riders could not dethrone him from the hotseat until Blenkinsop's final charge to claim the Design Windows National title.
Queenstown-based teenager Sam Gale claimed the final podium spot a further four seconds back.
The charge from the young guns also included an outstanding effort from Under-19 winner Lachlan Stevens-McNab from Rotorua clocking a slick 3:15.313 to be fifth fastest overall.
Meanwhile Queenstown-based teenager Jessica Blewitt followed up from her Under-19 title last year with an impressive debut elite women's title.
But the day belonged to the outstanding 32-year-old Sam Blenkinsop, known universally as Blenki. He has been six times in the top-10 in the world and four times on the podium at the national championships before his back-to-back victories.
"It's been too many years to get the first one, so to get two in a row and in my hometown on my home track is unreal," said Blenkinsop.
"The track was a bit different this weekend with a bit more speed which suited us World Cup riders. It was a bit more technical and blown out. It felt like a World Cup race so I am stoked. It gets me excited to go racing."
With the change to Covid levels overnight, organisers made changes to the race format with no seeding runs but that suited the winner.
"World Cups are the same. We only have one race run and you don't know how the track will work out. That's what gets us racers excited because you are on the edge but you don't know how far you can push it.
"Last year I didn't race any world cups and didn't get to wear the New Zealand sleeve on my race jersey. I hope I get to go overseas and race and do New Zealand proud."
Boaz, 20, came in with local knowledge and victory over Blenkinsop last weekend at the NZ Open.
"I used to work at the Christchurch Adventure Park and helped build some of the trails – although not this one. I really wanted to win and had a great run today but the old bloke was just a bit better," said Hebblethwaite.
"I am focusing on riding more now trying to make it but that's hard. The old fellas are going hard. I would like to get to Europe but will need to see how that works out with the whole circumstance."
Blewitt, 18, formerly from Mount Maunganui before moving south, was another to put a hand up for emerging youth with an emphatic victory in her first year in the elite women's ranks.
Last year's junior national champion won by more than nine seconds from Robin Goomes of Rotorua to signal her international promise.
Results: Male:
Elite: Sam Blenkinsop (Christchurch, Norco Factory) 3:04.383, 1; Boaz Hebblethwaite (Christchurch) 3:08.793, 2; Sam Gale (Queenstown) 3:12.253, 3.
Under-19: Lachlan Stevens-McNab (Rotorua) 3:15.313, 1; James MacDermid (Rotorua) 3:19.703, 2; Alex Wayman (Christchurch) 3:19.953, 3.
Under-17: Luke Hancock (Wanaka) 3:31.43, 1; Ryan Hastings (Rotorua) 3:32.85, 2; Josh Bonnar (Queenstown) 3:33.88, 3.
Under-15: Jack Collins (Christchurch) 3:20.01, 1; Rory Meek (Queenstown) 3:26.63, 2; Kayne Johnston (Canterbury) 3:46.62, 3.
Masters 1: Craig Munro (Queenstown) 3:35.36, 1; Octavio Teixeira (Canterbury) 3:51.37, 2; Nathan Gilbert (Dunedin) 3:53.51, 3.
Sport: Max Hides (Christchurch) 3:29.850, 1; Caelab Drummond (Nelson) 3:30.390, 2; Watson Burns (Wellington) 3:42.747, 3.
Female, Elite: Jessica Blewitt (Queenstown) 3:44.280, 1; Robin Goomes (Rotorua) 3:53.163, 2; Louise Kelly (Nelson) 4:16.390, 3.
Under-19: Jenna Hastings (Rotorua) 3:47.480, 1; Kalani Muirhead (Queenstown) 4:37.850, 2,
Female, Under-15: Juliet Freeman (Christchurch) 5:08.06, 1; Josie Wayman (Christchurch) 6:00.64, 2.
Under-17: Sasha Earnest (Auckland) 3:59.63, 1; Leah Smith (Canterbury) 4:03.03, 2; Caitlin Flavell (Rotorua) 4:11.39, 3.
Sport: Louise Ferguson (Queenstown) 4:01.94, 1; Emily Wright (Christchurch) 4:32.56, 2; Brooke Reid (Wanaka) 4:42.90, 3.
Masters: Rae Morrison (Nelson) 4:07.19, 1;