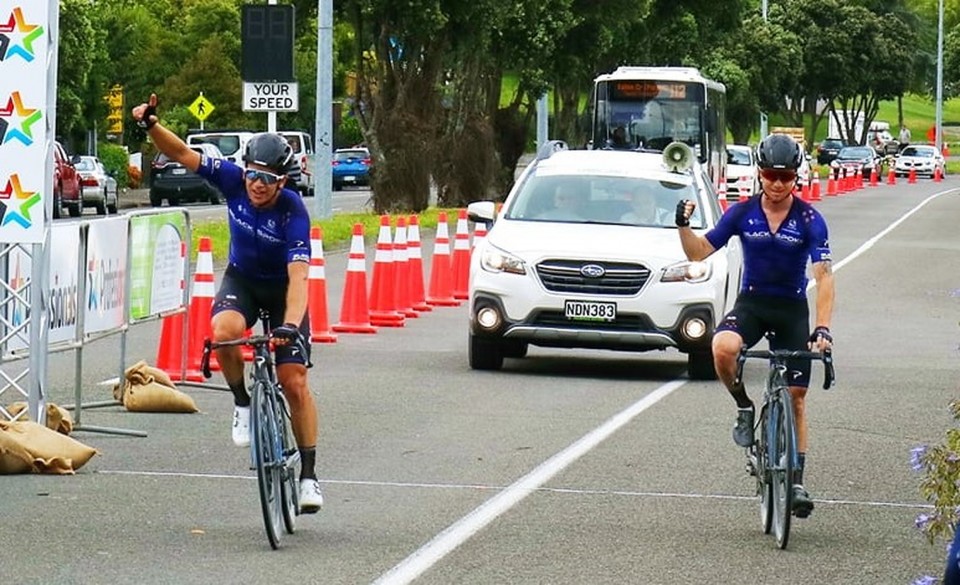 The Vantage New Zealand National Criterium champions Aaron Gate and Olivia Ray showed their offroad prowess to claim the honours in the UCI 1.2 category Gravel & Tar races in the Manawatu.
Gate was able to hold off his Black Spoke Pro Cycling teammate Luke Mudgway in the sprint to take the men's race over 164kms with a mix of gravel sections with the road while Ray (Vantage New Zealand National) edged out teammate Sharlotte Lucas in the women's race over 87kms.
The Gravel & Tar race follows on from the New Zealand Cycle Classic as the only UCI- registered races in Oceania, taking advantage of New Zealand's covid-free status in the community, after early-season races have been cancelled around the globe, including in Australia.
Gate, a key member of Cycling New Zealand endurance track team aiming for the Tokyo Olympics, followed on from winning the Tour of Southland before Christmas and a podium in the New Zealand Cycle Classic.
"That was awesome. A great race – the most fun I've had in a road race," said Gate. "It was really hard on the gravel sections and I was a bit surprised that we ended up with only 10 of us surviving after all the early attacks. It was great to be able to push on for a 1-2 for the Black Spoke team with Luke (Mudgway).
"The good thing is that the form is tracking in the right direction for the Tokyo Olympics which is the major aim. Next for me is to have a really good crack at the national championships next month before heading to Europe, hopefully, for some road racing."
Mudgway, who won the Gravel & Tar in 2019, was runner-up last year and second again today with the Vantage New Zealand pair of Ryan Christensen and Finn Fisher-Black two minutes back.
Both races started from Feilding with the men completing three loops of the country circuit before heading via Ashhurst to Palmerston North.
After Josh Burnett (NZ Cycling Project) took out the first sprint, a five-strong group went clear on the second lap, opening a 1:44 gap before Mudgway pushed off the front with fellow Black Spoke Pro Cycling teammate and fellow Manawatu rider Campbell Stewart and Tom Sexton (Vantage New Zealand). They were joined by Gate and the Vantage New Zealand group of George Bennett, Fisher-Black, NZ Cycle Classic winner Corbin Strong, and Christensen; Ben Oliver (NZ Cycling Project) and Alex White (Kiwi Velo) with 55km remaining.
Gate showed his strength to push away on the gravel section with 35km remaining to take Mudgway with him, opening up a telling gap of 1:30 on Ryan Christensen with a further 20 seconds to his teammate Fisher-Black.
From their Gate's sprinting ability won through to take the line honours.
Earlier Ray continued her outstanding summer in winning the sprint to claim the Gravel & Tar Femme road race over 87kms in a sprint finish with Vantage New Zealand teammate Sharlotte Lucas.
Ray, who returned home from her US-based college studies because of Covid-19, won the Vantage National Criterium title in Christchurch in December, and was also prominent at the national track series in Cambridge.
She switched back to the road to take the UCI 1.2 category event from Lucas and Rhylee McMullen (Andy Schlek CPNVST), who outkicked Alicia Evans (Vantage New Zealand) and Josie Wilcox (Black Dirt Collective).
"That was a lot of fun. I've been racing in the US for the last few seasons while studying and never raced on gravel like that. Everyone was respectful and it was hard but so enjoyable," said Ray.
"The Vantage New Zealand team had a good group and we worked together so well today which made it enjoyable."
Ray, who hopes to compete in Europe this year after signing with the Rally Cycling Team, will target the national road championships before then turning her attentions to the national track championships.
"The national sprint coach thinks I am a sprinter but I am not so sure. It is fun doing both right now."
Today the leading five finishers – Ray, Lucas, McMillan, Evans and Josie Wilcox (Black Dirt Collective) – were part of a group of 10 who jumped clear at 40kms before being reduced to eight at 60kms, when Lucas punctured. The TIBCO WorldTour professional showed her grit to fight back on, rejoining the peloton with less than 10kms remaining.
The group thinned down to five who opened a 200m gap with Ray showing her sprinting abilities to claim the victory.
Results:
Gravel & Tar Femme 87kms: Olivia Ray (Vantage New Zealand) 2:24:28, 1; Sharlotte Lucas (Vantage New Zealand) at 2s, 2; Rhylee McMullen (Andy Schleck CPNVST) same time, 3; Alicia Evans (Vantage New Zealand) at 4s, 4; Josie Wilcox (Black Dirt Collective) at 5s, 5.
Gravel and Tar Classic, 164kms: Aaron Gate (Black Spoke Pro Cycling) 4:05:04, 1; Luke Mudgway (Black Spoke Pro Cycling) same time, 2; Ryan Christensen (Vantage New Zealand) at 2:02, 3; Finn Fisher-Black (Vantage New Zealand) at 2:49, 4; Corbin Strong (Vantage New Zealand) at 3:07, 5.