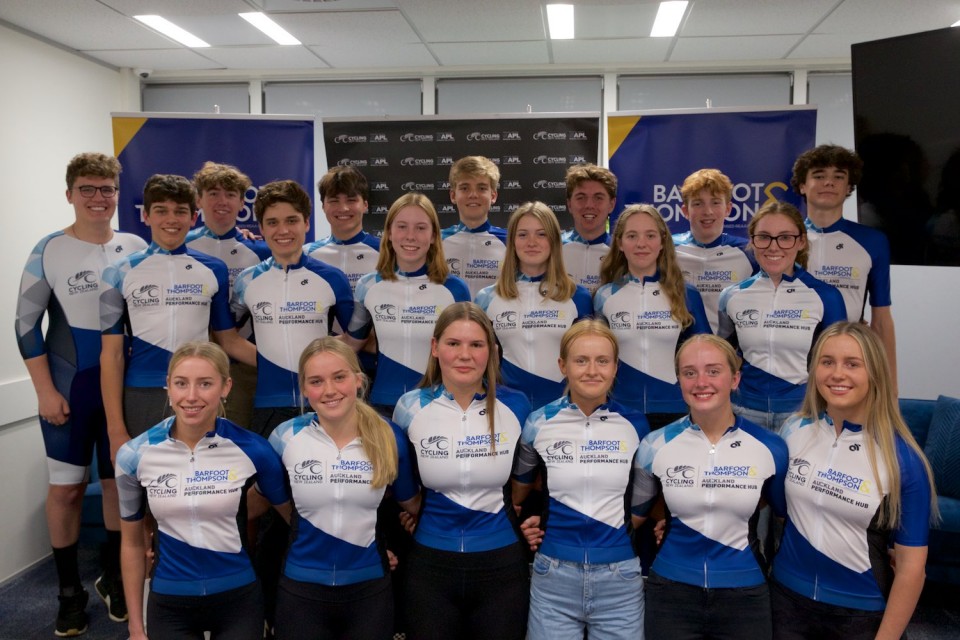 Cycling New Zealand have announced the new intake for the Barfoot & Thompson Auckland Performance Hub which is part of the Cycling New Zealand National Performance Hub programme.
This is the fifth year of the programme for the Auckland-Northland region.
The National Performance Hub is a pathway programme for emerging young talent who receive training and professional resources. The Hubs also assist with the development pathway for coaches as part of high-performance succession planning.
Cycling New Zealand established the athlete development programme, with the overarching aim of developing athletes across all cycling codes to feed into the Cycling New Zealand High Performance programme.
There are 20 athletes from road and track disciplines selected for the 2021-2022 Barfoot & Thompson Auckland Hub programme.
Former New Zealand representative Myron Simpson, Auckland Hub coach, has seen an increased interest in the Hub over the last three years.
"The Hub programme is all about nurturing and developing local talent. Last year, despite the state of the world, our athletes consistently competed at the Vantage Elite & U19 Track Nationals, and junior road and track events throughout the country," said Simpson.
"We have the support of the local Auckland community with local companies and organisations such as Barfoot & Thompson and AUT which means we can build momentum and create great coaching opportunities to fully develop more young riders to flow into the elite space."
Barfoot & Thompson New Zealand's largest privately owned real estate company, have been the naming sponsor of the Hub since inception and are huge supporters of the local community through their many and varied sponsorships.
A family business with over 97 years of experience, 77 branches and over 1,500 salespeople across Auckland and Northland, they are ground-breakers when it comes to real estate having won numerous national and international awards.
"It's a fantastic achievement to be chosen as a member of the Hub and all the riders should be proud of their achievements," said Barfoot & Thompson Managing Director Peter Thompson.
"We are very supportive of the Hub and it's great to see these young athletes wearing our brand with pride, we look forward to the day where we see them competing on the world stage."
We also welcome Logan Mort and Tessa Jenkins as the hub intern coaches. The intern coach programme aims to provide up and coming coaches with learning and practical coaching opportunities whilst also providing the athletes with more resource and support. Both Tessa and Logan have strong cycling backgrounds and will be a super addition to the team.
The 2021 intake for the Barfoot & Thompson Auckland Performance Hub is:
Prue Fowler
Ella Wyllie
Bonnie Rattray
Tiree Robinson
Tom Stephenson
Jorja Clouth
Ally Gothard
Austin Norwell
Ruby Spring
Holly Bliss
Lucas Bhimy
Bee Townsend
Queenie McElwee
Edward Pawson
Redmond Connolly
Luke Blackwood
Joel Douglas
Cameron Davies
Jodie Blackwood
Nate Boness