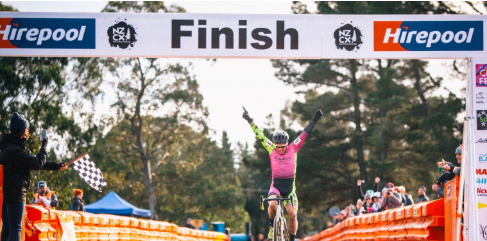 Cycling New Zealand has announced that the 2020 Cyclo Cross Nationals will be staged in the Hutt Valley.
This follows the success of the recent Cyclo Cross Nationals in Christchurch, which has reinvigorated the Cyclo Cross community.
Huttcross (Wellington) will stage the sanctioned national championship in August next year as part of the Aotearoa CrossFest brand which was established to support a wider participation and offer an introduction to the sport of Cyclo Cross while also celebrating the elite competition.
Huttcross has been involved with cyclo cross events in New Zealand for a decade. Initially established by local bike shop owner, the US-born Mike Anderson, Huttcross was conceived out of a desire to bring cyclo cross to the Wellington region. Huttcross has become New Zealand's most popular cyclo cross event organisation with over 250 participants at many club races.
The event date and course venue will be confirmed but the event is likely to take place in early August 2020 in the Hutt Valley.
The Hutt Valley has a variety of greenspace locations on which to host the national event with all likely venues are within easy access of the main centres of Lower Hutt and Upper Hutt as well as being within 45 minutes drive from Wellington Airport.
Huttcross president, Kim Hurst, herself a prolific performer in both mountain bike and cyclo cross, has been a significant driver for the return of a sanctioned championship and is excited to host the Championship at her home club.
"To be able to carry on and hopefully add to the legacy created by Southern Cross is something we take very seriously and we can't wait to welcome the CX and sports community to the Hutt Valley in August 2020.
"Our club has a strong community ethos and desire to see participation grow across all ages in this code of cycling as well as support the high performance elements of the sport. To be able to host the Aotearoa CrossFest featuring the National Championships is an opportunity we are going to take with both hands," she said.
Cycling New Zealand CEO, Jacques Landry shared the excitement from the club with the continuation of the work done in 2019 and the ongoing commitment from the CX community to cement a sanctioned event on the calendar.
"We were delighted with the success of the 2019 event and given the experience and enthusiasm of HuttCross are more than confident 2020 will deliver not only the championship but will offer participation opportunities for the wider community and no doubt inspire more cyclo cross riders."
CAPTION: A rider celebrates crossing the finish line at the 2019 Cyclo Cross Nationals in Christchurch. (Photo credit: Trinity Shot).
Further Information: https://cyclo-cross-nationals.cyclingnewzealand.nz/
Aotearoa CrossFest: https://www.facebook.com/ACXF2020/