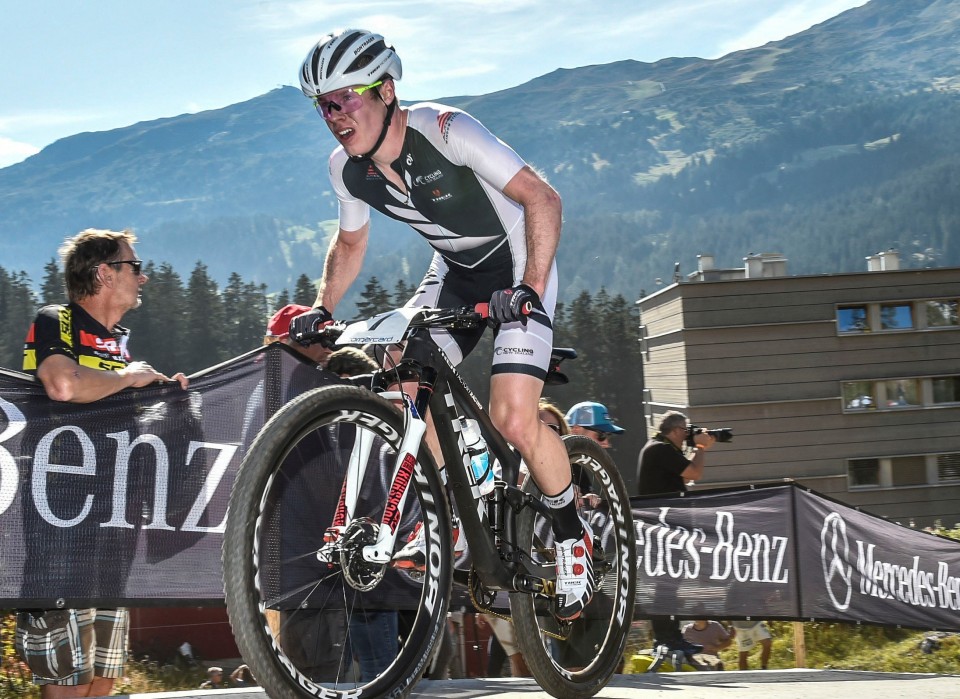 Cycling New Zealand has named a 25-strong Altherm Elite team to contest the UCI Mountain Bike World Championships in Canada next month.
New Zealand has six riders ranked in the top-20 in the world across cross-country and downhill disciplines to compete at the famed ski and mountain bike resort of Mont Saint Anne in eastern Canada from 28 August to 1 September.
It is one of the most celebrated mountain bike spots in the world, with more than 130kms of cross-country trails and 30kms of downhill with a range of other facilities. This year will be the first time that any venue has hosted the world championships three times, while it has been a regular stop on the UCI World Cup circuit for many years.
Trek Factory professional Anton Cooper heads the cross-country team, along with first-year elite Ben Oliver, who is part of the Subway National Performance Hub, and Cambridge pro Sam Gaze. He has been granted a dispensation after battling back from a serious injury last year and severe concussion this summer.
Cooper, Oliver and Gaze are all competing on the UCI World Cup elite circuit. Cooper is ranked 11 in the world and Oliver 48th in his debut year.
Taupo's Sammie Maxwell, who competed at the Youth Olympics in Buenos Aires last year, and Rotorua's Ruby Ryan are both in the world's top-20 ranked junior female riders.
Popular Hawkes Bay professional Brook MacDonald leads the downhill team heading to Canada, with the MS Mondraker team rider currently ranked sixth in the world after consistent form this year. He is joined by 18th ranked Taranaki rider Ed Masters, who is high in confidence after a win in the world enduro series last month.
The other elite males, all European-based professionals, comprise George Brannigan, Sam Blenkinsop, Wyn Masters, Matt Walker and Keegan Wright.
National champion Kate Weatherly, currently ranked 11th in the world, carries the hopes in the elite female racing.
The junior downhill squad includes Oceania champion Tuhoto-Ariki Pene and fellow Subway Performance Hub riders Sam Gale, Alex Barke and Blake Ross in the seven-strong group.
The junior cross-country titles will be decided on Friday 30 August (NZ time), downhill qualifying on Saturday, cross-country elite races on Sunday with downhill honours determined on Monday.
The Altherm New Zealand elite team is:
Cross-country, elite male: Anton Cooper (North Canterbury, Trek Factory), Sam Gaze (Cambridge, Specialized), Ben Oliver (North Canterbury, Subway Hub). Under-19: Connor Johnston (Rotorua), Caleb Bottcher (Palmerston North), Matthew Wilson (Auckland).
Female, Under-19: Sammie Maxwell (Taupo), Ruby Ryan (Rotorua).
Downhill, elite male: Sam Blenkinsop (Christchurch, Norco Factory), George Brannigan (Hawkes Bay, GT Factory), Brook MacDonald (Hawkes Bay, MS Mondraker Team), Ed Masters (New Plymouth, Pivot Factory), Wyn Masters (New Plymouth, GT Factory), Matt Walker (Rotorua, Pivot Factory), Keegan Wright (Rotorua).
Junior: Alex Barke (Queenstown, Subway Performance Hub), Sam Gale (Queenstown, Subway Performance Hub), Finn Hawkesby-Brown (Christchurch), Finn Parsons (Rotorua), Blake Ross (Auckland, Subway Performance Hub), Tuhoto-Ariki Pene (Rotorua, Subway Performance Hub),
Louis Vuleta (Cambridge).
Elite female: Kate Weatherly (Auckland), Virginia Armstrong (Auckland). Junior: Fiona Murray (Wanaka).
Unavailable because of injury: Samara Sheppard, Bryn Dickerson.
CAPTION: New Zealand rider Anton Cooper in action at the mountain bike world championships in 2018. (Credit: Robert Jones)