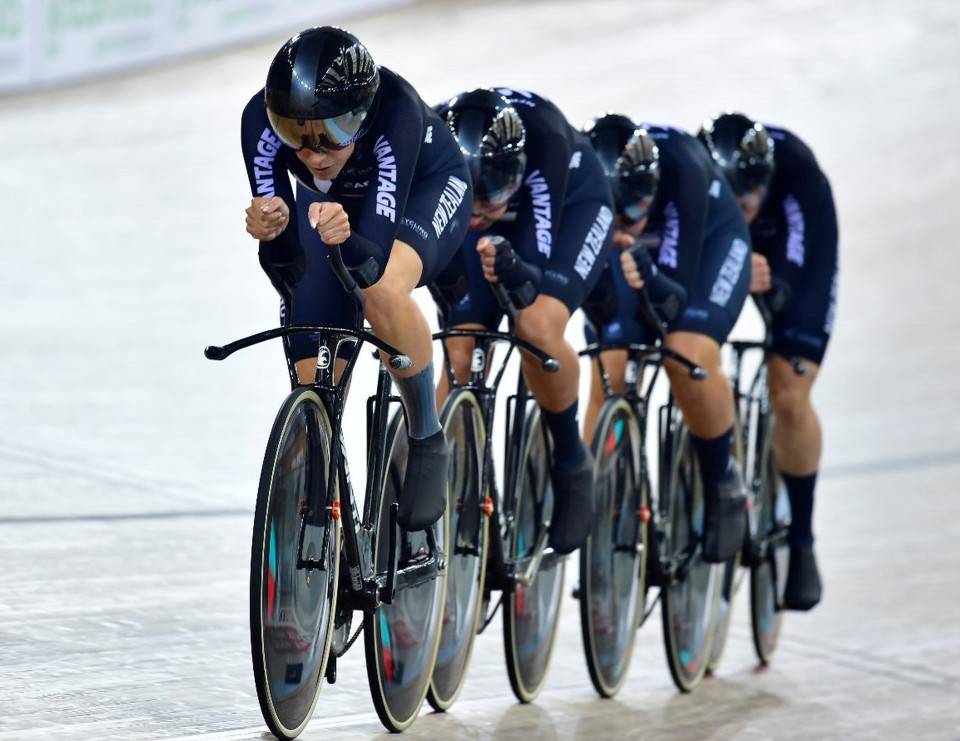 The Olympic track squad will add considerable gloss to the Vantage Elite and Under-19 Track Cycling National Championships at Invercargill this week.
The Tokyo squad will enjoy some much-needed race competition which marks the completion of their last training block before their final training phase to the Olympics.
They are among 131 riders to contest the Elite, Under-19 and Para Cycling competition at the SIT Zerofees Velodrome from Wednesday to Saturday.
Cycling New Zealand High Performance Director, Martin Barras said the championships will be an important opportunity not just for the Olympians.
"Globally we continue to be in challenging times but in New Zealand, in the main, we have been able to train over recent months and these championships represent the opportunity to express that in competition.
"While we are still far from certain on the nature of competition internationally, nonetheless the championships will be a guide for selectors looking at the Hub programme and potentially for the world junior championships.
"It is an important marker for the progress for the Olympians and Paralympians as those athletes move into the final phase for Japan."
The female endurance group of Holly Edmondston, Jessie Hodges, Kirstie James, Bryony Botha and Jaime Nielsen will compete across the range of events comprising individual and team pursuit, points race and scratch race. The final member of the team, Rushlee Buchanan, will bypass the championships as she continues to return to full fitness following a track crash before Christmas.
This group will be tested from the likes of fellow Vantage Elite squad rider Nicole Shields as well as Vantage Criterium national champion Olivia Ray, Southland's Emily Paterson and Rhylee McMullen, Waikato BOP's McKenzie Milne and Olivia King.
Olympic sprinter Ellesse Andrews has a full schedule of sprint races where she will face Rio Olympian Emma Cumming, return to competition after a lengthy injury-layoff, Tasman's Shaane Fulton and Waikato BOP's Tahlay Christie.
The men's Olympic squad of Aaron Gate, Regan Gough, Campbell Stewart and Corbin Strong are racing along with fellow Vantage Elite squad riders Hugo Jones, Nick Kergozou, Josh Scott and Tom Sexton.
They will face threats from the likes of Scotland's Mark Stewart, the 2018 Commonwealth Games points race gold medallist, currently domiciled in New Zealand, and emerging stars Jackson Ogle (Waikato BOP), George Jackson (Wellington) and Kiaan Watts (Waikato BOP).
Star sprinters Ethan Mitchell and Sam Webster are joined by fellow Vantage Elite teammates Sam Dakin and Callum Saunders with stern competition expected from Bradly Knipe (Southland), Jayden Fleming (Waikato BOP) and Jordan Castle (West Coast NI).
There are 12 riders competing in the para programme led by the remarkable Emma Foy, a double Paralympic medallist and multi-world champion who is joined by pilot Nina Wollaston in the tandem time trial and individual pursuit.
Also competing amongst a strong contingent is national time trial record holder Nick Blincoe (Auckland), Southland's national champion Connor Douglas and a number of riders who have emerged from the talent identification camp.
While the action begins on Wednesday morning, the Tokyo Olympic endurance squad will have a key time trial hit-out over 4,000m team pursuit on Tuesday.
The morning sessions run from 10am with finals, which will be streamed live on Sky Sport Next YouTube, start at 5pm Wednesday to Friday and 3pm on Saturday. All the details will be on the website here.