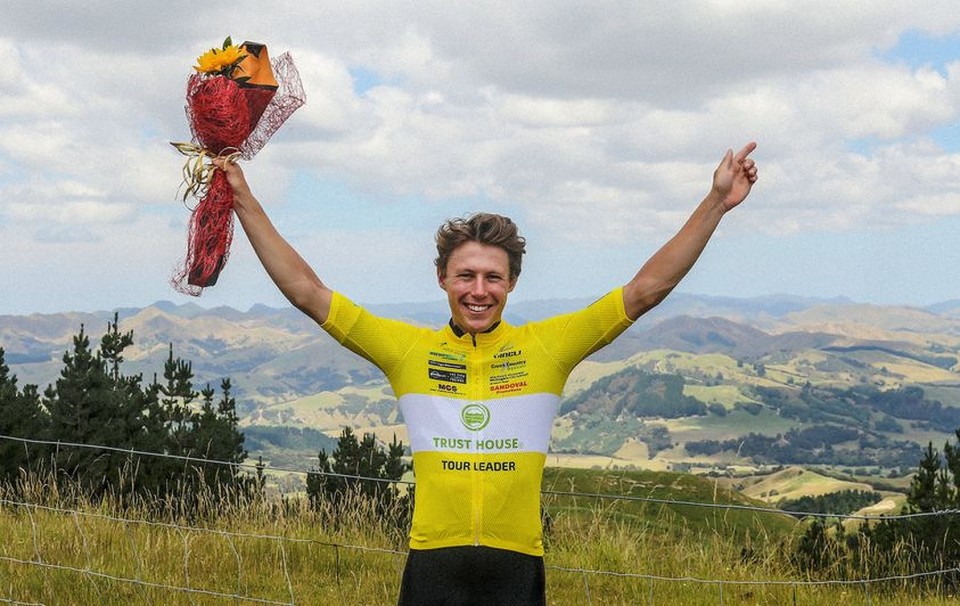 Track world champion Corbin Strong showed his prowess on the road with the Vantage New Zealand rider claiming overall victory in the New Zealand Cycle Classic which finished with a criterium around downtown streets in Wellington.
The 34th NZ Cycle Classic was the first UCI sanctioned tour in the world for 2021, and with the cancellation of all early-year races in Australia, it is the only UCI Tour in Oceania this year.
After four days racing the roads of the Wairarapa, Vantage New Zealand teenager Finn Fisher-Black took a slender four second lead into the final stage, a one-hour criterium in downtown Wellington.
After scorching conditions over the first four days, riders had to cope with winds and rain which made for tricky riding conditions.
Strong's Vantage New Zealand teammate Regan Gough won the first sprint from Aaron Gate and Strong, but the world champ won the second sprint to draw level with Fisher-Black and secured overall honours with second place in the final sprint.
"It was tricky conditions today and slippery in the wet with white lines everywhere. But the tight nature of the course suited my skillset. In fact the whole tour seems to be well designed for me," said Strong.
"I got the feel for the sprint line after the first one when I was third and nailed the second one and had a good crack at the final one where Campbell (Stewart) was too fast.
"But I knew I had done enough. I am super stoked. I am so pleased with my form. I trained well through Christmas and New Year. We are so lucky in New Zealand to be able to do these races and train in the sport we love without the restrictions overseas and I am so grateful."
In December, Strong was outstanding in the Tour of Southland, leading until the final day when his Vantage elite trackmate Gate got up for the victory.
"Southland was definitely in the back of my mind. I was determined not to let that happen again. I really had some fire in the belly and pretty motivated, especially after I wore the yellow for 5hrs on stage four until they found a timing error and I lost it. It did go to my teammate Finn which was not so bad but it fired me up."
His Vantage New Zealand teammate Finn Fisher-Black finished second overall, reward for the 19-year-old who flies out to Europe this week to begin his professional career with the development team of World Tour giant Jumbo-Visma.
"Our Vantage New Zealand team were all young guys and we gelled so well. We exceeded all expectations to finish with three stage wins, first and second overall to me and Finn, the under-23 jersey, Regan won the sprint jersey and we won the overall team classifications. It was awesome."
Regan will be back in action next weekend joining George Bennett in the Vantage New Zealand team for the second UCI-sanction event, the Gravel and Tar Classic and Gravel and Tar Femme races in the Manawatu on Saturday 23 January.
The 2020 NZ Cycle Classic was supported by Trust House, Wellington City Council, Mobile Communications Service, Wizwireless, Fagan Motors, Mitre 10 Mega Masterton, Cross Country Rentals, Tineli and Lion Foundation plus all three Wairarapa District Councils.
Results:
Stage 5 Criterium: Campbell Stewart (Black Spoke Pro Cycling) 1, Corbin Strong (Vantage NZL) 2, George Jackson (NZ Cycling Project) 3.,
General Classification: Corbin Strong (Vantage NZL) 1, Finn Fisher-Black (Vantage NZL) 2, George Jackson (NZ Cycling Project) 3.
Team Classification: Vantage New Zealand
Under-23: Corbin Strong
KOM: Luke Mudgway (Black Spoke Pro Cycling)
Sprint: Regan Gough (Vantage NZL)