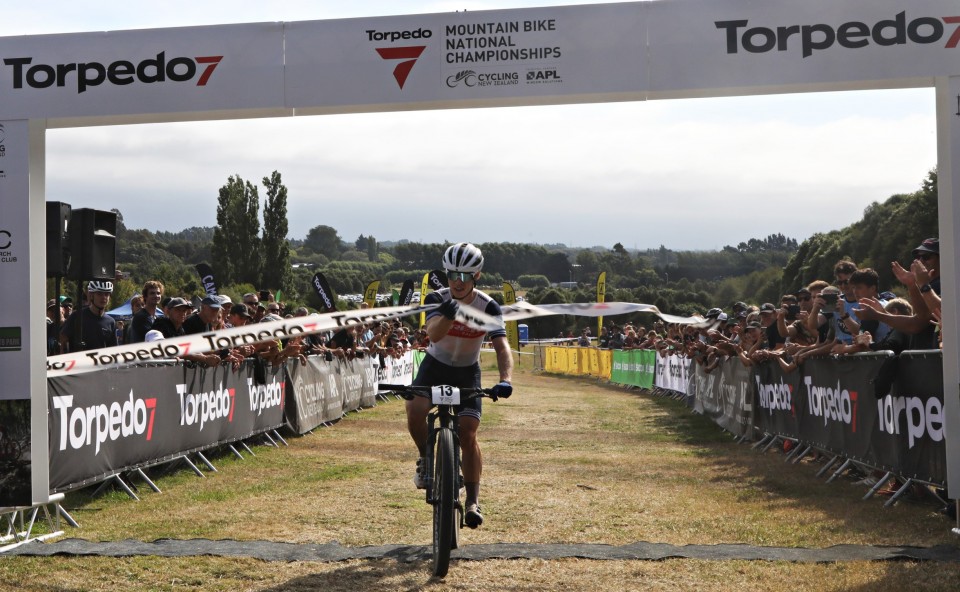 TORPEDO7 MOUNTAIN BIKE NATIONAL CHAMPIONSHIPS – CROSS-COUNTRY
Anton Cooper scored his seventh elite title and fifth in a row at the Torpeo7 Mountain Bike National Championships in Christchurch today and immediately set his sights the Tokyo Olympics.
Cooper, the Trek Factory professional, was in remarkable form, winning the championship in 1:29.01, three minutes clear of fellow North Canterbury rider Ben Oliver at the superb Crocodile Park course in Christchurch.
Earlier Taupo 20-year-old Sammie Maxwell produced her best-ever ride to claim the elite and under-23 honours in the women in emphatic fashion 1:18.24, with two and half minutes to Wellington's remarkably versatile athlete, Kate McIlroy.
Cooper, ranked 22nd in the world at the end of 2019, has used his time away from Covid-hit competition to work his way to outstanding form.
"I knew I was training well but you never know until you race. My prep has gone well and I feel I am in the best shape ever. I am healthy and fit and the results are coming," said Cooper.
He was minute clear of Oliver after the first full lap of six and gradually disappeared from the chasers, lapping consistently in a commanding performance.
"It is may be the most special of all my national champs, doing it at home with such a big crowd and with the calibre of riders in New Zealand these days, it is pretty special. We have not raced in front of a crowd for over 12 months so to have this turnout is unreal."
Oliver, who has enjoyed some standout performances on the road this summer, was a clear second as he looks to compete on the mountain bike circuit in Europe this year.
Meanwhile Rotorua's Sam Shaw pushed though the field to nab under-23 prospect Cameron Jones (Nelson) on the penultimate lap to complete the podium.
Cooper will now return to Europe for two planned UCI World Cups which will be the last qualification races for the Tokyo Olympics.
"This is great prep for the upcoming World Cups. They are very important. It is what my team is focussed on and in terms of Olympic selection it is going to be really important. If that goes well, then I can then turn my attentions to Tokyo."
Maxwell from Taupo, a Youth Olympian, has spent much of the last year or more battling health issues and focussing on university studies.
When defending champion Josie Wilcox crashed out early, Maxwell took the lead and gradually moved away from McIlroy to dominate the race, while Tirau rider Rebecca Kingsford completed the podium.
No-one was more surprised with the result than the winner.
"The result definitely surprised me. I came in with my expectations. I just wanted to finish and give it my best. I know it might sound cheesy but it's the truth," said Maxwell.
"I still can't believe it. It might sink in when I am wearing the fern. It is crazy.
"This is probably the first year that I have put my health first and it is the best performance I have done. So to all the young kids out there, do your sport because you love it but your health comes first."
The other standout performance came in the male under-19 division with brilliant Canterbury prospect Ethan Rose winning by more than five minutes in a superb solo performance.
Like Maxwell, he races for the new NZMTB team under coach Sam Thompson, with the pair also now planning to compete in Europe this year, Covid-willing.
After big crowds swarmed the excellent Crocodile Park facility under the guise of the Christchurch Single Track Club, attention now turns to the nearby Christchurch Adventure Park with the country's best downhill riders competing for national honours.
Results:
Female:
Elite/U23: Sammie Maxwell (Taupo) 1:18.24, 1; Kate McIlroy (Wellington) 1:21.02, 2; Rebecca Kingsford (Tirau) 1:24.09, 3.
Under-19: Mia Cameron (Taupo) 1:08.36, 1; Amelie MacKay (Christchurch) 1:09.55, 2; Annabel Bligh (Christchurch) 1:11.35, 3.
Under-17: Maria Laurie (Christchurch) 50:05, 1; Florence McNabb (Taupo) 53:09, 2; Seana Gray (Cambridge) 55:23, 3.
Under-15 Caoilinn Gray Cambridge) 51:33, 1; Lara Comeskey (Wellington) 52:14, 2; Neve McKenzie (Blenheim) 56:23, 3.
Masters 1: Sarah Gilbert (Christchurch) 1:09.17, 1; Amy Haddon (Rotorua) 1:11.34, 2; Nicki McFadzien (Christchurch)1:12.06, 3.
Masters 2: Ruth Ball (Christchurch)1:14.34, 1; Kim Johnston (Christchurch)1:16.17, 2; Katherine Symons (Christchurch)1:19.41, 3.
Masters 3: Bridget Tempero (Christchurch)58.28, 1; Sarah Beadel (Rotorua) 1:01.41, 2; Alana McLuckie (Blenheim) 1:09.09, 3.
Sport: Priscilla Thompson (Waiau) 52.39, 1; Jemima Snook (Christchurch) 56:43, 2; Maia Adams (Alexandra) 58:53, 3.
Men, Elite-Under 23: Anton Cooper (Christchurch) 1:29:01, 1; Ben Oliver (Christchurch) 1:32.12, 2; Sam Shaw (Christchurch) 1:33.29, 3.
Under-19: Ethan Rose (Coalgate) 1:04.46, 1; Jacob Turner 1:09.54, 2; Adam Francis 1:10.31, 3.
Under 17: Ethan Woods (Motueka) 55:26, 1; Max Preece (Christchurch) 55:48, 2; Coen Nicol (Wairakei) 55:58, 3.
Under-15: Fletcher Adams (Hamilton) 43:28, 1; Payo O'Sullivan (Pleasant Point) 43:44, 2; James Climo (Hamilton)46:42, 3.
Sport: Max Beckert (Christchurch) 58:43, 1; Flynn Marshall (Christchurch) 1:02.25, 2.
Masters 1: Joseph Nation (Christchurch) 1:11.06, 1; Oliver Pearce (Christchurch) 1:11.36, 2; Peter Hatton (Christchurch) 1:16.09, 3.
Masters 2: Brent Miller 55:37, (Christchurch) 1; Flavio Vianna (Christchurch) 56.42, 2; Anthony Chapman (Christchurch) 58:10, 3.
Masters 3: Neil Sutherland (Christchurch) 1:01.13, 1; Kent Wilson (Napier) 1:01.42, 2; Mel Hansen (Motueka) 1:02.39, 3.
Masters 4: Neil Averis (Christchurch) 1:08.10, 1; Andre Chappell (Christchurch) 1:14.49, 2; David Ralston (Christchurch) 1:15.57, 3.
Masters 5: Arlo Guthrie (Motueka) 1:09.34, 1.
Caption: Anton Cooper and Sammie Maxwell in action on their way to respective titles at the Torpedo7 Mountain Bike National Championships at Crocodile Park in Christchurch. (Photo Credit: Cam Mckenzie)
Details: http://mtbnationals.nz/