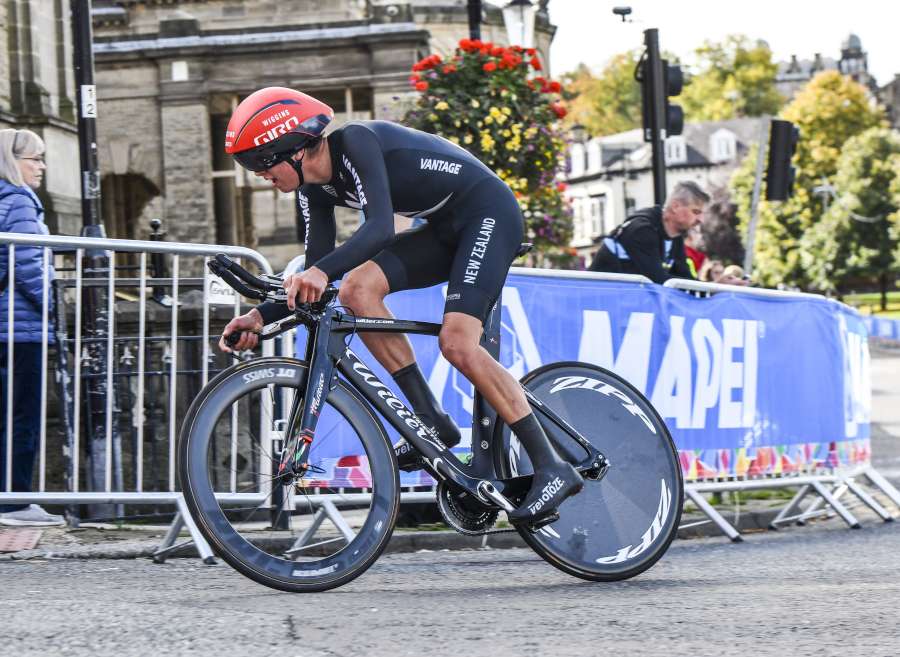 Two talented teens on two wheels, Reuben Thompson and Laurence Pithie, have signed for the development squad of one of the UCI World Tour's most prestigious professional cycling teams.
Queenstown's Reuben Thompson and current national criterium champion Laurence Pithie from Christchurch have signed contracts to join Groupama-FDJ Continental team.
Thompson has two weeks sitting on his indoor-trainer in an isolation hotel after returning from Europe to contemplate what has been a year of many trials and tribulations before securing his dream contract.
He had initially planned to go to Europe early this year after signing a contract with another World Tour development team, Deceuninck-Quick Step but they folded plans for their development team on the eve of his departure. He found a spot on an amateur team in Spain, and while not his ideal scenario, headed off to Europe until the Covid-19 pandemic struck.
Thompson flew home for the lockdown period before returning to race in Spain in early July but it was not the opportunity that had been within his reach. His agent called with the good news that he would join Pithie at Groupama-FDJ, the biggest cycling team in France.
"After all of the challenges and the ups-and-downs, to get this news was unreal," said Thompson. "I've just returned from the first training camp which was amazing," said Thompson.
"The opportunities will be fantastic, not just for the next two years, but we will be integrated into racing with the World Tour riders and if we can perform, then there is the hope we will move up to the World Tour.
"They are the biggest French team in France, the home of cycling. It was such a relief to sign with FDJ after what has been such a difficult year."
While in isolation he is still training hard in preparation for the upcoming Tour of Southland where he will ride for the Vet4Farm team that includes former Great Britain representative Mark Stewart, a gold medallist at the 2018 Commonwealth Games.
Thompson originally moved to Cambridge to develop a fledgling triathlon career, boarding at ST Peters School with cyclist Finn Fisher-Black, who is now riding for the development team of World Tour Team Jumbo Visma.
"Ultimately Finn was the one to really get me onboard with the cycling and helped me get a guest ride with Team Skoda Fruzio in late 2018. Things progressed from there and after the Junior National Champs in April last year I made the switch to focus 100 percent on the road."
Thompson was selected in the New Zealand Under-19 team, producing some exceptional performances on their tour in France where his initial opportunity to return for a professional team germinated.
Now coached by former Mike Greer Homes director sportif, Patrick Harvey, Thompson is excited about the future.
"I want to do a good job for the team at the Tour of Southland. But the focus will be to build a big base before returning to Europe to join the team, who will be based near the border with Switzerland, above the Alps."
While the team is international and English its official language, he is taking the opportunity in quarantine isolation to continue learning French for what he hopes is an exciting future.
CAPTION: Reuben Thompson in action at the UCI Road World Championships in 2019. (Photo: Robert Jones).