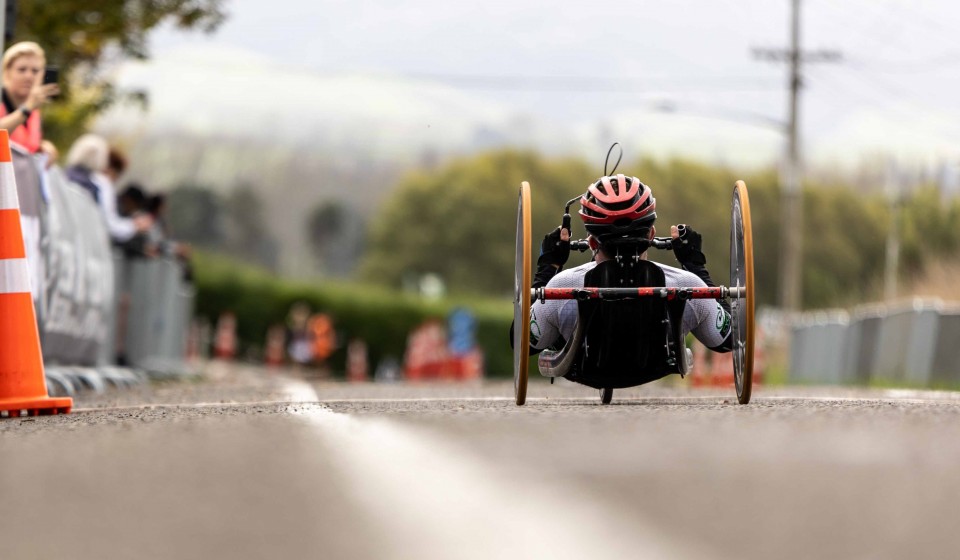 VANTAGE AGE GROUP ROAD NATIONAL CHAMPIONSHIPS, ROTORUA, DAY 1 WRAP
A cooling day in the countryside between Rotorua and Taupo is as far as possible from the climes of Japan, but there was definitely some Olympic and Paralympic excitement around performances at the Vantage Age Group Road National Championships today.
Some of the country's Tokyo-bound riders showed splendid form in the time trials on the first day of the championships that attracted around 550 cyclists from the Far North to Southland.
They included riders from under-15 years to senior, Masters from 35 years to over 75 years and Para cyclists for the three-day competition, based in and around Waikite Valley, south-east of Rotorua.
There were encouraging signs for some of our riders bound for Tokyo in 100 days with endurance track riders Holly Edmondston winning the senior women's time trial with teammate Bryony Botha third.
"I felt confident today. It felt flowing today and I kept to the plan, and saved a bit in the tank for the 5km of hill at the end," said Edmondston. "I want to be consistent and not fall into a hole. Today I was able to go to the edge and definitely gives me some confidence that I am on track."
Cycling Marlborough's Ethan Batt claimed the senior men's title, with encouraging efforts from men's track endurance riders Jordan Kerby and Regan Gough who were second and third respectively.
"I was surprised to be honest," said Kerby who has only recently returned to New Zealand from his home in Queensland.
"It was a bit last-minute after coming out of quarantine. I just went out and went as hard as I could. It was a solid little course and I was happy with the effort. We have been training pretty hard and that is not going to stop for the next 100 days. We are all carrying a bit of fatigue. It is good to have a good hit-out in race conditions."
Some of the country's leading para cyclists also showed they are moving confidently towards Tokyo, led by Tauranga's Fraser Sharp in the men's C1-C5 category, trike rider Stephen Hills (Hawera), handcycle winner Jonathan Nelson and Sarah Ellingham (Auckland).
"It was hard work going back on the long climb up the hill but I was happy with that," said Hills who is a medal prospect for Tokyo.
"Things are progressing really well. I haven't got my gold medal yet so I am hoping that Tokyo will produce one there.
"We went to Tokyo last year and checked out the course and it is pretty good and one that suits me."
A number of riders won again after claiming titles in the Hawkes Bay last year, in both the age grades and masters on a tough course in the Waikite Valley.
Super-talented Canterbury rider Amelia Sykes stepped up to under-19 while Leeston's Henrietta Christie moved to under-23 to claim their repeat national titles today.
Morrinsville Wheelers rider Sarah Morrison won again in Masters 2 (40-44 years), as did world champion Penny Pawson (Counties Manukau) in Masters 4 (50-54 years), Sandy Wiggins (Cycling CHB) in Masters 5 (55-59 years) while Mary Cullen (Ramblers Hawkes Bay) moved to Masters 8 (70-74 years) to carry on her winning ways.
One of the most impressive riders for the future came with a strong effort from Bonnie Rattray (Counties Manukau) who won her first title in the under-17, winning the 16km test in 26:13.
"I was super-nervous going into it. I thought I went out too fast but I managed myself well and surprised myself with the win. It's my first national title which is cool. Looking ahead I think I could do well in time trials because I am better at endurance than sprinting," said Rattray.
"I love the environment and being able to push myself, be with my friends and it is competitive."
In the men's racing, Canterbury's Logan Currie repeated his win in the under-23 category in 32:19:21 over the 25km test, with other repeat winners including Steve Bale (Wellington) in the Masters 2 (40-44 years) and the indomitable multi-world champion Jim McMurray (Forestland Wheelers) who moved up to the Masters 6 (60-64 years) category with continued success.
At the other end of the age spectrum was Te Awamutu's Joshua Rowe who took out the honours in the under-15 grade in his first year in the sport, and current leader in the National Road Series.
"It means quite a lot to me to have won my age group. At the start of the year I had not been in any Tours so I had to learn what things like GC meant," said Rowe.
"I love the feeling of going fast. We had these have-a-go sessions at the velodrome and I went into that and have not stopped. I was hooked. I just love it. "
Focus moves to the road racing over the weekend based at the Waikite Valley School.
Photo Credit: Robbie Dalziel
For more details and results and spectator zones http://roadnationals.nz/