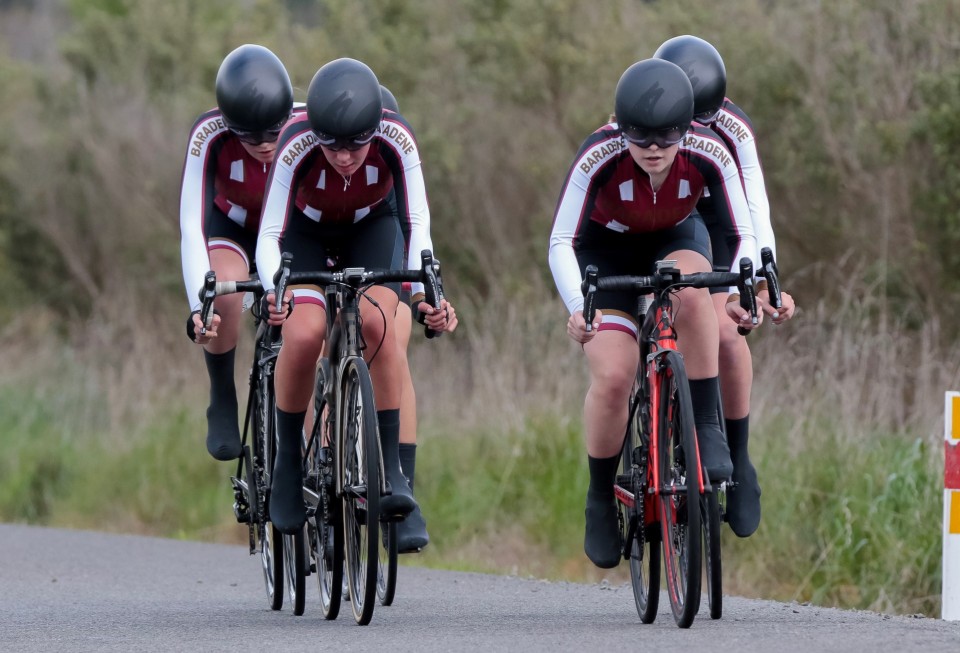 Auckland's Baradene College and Christchurch Boys High School took out the major honours in the team time trial on the opening day of the Cycling New Zealand Schools Road National Championships in Manawatu.
Baradene College won two of the three team time trial titles in the under-16 and under-20 grades and were third in the year 7-8 to complete and outstanding start to the championships.
Meanwhile Christchurch Boys defending their senior under 20 title in the boys by the closest of margins over Cambridge High School around a 16km course in Colyton, near Feilding.
Nearly 600 riders from 84 schools are taking part in the 52nd annual schools championship, staged over three days with the team time trials on day one, road race on day two and points race at Manfeild Circuit on the final day on Monday.
Baradene stamped their authority over the female competition in the team time trial, winning the senior under-20 honours in 27:34.59 with 16 seconds back to Epsom Girls and Christchurch's Villa Maria College a further minute back in third.
"With this new course, we rode it yesterday and learned it was windy coming back so we kept that in mind today and knew it would be hard and needed to protect our riders a bit. We held it all together well," said Baradene's Team Captain, Lara Hopkinson.
"Epsom Grammar has been first in every race this year at Auckland Champs and North Islands so pipping them for the win was quite an accomplishment."
The Auckland school claimed the under-16 title in 28:51.26, a time that would have earned third placing in the senior race. They finished 23 seconds ahead of Epsom Girls with Saint Kentigern nearly a further minute behind in third.
It proved a family affair for Baradene with Lara Hopkinson and Aimee Blackmore in the senior team and their sisters Alice Hopkinson and Emma Blackmore in the under-16 combination.
Palmerston North Intermediate gave the locals something to cheer about with a win in the year 7-8 combined division in 32:21.68, which was 1m40s faster than second place Cambridge Middle School with Baradene a further 18 seconds back in third.
The competition for the boys was a tightly fought affair, with Christchurch Boys able to back up their win from last year. Buoyed with the appearance of double junior track world champion Laurence Pithie in their team, Christchurch Boys clocked 23:38.97 for the 16km loop, holding off the efforts of the Cambridge Boys combination by just 0.0.31 seconds – the blink of the eye. Palmerston North Boys were third 16 seconds behind.
Long time mentor Gary McNaughton said he was thrilled with the performance today.
"These boys have been with me since year nine and I have seen them grow into fine young men and for them to go back to back is an amazing feeling, with four riders at the end finishing the job. The friendship and comradery amongst themselves, their coaches and with me means I consider them family."
Cambridge High had victory in the under-16 division in 25:45.61 over Auckland Grammar and Takapuna Grammar.
Like the girls, Palmerston North Intermediate claimed the year seven-eight boys honours in 32:25.72 comfortably over Saint Kentigern and Belmont Intermediate.
Tomorrow's action turns to the road races around a challenge circuit at Colyton.
Day 1 Results, Team Time Trials
Females, Year 7-8: Palmerston North Intermediate 32:21.68, 1; Cambridge Middle School 34:01.10, 2; Baradene 34:19.60, 3. Under 16: Baradene 28:51.26, 1; Epsom Girls 29:14.21, 2; Saint Kentigern 30:11.44, 3. Under-20: Baradene 27:34.59, 1; Epsom Girls 27:50.24, 2; Villa Maria 28:51.51.
Males, Year 7-8: Palmerston North Intermediate 32:25.72, 1; Saint Kentigern 32:48.51, 2; Belmont Intermediate 34:58.92. 3. Under 16: Cambridge High 25:45.61, 1; Auckland Grammar 26:20.44, 2; Takapuna Grammar 26:38.41, 3. Under-20: Christchurch Boys 23:38.97, 1; Cambridge High 23:39.28, 2; Palmerston North Boys 23:55.95, 3.
Thanks to sponsors and supporters: Manawatu District Council, Palmerston North City Council, Sport Manawatu, Ashurst Engineering & Construction, Adamson & Holland, Trillian Trust, Pub Charity and Eastern & Central Community Trust, and School Sport New Zealand.
CAPTION:. (Photo credit: Grant Harris).