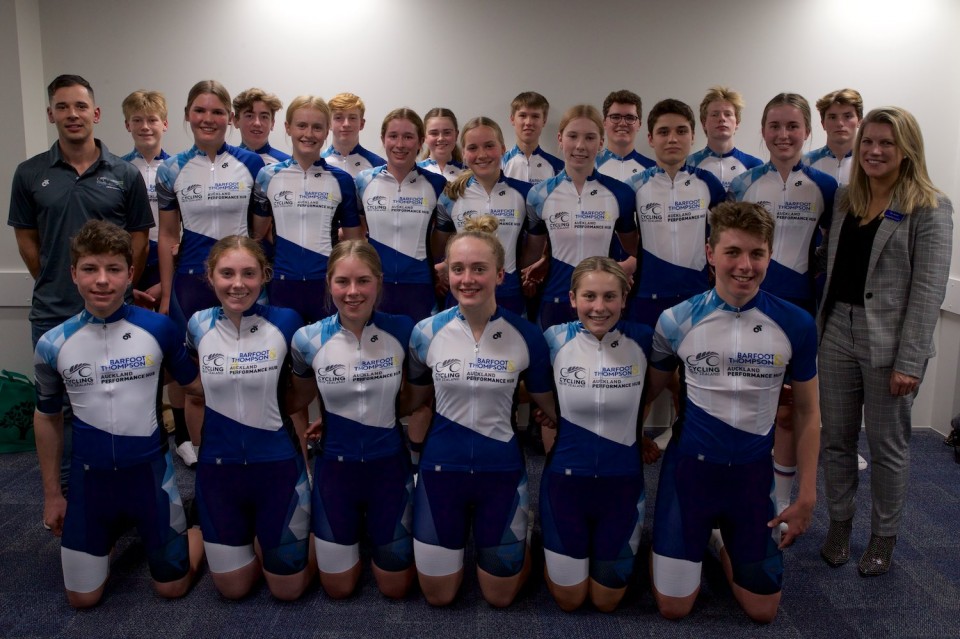 Barfoot & Thompson Auckland Hub cycling programme has exciting new line up
Cycling New Zealand have announced the new intake for the Barfoot & Thompson Auckland Performance Hub which is part of the Cycling New Zealand National Performance Hub programme.
This is the fourth year of the programme for the Auckland-Northland region.
Cycling New Zealand established the athlete development programme, with the overarching aim of developing athletes across all cycling codes to feed into the Cycling New Zealand High Performance programme. Emerging young cycling talent receive training and professional resource and assist with a development pathway for coaches as part of high-performance succession planning.
Former New Zealand representative Myron Simpson, Auckland Hub coach, has seen improved performances at national and international events.
"The Hub programme is all about nurturing and developing local talent. Last year athletes consistently podiumed at the Vantage Elite & U19 Track Nationals, and junior road and track events throughout the country," said Simpson. Two riders represented New Zealand at the World Roads Championships in Yorkshire.
"We have the support of the local Auckland community with local companies and organisations such as Barfoot & Thompson and AIT which means we can build momentum and create great coaching opportunities to fully develop more young riders to flow into the elite space."
Barfoot & Thompson New Zealand's largest privately owned real estate company, have been the naming sponsor of the Hub since inception and are huge supporters of the local community through their many and varied sponsorships.
A family business with over 95 years of experience, 77 branches and over 1,500 salespeople across Auckland and Northland, they are ground-breakers when it comes to real estate having won numerous national and international awards.
"It's a fantastic achievement to be chosen as a member of the Hub and all the riders should be proud of their achievements," said Barfoot & Thompson Managing Director Peter Thompson.
"We are delighted to again be behind Cycling NZ and the Northern Hub as we have seen how it has helped to develop our highly performed riders on the international stage. We are sure that this year's group will equally gain much recognition and develop even further to their goals each set for themselves. By supporting them in the way we, and all other sponsors do, this can take some of the pressure off the riders so they can focus on riding and improving their strength and mental aptitudes"
There are 20 athletes from road and track disciplines selected for the 2020-2021 Barfoot & Thompson Auckland Hub programme.
Aidan Merrick
Ruby Spring
Max Preece
Edward William Pawson
Ally Gothard
Lewis Rupert Bower
Luke Dawson Blackwood
Holly Bliss
Aimee Blackmore
Sophie de Vries
Bee Townsned
Liam Regan
Queenie Mcelwee
Dan Barclay
Jorja clouth
Joel Douglas
Ella Wyllie
Lara Hopkinson
Redmond Connolly
Prudence Fowler
Cameron Davies
​