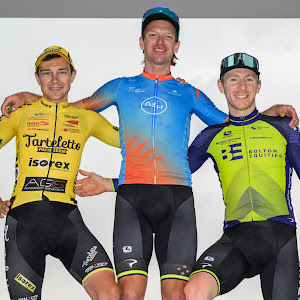 The Bolton Equities Black Spoke team celebrated after bringing their leader Aaron Gate safely home to claim overall victory in the International Tour of Hellas that finished in Ioannina, northern Greece.
Gate finished safely in the peloton to win on general classification by 1:52 from Lennert Teugels (Tateletto Isorex) with his Bolton Equities teammate Mark Stewart third a further four seconds back.
Gate thanked his teammates and the Greek fans for their support:
"Definitely stage one was the key to victory. We have to give some credit to our sports director Franky (Van Haebroucke) who called stage one as the hardest of the Tour, the one to make the difference in the general classification," said Gate.
"The boys did an absolute perfect job for me and rode perfectly because everybody was really attacking to try and get the cyan jersey.
"It's great I won my first professional Tour in Europe in such a beautiful country. I am pretty happy.
"I've got a lot of people asking for photos and handshakes and it's great the support of the local community. It's been impressive the entire week how many people have come to spectate, so thanks to everybody for coming out to watch."
The danger of major attacks on the final stage disappeared when the stage was neutralized after the Katara Pass due to dense fog.
James Fouche was equal on points for the king of the mountains going on to the final climb, but Team Coop rider Embret Svestad (Norway) broke clear to open a 1:50 lead, claiming the honours and securing the KOM title from the kiwi.
Fouche, who wore the orange jersey going into the final day, then dropped back to support Gate's push for GC honours.