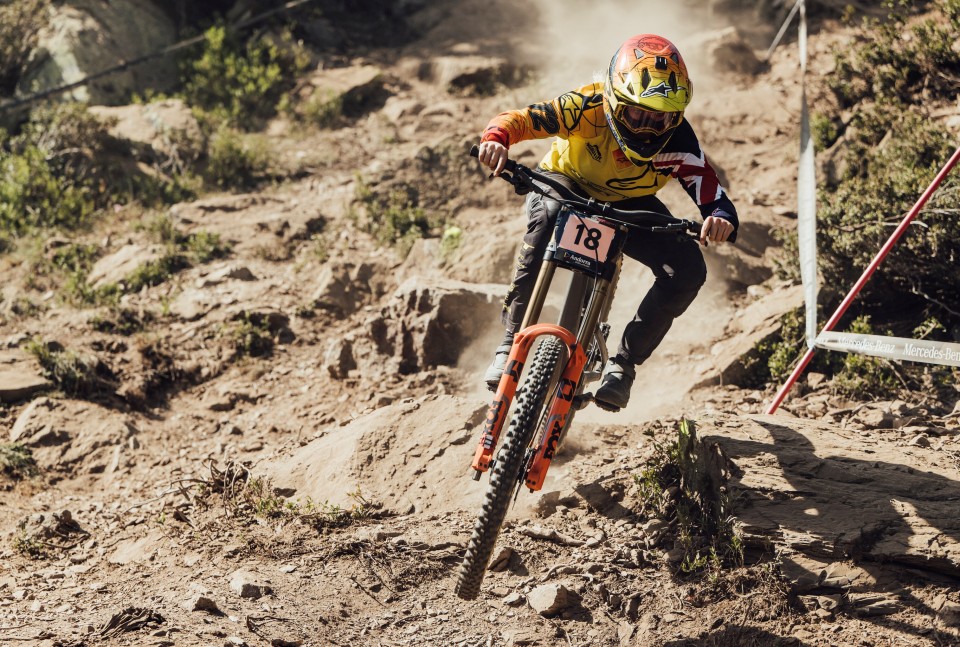 Girl power was again to the fore for New Zealand gravity riders, while Sam Gaze had his best performance ahead of the Commonwealth Games at the UCI Mercedes Benz Mountain Bike World Cup in Andorra.
Perched at 1000m in the Pyrenees mountains, Andorra is a challenging stop for mountain bikers, this weekend adding the high temperatures in Europe with the challenge of altitude.
Rotorua's Jenna Hastings continued her outstanding form to finish third in the under-19 women's downhill, 7.4s behind winner Phoebe Gale (GBR) and cements the kiwi rider in third place overall with three rounds of the championship remaining.
Queenstown's Jess Blewitt (GT Factory) continued her strong form in elite women's downhill to finish fourth, reaching speeds over 51kph. She has moved to 11th in the standings, having competed in only two of the six world cups this year.
Two-time national champion George Brannigan (NS Bikes UR) enjoyed a strong return to form to finish 16th in the elite men's competition to lead the kiwi downhill riders with Ed Masters 41, Brook MacDonald 44, Sam Blenkinsop 45 and Tuhoto-Ariki Pene 53.
Lachlan Stevens-McNab maintained his third placing overall in the under-19 men with eighth placing with Alex Wayman leading the way in seventh in just his second start of the season.
In cross-country today, Gaze showed his continued return to form after a number of challenges with injury and mechanicals, but impressed to finish 13th in the elite men's race. He moved through the field in the extremely tough challenge of altitude, heat and dust to be sixth place going into the final lap. The Alpecin Fenix professional found the final lap challenging to ease back to 13th, 2:02 behind the winner in a strong performance in his final outing before heading to defend his Commonwealth Games title in Birmingham.
It was not such good news for Games' teammate Anton Cooper who was riding in the top10 when he fell on a rock section mid-race and was forced to withdraw. Cooper has damaged his wrist and will anxiously await further medical tests to determine the extent of the injury, three weeks out from the race in Birmingham.
The third member of the Games cross-country team, Ben Oliver finished 32nd with his brother Craig 55th.
National champion Sammie Maxwell enjoyed another super-strong finish for 12th from 40 starters in the under-23 women, riding consistently for her second excellent finish in two weeks, with Amelie Mackay 36th.
Of the other New Zealand cross-country riders Jess Manchester was 56th in elite women, while in the under-23 men Caleb Bottcher was 50th, Matthew Wilson 56th and Charlie Millington 1 lap down.
The world cup moves across the Atlantic with two rounds in USA and Canada before returning for the final round at Val di Sol in September.