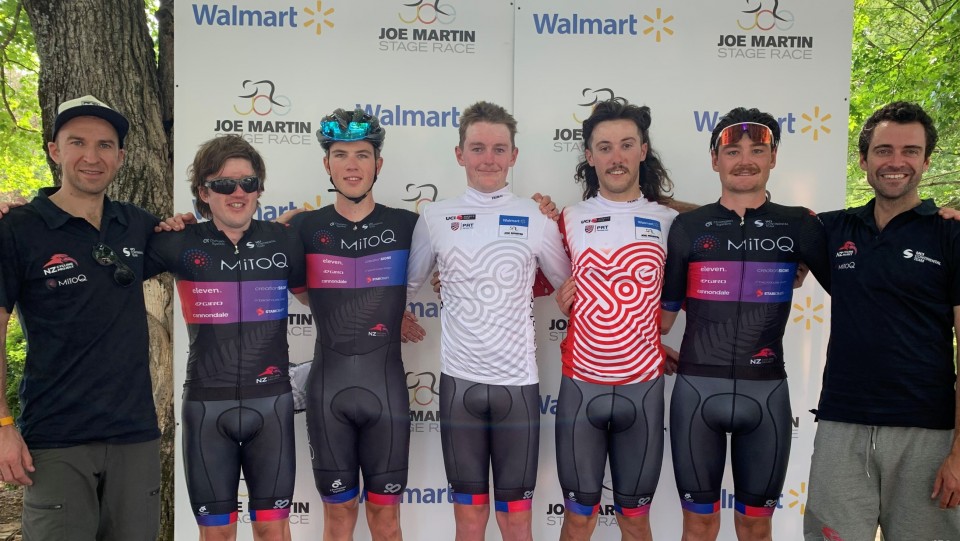 Mito-Q NZ Cycling Project cyclists claim success in American race
Two young cyclists have led New Zealand UCI Continental team Mito-Q NZ Cycling Project to success on one of America's leading road stage races in central Arkansas.
Southland's Josh Burnett, 21 and Wellington's George Jackson, 22 have each won key categories in the 45th edition of the Joe Martin Stage Race, a professional UCI America Tour event in Fayetteville, Arkansas.
Burnett took out the white jersey of the Best Young Rider category in the four-stage race, safely finishing in the peloton with the support of his MitoQ-NZ Cycling Project teammates, to finish 11 seconds clear of his closest competition.
Jackson, who is part of Cycling New Zealand's endurance track squad, claimed the King of the Mountains honours by a single point from former Tour of California young rider winner Tyler Stites.
"With the Tour of Utah cancelled this year, then the Joe Martin Stage Race is perhaps the biggest race on the UCI Tour of America circuit," said team owner, James Canny.
The race drew a strong field including former Paris - Nice winner Sergio Henao, with the New Zealand team facing other challenges to get to the race.
"Because of the travel issues at present, the team travelled over 30 hours to get there. They came out of the cold conditions in New Zealand and into the race with temperatures well into the 30's.
"I am staggered by their performance. This is a wonderful result for this young group of kiwi riders."
Canny said the five-strong squad that includes Theo Gilbertson 21 (Auckland), Sam Ritchie 20 (Timaru) and Luke McDermott (Wellington) have just begun a stint of race in North America and on to Europe.
They will compete in Unbound Gravel 200, Airforce Classic, Tour of Somerville, Tour of America's Dairylands, Belgium Waffle Ride and Intelligentsia Cup in an intense three-month campaign.
The MitoQ-NZ Cycling Project supports a number of riders across most cycling disciplines, including leading mountain biker Ben Oliver from North Canterbury, who is currently ranked 42nd in the world.