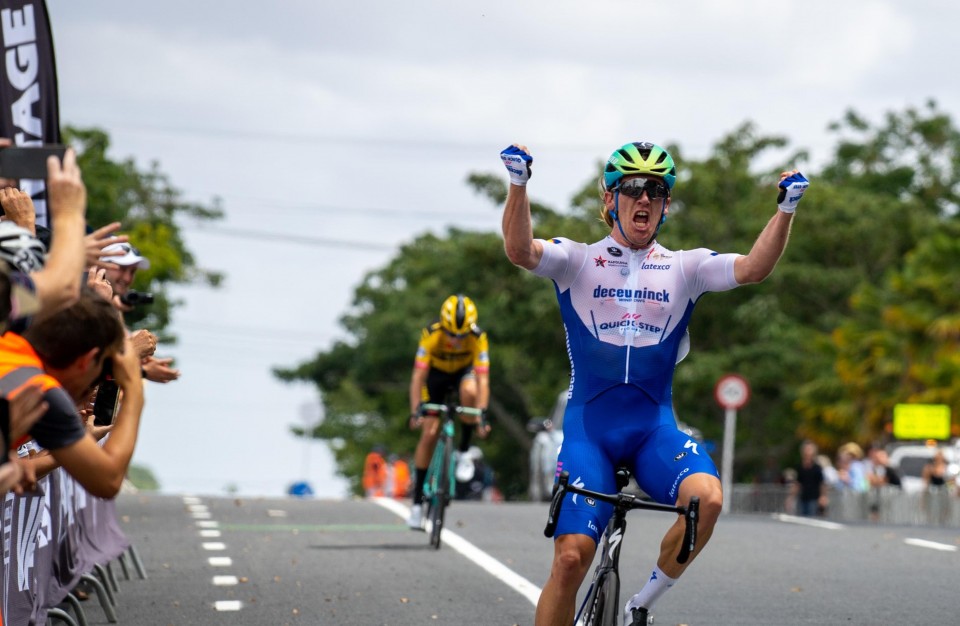 New Zealand will boast a record 16 cyclists who are set to compete in the sport's highest professional level of the UCI WorldTour in 2022.
Ten men and six women have been contracted to the elite UCI WorldTour in Europe while more than 50 Cycling New Zealand riders will compete for UCI accredited professional teams this year.
Julian Dean, a 14-year career veteran at the highest levels of the sport in Europe, said the development of young talent from New Zealand comes at a time when WorldTour teams are looking further afield for new riders.
Dean, who has moved back to New Zealand after a four-year stint as a sporting director for Team Bike Exchange – Jayco, believes the ready availability of training data has been a catalyst.
"When I started the teams just had not heard of New Zealand riders. There was myself and Greg Henderson and later Hayden Roulston and that was about it.
"I think a change came when I first won the national champs and wore the black jersey and silver fern in the peloton and people could see it on television.
"Now the data that our young guys are putting out in training and racing is available everywhere and teams have started to look more widely. Now we have these exciting young riders like Reuben Thompson, Laurence Pithie, Finn Fisher-Black and now guys off the track programme like Corbin Strong and Campbell Stewart breaking into the big teams very young.
"It is the same, even more so, in the women with the likes of Mikayla Harvey, Ella Harris and Niamh Fisher-Black. It is exciting and shows the talent is here and just has to be nurtured well because it is a tough, tough environment living in Europe on your own and fighting hard in the middle of a WorldTour peloton."
There has been considerable growth in women's professional cycling with six New Zealand riders in UCI WorldTour teams in 2022.
Leading the way is Fisher-Black, the world's top ranked under-21 rider last year, who returns to the No 1 ranked team, SD Worx.
Also returning is the Canyon SRAM pair of Harvey and Harris, and current national champion, Georgia Williams, who has recently re-signed for Team Bike Exchange-Jayco for a sixth year, and her 10th as a professional.
Joining the WorldTour will be current criterium national champion Olivia Ray and national under-23 time-trial champion Henrietta Christie, for the newly named Human Powered Health (ex Rally) who have moved up to the top ranks. They have former New Zealand Olympian and professional, Jo Kiesanowski as the team director.
There are a further six riders already contracted to UCI Pro Continental teams comprising national under-23 road champion Georgia Danford (Andy Schleck), Michaela Drummond (BePink), Nicole Shields (DNA Pro Cycling), Ally Wollaston (NXTG) and Rylee McMullen and Stella Nightingale (InstaFund La Prima).
Amongst the male riders, Team Bike Exchange-Jayco account for four New Zealand riders led by two outstanding veterans of the sport in double Olympic medallist Sam Bewley and Commonwealth Games medallist Jack Bauer, who boast over 20 years on the WorldTour between them. They have two kiwi teammates in Dion Smith, back for his fourth year with the Australian team, and newcomer Campbell Stewart, the Tokyo Olympic track medallist.
Current national champion George Bennett, a WorldTour pro for over a decade, has moved to the high-profile UAE Team Emirates along with hugely promising tyro Fisher-Black, who forms a family WorldTour pairing with his sister Niamh.
The rising Israel-Premier Tech includes two kiwis in Patrick Bevin, starting his seventh year on the WorldTour, and rookie Strong, the Tokyo Olympian and 2019 track world champion. New Zealand's Greg Henderson, a former star on the track and road, begins his third year on the performance coaching staff.
Rounding out the kiwis is 2020 national champion Shane Archbold, who returns to Bora-Hansgrohe where he began his WorldTour career in 2017, with the last two years at Deceunick Quick-Step, and Tom Scully, who is back for fourth year with EF Education.
Added to that are two riders competing in teams in the UCI Pro level in Commonwealth Games mountain-bike champion Sam Gaze for the high profile Alpecin-Fenix team, and Southland's Hamish Beadle, who returns to Team Novo Nordisk.
There are a quartet of young kiwi riders in UCI Continental teams in Europe including Thompson and Pithie, who return to the development team of WorldTour giant Groupama-FDJ, while former mountain biker Paul Wright competes for Color for Peace and national under-23 champion Jack Drage for Hagen Berman Axeon, run by Axel Merckx.
Added to this is over 25 riders contracted to Continental Pro teams out of Australia and New Zealand, including Bolton Equities Black Spoke Pro Cycling, a kiwi team led by former internationals, Scott and Vanessa Guyton, which was based in Europe for much of last year.
A number of the overseas professionals, who managed to successfully navigate the MIQ system, will be in action this weekend at the Criterium National Championships and the Grassroots Trust national road championships in Cambridge in February.
CAPTION: New Zealand's Shane Archbold, one of the 16 kiwi cyclists to compete on the UCI WorldTour in 2022, pictured winning the New Zealand road championships in 2020. He will line-up in the Criterium National Championships in Christchurch on Sunday.