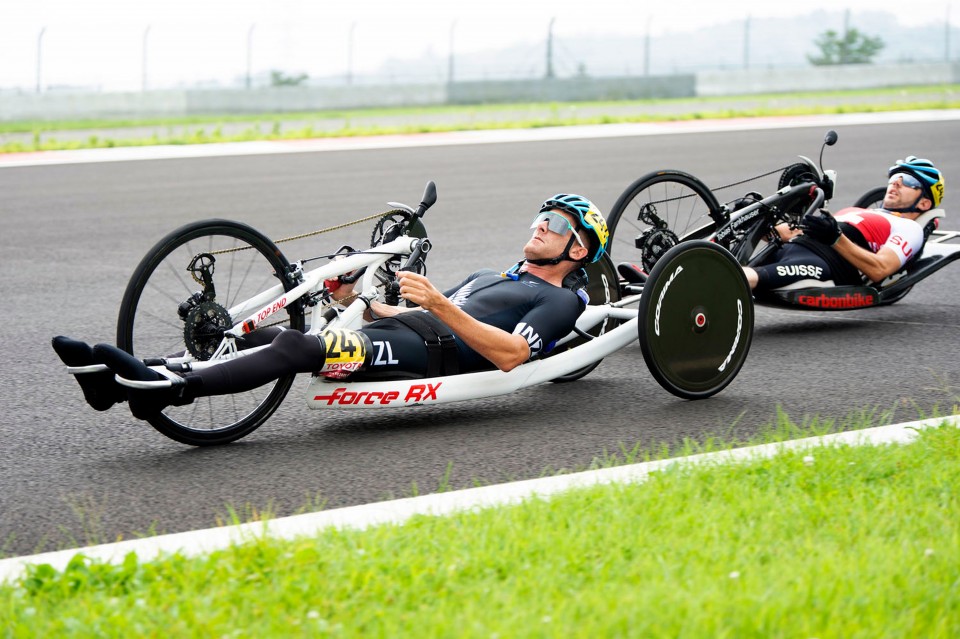 USA-based Wellington hand-cyclist Rory Mead battled for nearly two and a half hours of exhausting toil to finish fifth in the men's 1-2 category road race at the Tokyo Paralympics.
Mead and Switzerland's Tobias Fankhauser found themselves distanced by a more experienced trio who pushed clear in the 53km road race in and around the Fuji International Speedway.
The number of punchy climbs and technical sections proved more than a test with six of the 11 starters not recording a finish time as organisers hastily rearranged the finish area to avoid the start of other races.
Mead and Funkhauser could not be separated for the entire four-lap battle and given the same time at the finish with the Swiss rider given the nod on the line.
"That was the longest road race for a Para that I have ever done," said Mead. "After we lost touch with the front group pretty early on, I really didn't have any choice. I wanted to get away but I couldn't drop him so I thought let's just work together and wait to the finish line.
"Unfortunately, they had altered the finish line because of other races and I did not quite realise and he just got me for fourth. That was a tough, tough day."
Mead, 34, turned to Para cycling after a serious crash in motocross with the world-class rider having moved to USA to compete professionally with considerable success in cross-country enduro racing.
After a long period of rehabilitation, Mead learned about competitive hand-cycling and reached out to Paralympics NZ about the steps to join the programme, finishing in the top-five at his first world championship in 2018.
"I have always been an active person and so nothing has changed. I think I will always be riding my bike whether or not I am a Paralympian.
"For me, I just have to stick at it. I've only been doing this for less than three years and I don't think results come overnight. I just have to keep training and learning and keep improving."
Today's road race action for New Zealand includes Nicole Murray and Anna Taylor C4-5 classification race over 80kms, with trike riders Stephen Hills (Men T1-2) and Eltje Malzbender (Women T1-2) racing over 26kms in forecast wet and extremely humid conditions at Fuji Speedway.
CAPTION: Rory Mead and Swiss rival Tobias Fankhauser in action in the road race at Fuji. (Credit: Casey B Gibson)