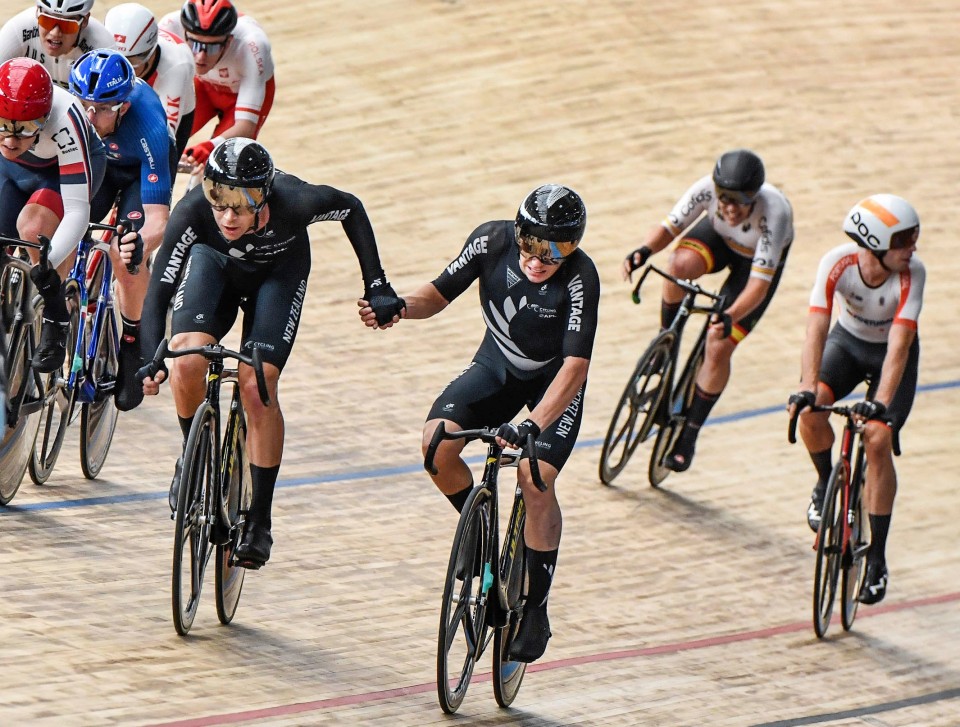 UCI TRACK CYCLING WORLD CHAMPIONSHIPS – VANTAGE NZ TEAM DAY 3 WRAP
The Vantage New Zealand track team has taken a small but significant first step towards the 2024 Paris Olympics with a competitive campaign at the UCI Track Cycling World Championships in France.
The four-strong team finished in the top-10 in every event they contested, highlighted by a silver medal for Aaron Gate in the men's omnium competition, hastily re-arranged in Roubaix, after the original world championships in Turkmenistan were cancelled because of covid-related issues in the country.
The team finished with ninth placing in the gruelling 50km men's madison where Gate and Aaron Strong combined for a competitive effort, gaining points in three sprints although unable to match the group of six European nations at the sharp end of the race, won by the Olympic-champions Denmark.
Covid travel restrictions combined with Tokyo preparations meant that New Zealand, along with a number of southern hemisphere cycling nations including Australia, did not compete in the newly-devised Nations Cup events earlier this year. The Nations Cup has replaced the previous World Cup competitions, and form the major qualifying process for the world championships.
That left nations like Australia, New Zealand and USA gaining invitations to take up remaining quota spots with the Vantage New Zealand team comprising four riders to contest the endurance bunch racing events of the omnium, two-person madison and points race.
"It was crucial to start the qualification towards Paris and the results overall give us a better chance to enter future events in a stronger qualifying position," said Cycling New Zealand high performance director, Martin Barras.
"We do not want to fall too far behind in qualifying nation spots and therefore place additional pressure on us for the all-important 2022 season."
With most of the Olympic track riders still on break, and the complexities of travel and safe return to New Zealand, the quartet selected were already based in Europe riding for professional road teams.
"They all rode competitively and earned New Zealand some really valuable qualifying points, and of course Aaron was quite outstanding. He has been in the form of his life in 2021 and has done a great job coming back from his clavicle fracture, and also in leading this team on and off the track in France this week," said Barras.
"We are thrilled that Gatey is motivated to remain in the programme through to Paris."
Already Ally Wollaston is on her way back to New Zealand with her teammate Michaela Drummond remaining in Europe. Strong is hopeful of a quota spot to travel home after a training camp with his move into the World Tour with Israel Start-up Nation, and is also considering taking part in some of the UCI's new track champions league. This comprises six one-night events in Mallorca, Paris, Lithuania, London and Israel. Gate and his family hope to return in the New Year after taking a break.
Results:
Men, Madison (200laps): Denmark 68 points, 1; Italy 64, 2; Belgium 62, 3. Also: New Zealand (Aaron Strong, Corbin Strong) 7, 9th.
CAPTION: Aaron Gate and Corbin Strong in action in the 50km madison at the UCI Track Cycling World Championships. (Credit: Robert Jones)