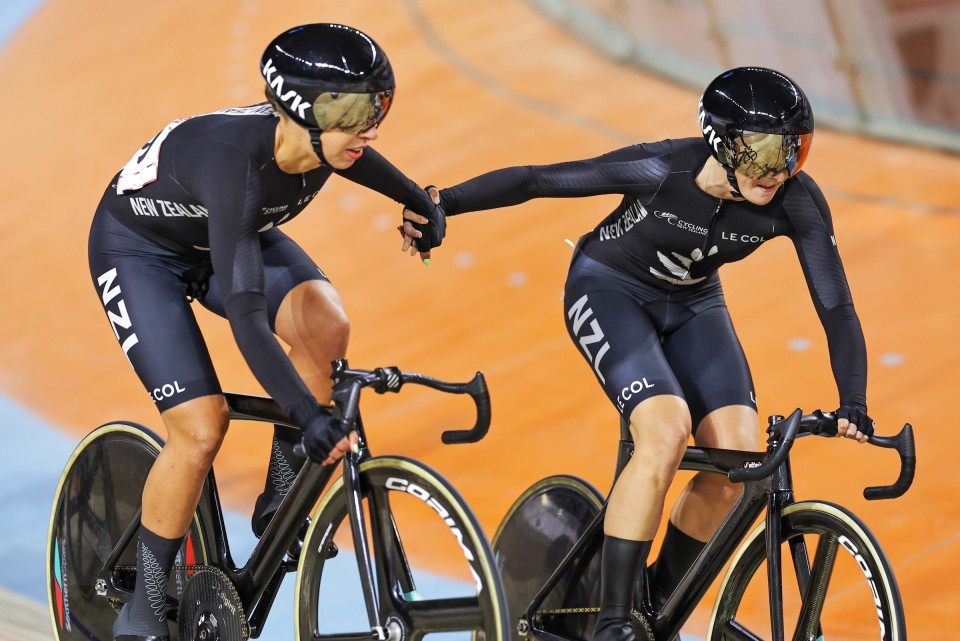 New Zealand's star female pairing of Bryony Botha and Ally Wollaston were back on the podium on day three of the UCI Nations Cup track cycling in Cairo.
In their first time paired, Wollaston and Botha finished third in the madison race over 30kms behind favourites France and Denmark but ahead of the powerful European nations including Great Britain, Netherlands and Germany.
The madison is a unique two-rider event with one rider always in play, switching with a hand-sling, and scored like a points race based in sprints every 10 laps of the 120-lap race.
Wollaston, who collected three gold medals in the opening Nations Cup in Jakarta, added two more medals this week with the four-discipline omnium to come on the final day.
Botha and Wollaston rode smartly as France and Denmark dominated the early sprints. The Kiwis won the fifth and eighth sprints with Botha's endurance engine setting up Wollaston for the sprints.
With no-one able to gain a lap on the field, it came down to the sprints, with France edging Denmark by one point and the kiwis a further 10 points back in third.
"The game plan was to be really open and honest with our communication. We really gelled together today. That was the key – we talked a lot and really backed eachother," said Wollaston.
"Bee (Bryony) set me up well for the sprints and our commitment to those sprints really helped us. I am really excited to move forward with her and the other girls. It is an exciting culture we have with madison with the girls pushing eachother for that spot. It has been a lot of fun and a lot of key lessons made today."
Wollaston said the conditions were much better in the velodrome which is open on the sides.
"The conditions were great tonight – with no wind and a lot warmer than previous nights. It's been a real experience to ride in an outdoor velodrome especially in the madison. It changes a lot especially in terms of gears as the track runs a little slower."
Southland's Tom Sexton had his first Nations Cup crack at the men's omnium competition, finishing in a competitive 10th place.
He was distanced in the opening scratch race but timed his run to perfection late in the tempo race, claiming the key sprints to win. He rode prominently in the elimination, where the last rider goes out on every second lap, but found himself blocked on the inside of the track to finish 13th.
Sexton managed to make the group that put a lap on the field in the deciding points race, finishing third in the 160 lap finale to elevate into the top-10 overall to earn useful ranking points.
In other racing, Ellesse Andrews qualified ninth in the individual sprint in 10.856s, which was less than 0.2s from the top qualifier.
She beat Poland's Nikola Sibiak in the opening round and China's Liying Yuan in the second round. It drew the kiwi against the top qualifier Miriam Vece from Italy in the best of three quarterfinals, where she lost in two straight rides. But they could not have been closer, the first one by the imperceptible 0.005sec and the second by 0.03sec.
Teammate Olivia King missed qualification by one spot.
National champion Callum Saunders, in his first Nations Cup, was edged out of direct qualification in the opening round of the keirin, but won his repechage in an aggressive ride.
Saunders rounded the field to ultimately finish second in his quarterfinal but missed out by one spot qualifying for the final when he finished fourth in his semifinal after rounding the field early.
The final day tomorrow will see Saunders in the individual sprint, Andrews and Rebecca Petch in the keirin, Wollaston takes on the omnium, and Black Spoke teammates George Jackson and Sexton combine in the madison.
The UCI Nations Cup competitions replace the previous world cup programmes, and are mandatory for nations seeking rankings to qualify for the world championships and ultimately, the Paris Olympics. The final Nations Cup is in Milton, Canada next month.
Results:
Women's sprint qualifying: Miriam Vece (ITA) 10.687, 1; Emma Finucane (GBR) 10.710, 2; Taky Kouame (FRA) 10.756, 3. Also: Ellesse Andrews (NZ) 10.856, 9; Olivia King (NZL) 11.485, 29. Round 1: Andrews bt Nikola Sibiak (POL). Round 2: Andrews bt Liying Yuan (CHN).Quarterfinal, Miriam Vece bt Andrews 2-0.
Men Keirin, heat 2: Shinji Nakano (JPN) 1 (Qualify);Callum Saunders (NZL) 2. Repechage, heat 5: Saunders 1, Vasilijus Lendel (LTU) 2, Sergey Ponomaryov (KAZ) 3. Quarterfinal, heat 3: Kaiya Ota (JPN) 1, Saunders 2, Jack Carlin (GBR) 3. Semifinal: Shinji Nakano (JPN) 1, Jair Tjon (SUR) 2, Kohei Terasaki (JPN) 3. Also: Saunders 4. 7th-12th final: Saunders 11.
Women's Madison, qualifying: Netherlands 14 points, 1; France 12, 2; New Zealand (Bryony Botha, Ally Wollaston) 11, 3. Final: France 35, 1; Denmark 34, 2; New Zealand 24, 3. Final: France 35, 1; Denmark 34, 2; New Zealand (Bryony Botha, ally Wollaston) 24, 3.
Men omnium, Scratch race: Thomas Boudat (FRA) 1, Rasmus Pedersen (DEN) 2, Yanne Dorenbos (NED) 3. Also: Tom Sexton (NZL) 18. Tempo: Sexton 25 points, 1; Roger Kluge (GER) 23, 2, Boudat 22, 3. Elimination: Elia Viviani (ITA) 1, Dylan Bibic (CAN) 2, Boudat 3. Also: Sexton 16. Points Race: Sebastian Mora (ESP) 41, 1; Sexton 33, 2; Boudat 29, 3. Overall: Boudat 138, 1; Viviani 119, 2; Kluge117, 3. Also: Sexton 95, 10.