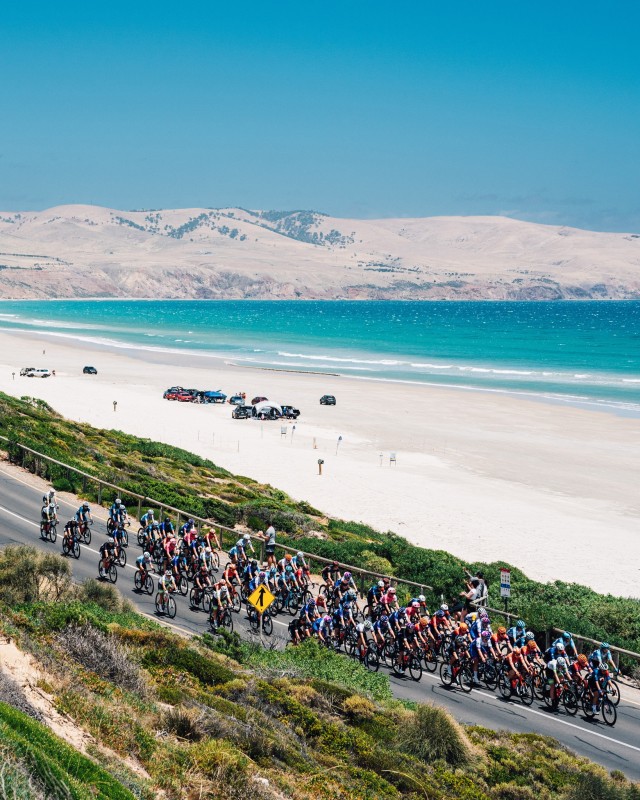 Ally Wollaston's New Year's Party continued when she finished sixth to claim the young rider category jersey on the opening stage of the Santos Women's Tour Down Under in South Australia today.
Wollaston led home the New Zealand national team in sixth place in the opening stage of the Santos Women's Tour Down Under over 110kms from Glenelg to Aldinga.
The major challenge was the strong winds which caught out much of the field, including Wollaston, 10kms from the finish.
She was forced to work extra-hard into cross and head winds to push through the field, and figure in the final sprint, securing sixth in the same time as the winner Daria Pikulik from Human Powered Health and with it, claim the white jersey lead in the young rider category.
This follow's Wollaston's track cycling omnium win at Adelaide against Australia's best on Friday, and then a superb win in the Schalbe Classic criterium in Adelaide last night, which was the lead-in to today's first stage proper.
"Had the wind not been there then today would have been a cruisy day. The wind had a huge impact on the race today," said Wollaston.
"With the first race for the Women's World Tour today the girls were pretty jittery in the bunch. There was a lot to navigate through.
"My goal today was to get involved in the bunch sprint which I did to the best of my ability.
"I found myself in a very poor position with 10kms to go going into a cross-wind section where I was off the back for a while. I had to pull myself together and worked my way up with 5km to go but by then I had done a lot of work on the outside in the wind.
"So I am pretty happy with how things worked out.
"It will be really nice to take the jersey into the next few days for sure. It was a goal for me to get into the white jersey, and so to get that on the first day is pretty cool and finger's cross tomorrow goes smoothly.
"There is a lot of climbing over a short distance. The goal will be to stay attentive and try to stay at the front and out of trouble. That will be a big goal tomorrow."
Stage 2 is 90km from Birdwood to Uraidla which includes the ascent of Mt Lofty.
Of the other national team riders, Rylee McMullen was 19th, Ella Wyllie and Bryony Botha were 16 seconds down on the winner with Prudence Fowler at 20s and Annamarie Lipp at 1:06.