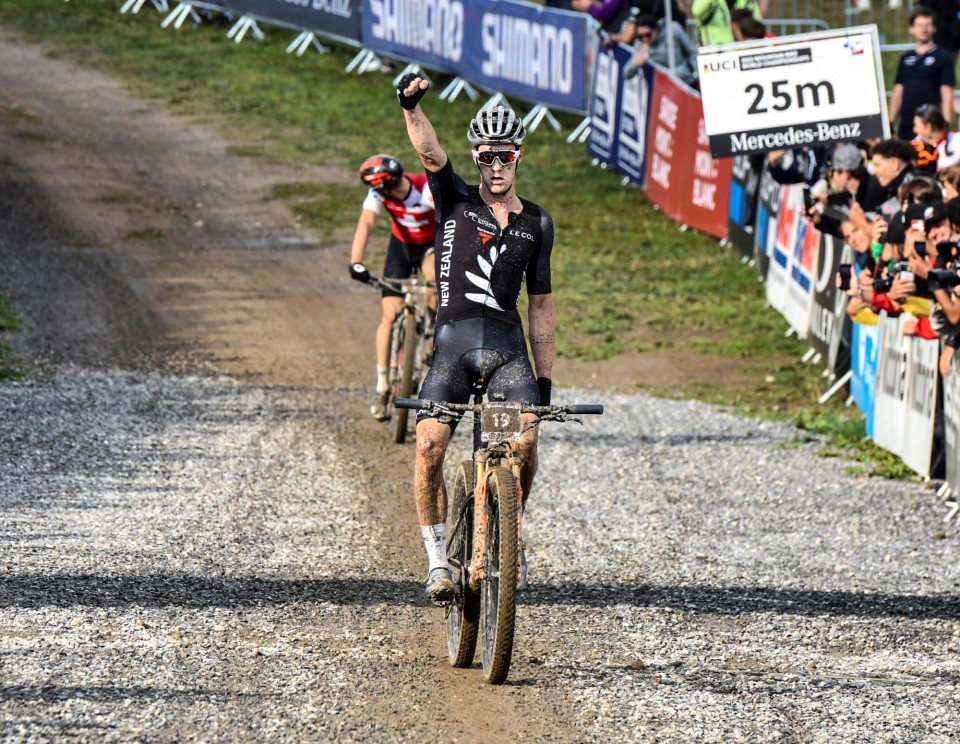 Nineteen New Zealand riders line-up for the opening round of the revamped UCI MTB World Series at Nové Město Na Moravě in the Czech Republic this weekend.
The opener comprises cross-country only, with 11 stops in the series including the world championships in Scotland, and with the second round on June 9-11 in Lenzerheide, Switzerland to feature both cross-country and downhill. Several of the stops will also include Enduro events and cross-country marathon.
The season began overnight with the short-track event for under-23 riders with double national champion Sammie Maxwell 14th in the females, and national elite champion Matthew Wilson (Team Talley's-NZ MTB Collective) 21stleading the kiwi performances.
The elites take to the short-track tonight (NZ time) although, based on current world rankings with the top 40 to start in short track, that current world champion in the discipline, kiwi Sam Gaze will not race unless there are some withdrawals.
However Oceania champion Anton Cooper, ranked 23rd on the world rankings, will be on the start line.
The pair will be joined by NZ Cycle Project rider Ben Oliver, ranked 61st, and Rotorua's Sam Shaw on the elite start line at the weekend.
Gaze, the Alpecin-Deceuninck double world champion in short track and marathon, has enjoyed a largely trouble-free build-up, including significant early-season road miles with his road team and an altitude block in preparation for the mountain bike season.
"It has been a good build-up and aside from a bit of illness that forced me out of Paris-Roubaix, it has gone well and I am excited for the weekend," said Gaze.
"It is a bit of a bummer if I don't get a short-track start but my focus is on the cross-country. I am starting on the fifth row but with the widest opening lap of any track, it won't present any issues moving forward.
"This is a place I love. It is where I won my first world title as an under-23. I have had a good run with four wins in lead-up events and looking forward to putting in a good performance to start the season.
"My focus is on a consistent and strong season which is all geared towards winning the gold medal at the Paris Olympics next year."
Cooper, who won the Oceania title for the sixth time, had a summer to forget, plagued with two road accidents and a bout of glandular fever. The North Canterbury rider has enjoyed two solid build-up races in Europe as he works his way back to best form.
There are 13 kiwi riders in the under-23 category led by Wilson, who beat all the elites at the nationals in Queenstown, with the talented Paraparaumu rider leading the way for a seven-strong group from the enterprising Team Talley's NZ MTB Collective.
The female line-up is headed by double national overall champion Maxwell from Taupo in her first full season on the world series.
The elite short track race is on Saturday morning (NZ time 4am and 4.45am) with the cross country for elite women Sunday (9.30pm) and elite men (Monday 1am).
The under-23 men's race starts at 1am on Sunday (NZT), while the under-23 women race from 3am on Sunday, with the marathon featuring Sam Shaw and Bailey Fredericksen on Saturday from 6pm (NZT).
New Zealand riders (rankings in brackets):
Male, Elite: 25 Anton Cooper (Christchurch, Trek Factory), 43 Sam Gaze (Cambridge, Alpecin-Deceuninck), 61 Ben Oliver (Rangiora, NZ Cycle Project), 118 Sam Shaw (Rotorua).
Under-23: 23 Ethan Rose (Canterbury, Team Talley's NZ MTB Collective), 30 Mathew Wilson (Paraparaumu, Team Talley's NZ MTB Collective), 35 Caleb Bottcher (Palmerston North), 95 Jacob Turner (North Canterbury, Team Talley's NZ MTB Collective), 112 Adam Francis (Palmerston North), 113 James Officer (Taupo, Team Talley's NZ MTB Collective), 129 Matthew Walker (Paraparaumu), 141 Bailey Fredericksen (Whakatane)
Women, Under-23: 26 Sammie Maxwell (Taupo, NZ MTB Academy), 38 Amelia Mackay (Christchurch, Team Talley's NZ MTB Collective), 49 Mia Cameron (Taupo, Team Talley's NZ MTB Collective), 58 Annabel Bligh (Christchurch, Team Talley's NZ MTB Collective), 74 Ruby Ryan (Rotorua).
XCO Marathon, elite men: 102 Sam Shaw (Rotorua), 108 Bailey Fredericksen (Whakatane).
Coverage is on Discovery+, GCN+, Eurosport App, GMBN Racing while the under-23 cross-country will be free to view on UCI You Tube channel.