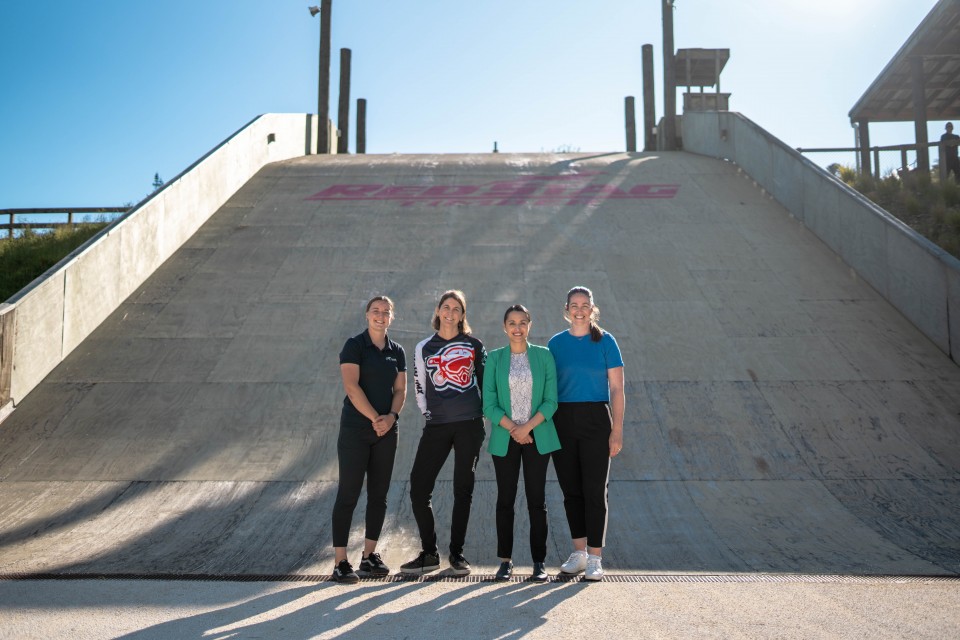 TICKETS ON SALE FOR UCI BMX RACING WORLD CUP FROM 11 FEBRUARY 2024
London Olympic medallist, Sarah Walker is both proud and excited that her Rotorua club will host two rounds of the UCI BMX Racing World Cup in the city early next year.
Tickets have gone on sale this week for the two-days of racing on 10 and 11 February 2024, which will form a vital qualification event for next year's Paris Olympics at the only active purpose-built international facility in New Zealand.
Accordingly, Walker believes many of the world's best riders will come to Rotorua in search of quality performances as they push for 2024 Olympic qualification.
"I am a little bit envious that I am not riding with this event happening at this fantastic facility at my home club," said Walker, currently vice-president of the IOC Athletes Commission and part of the event's Advisory Board.
"It will be very cool and very exciting for the riders to experience this place and this track. It is the first time a World Cup has been staged in this country, and preparations are well on the way.
"Being able to showcase the sport in real life and see what the world's best riders look like on one of the world's best tracks is going to be an incredible spectacle. It is an opportunity to exhibit our sport with athletes aspiring to be at the Paris Olympics here and bringing their absolute A-game."
One of those riders is local Rotorua competitor Megan Williams, who has just completed her first full season on the UCI BMX Racing World Cup circuit, finishing an impressive third overall in the under-23 category.
"It means everything to me to have the World Cup at home in Rotorua. In terms of the racing itself, it will be massive to have the home track advantage and to have the home crowd here will be awesome.
"For those considering coming, BMX is one of the best spectator sports in the world. Everything happens in 40-odd seconds. It is constant action and there are things happening all over the track, all condensed into such a small area right in front of you and over just a few hours. There is no other sport like it – so high-paced, high-adrenaline and full-on action. It is one of a kind."
The event is a further chance for the city of Rotorua to continue to showcase itself as cycling's adrenalin capital of New Zealand.
"It is absolutely fantastic for us to host another world-class event but actually locally on a world-class facility which we are very proud to have in the community," said Rotorua Mayor, Tania Tapsell.
"It means a lot, not only to showcase us to the rest of the world, but also to showcase us to our future athletes – to let them know that this facility is here and that BMX is an exciting sport that they should have a go at one day."
All viewing is general admission trackside with early-bird tickets until 31 December for just $20 for adults and $5 for 14 years and under for each day. There are two standalone World Cup competitions on each day available online from www.bmxworldcup.nz.