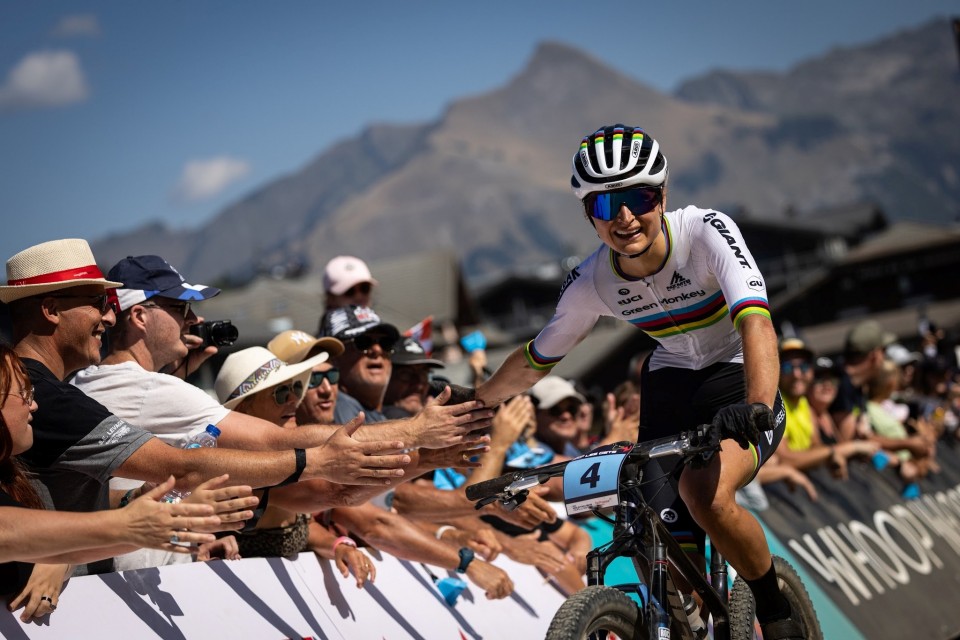 World Champion Sammie Maxwell added a World Cup victory to her resume in the under-23 cross-country mountain bike race at Les Gets in France today.
Maxwell, sporting her famed rainbow stripes, pushed from the start but took until mid-race before she could gap her challengers on the way to her first World Cup victory following three consecutive podiums placings.
Ironically for the Taupo rider noted for her powerful climbing abilities, it was improved riding on the downhill that made the difference at the third to last World Cup at the Haute-Savoie region in the French Alps.
"I've learned from the others with their lines and execution on the downhill. Each lap I would get a gap on the uphill and they would catch and pass me on the downhill, which happened for the first two laps.
"I thought I have got to start sending some of these jumps if I want to hold them on the downhill which I did and managed to hold them. Once that elastic band broke, then I was able to clear away.
"The climbs suited me as they were gradual climbs so I could put the power down and go."
After the altitude and bitter-cold conditions In Andorra, Maxwell was more suited to the heat in France today.
"I do well in the heat. My coach Sam and I have a good system sorted out which suited me well. It was so nice compared with the last race."
She wanted to honour her world champion's status with an improved showing.
"Andorra was a bit of a disappointment after the Worlds in Scotland. I wanted to get the rainbows on the top step for my supporters and out of respect for the rainbows. It's a dream, an absolute dream."
Maxwell will now prepare, along with Anton Cooper and Sam Gaze, for the Paris Olympic test event in two weeks before heading to the final two rounds of the World Cup in USA and Canada.
In elite racing, Cooper finished 16th in the men's race, 2:31 down on French winner Victor Koretzky who held off Swiss superstar Nino Schurter, with the kiwi rider maintaining his 16th placing on the world rankings.
Fellow kiwi Ben Oliver, starting from the seventh row, worked his way up to 37th, 4m39s down on the winner.
Canterbury rider Ethan Rose, from the Team Talleys MTB Collective, scored his first top-10 finish of the season in the under-23 men's race, with an excellent rider to be 2:31 down on French winner Adrien Boichis.
The two-week stop in the Haute-Savoie includes the Marathon World Cup and Enduro World Series races next weekend.
RESULTS: World Cup Cross-Country, Under-23 women: Sammie Maxwell (NZL) 1:05.45, 1; Ronja Blochlinger (SUI) at 24s, 2; Ginia Caluori (SUI) at 58s, 3. Also NZers: Mia Cameron (Team Talleys) at 1lap, 44; Amelie Mackay (Team Talleys) at 1lap, 49; Annabel Bligh (Team Talleys) at 2laps, 51.
Under-23 men: Adrien Boichis (FRA) 1:04.59, 1; Riley Amos (USA) at 23s, 2; Carter Woods (CAN)_ at 31s, 3. Also NZers: Ethan Rose at 2:15, 10; Matthew Wilson (Team Talleys) at 5:03, 31; Caleb Bottcher (Rotorua) at 9:29, 79.
Elite men: Victor Koretzky (FRA) 1:26.45, 1; Nino Schurter (SUI) at 17s, 2; Vlad Drascalu (ROU) at 21s, 3. Also NZers: Anton Cooper (Trek Factory) at 2:31, 16; Ben Oliver at 4:39, 37.