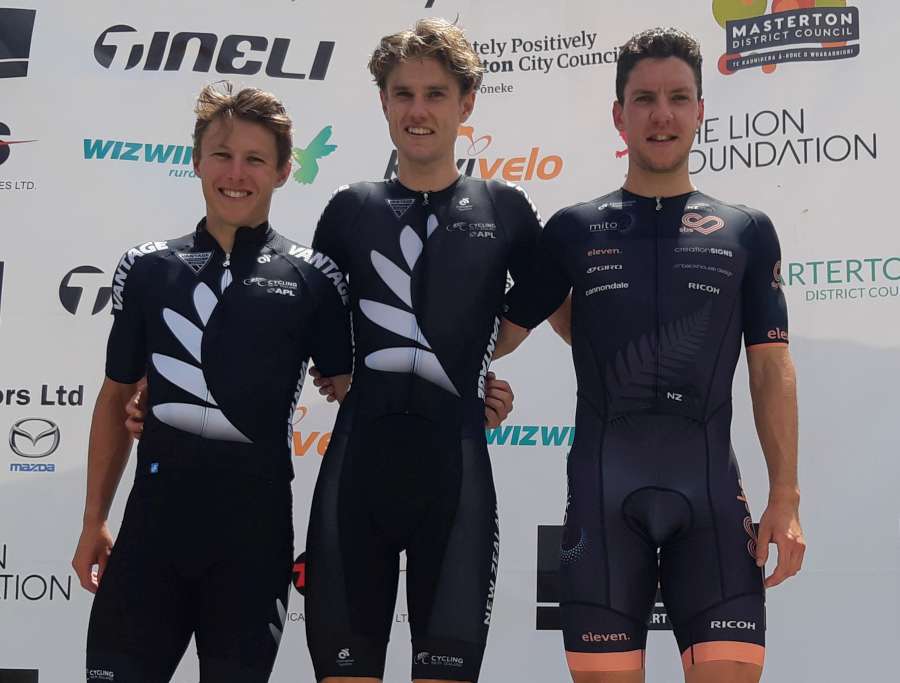 The Vantage New Zealand team had to dig deep with teenager Finn Fisher-Black claiming the stage four victory after catching the leaders near the top of ascent of Admiral Hill in the New Zealand Cycle Classic in the Wairarapa.
Initially it appeared that the third placing by teammate Corbin Strong was enough for him to move into the overall lead. However an audit of results by the commissaries has resulted in Fisher-Black taking the tour leader's yellow jersey by four seconds from Strong.
Black Spoke Pro Cycling rider Aaron Gate moves into third overall – with all results provisional at this stage.
An 11-strong break involving a group of young riders including yesterday's podium placegetter Glenn Haden and the Cycling New Zealand team rider, Ryan Christensen, rode impressively over the first 100kms of the stage.
They opened a five-minute advantage which threatened to upset the leading teams of Vantage New Zealand and Black Spoke Pro Cycling who had held back for the final test up Admiral Hill near Carterton.
"It was pretty stressful from about 60kms out when we realised there was a lot more horsepower up the road than we had thought. We had to really get the guys into gear and put the chase on," said Fisher-Black.
"Our guys and the Black Spoke boys rode phenomenally to bring that break back to a manageable distance at the bottom of the final climb."
Vantage New Zealand's noted climbers Reuben Thompson and Ollie Jones turned up the heat to make inroads on the climb and provide the platform for Fisher-Black and Strong to attack, as Christensen edged to what looked like a potential stage win.
"We went into the climb at the bottom with good pace from Reuben and Ollie and halfway up Corbin kicked in and I was able to go with him and the pace was enough to snap the Black Spoke guys.
"Once we got a gap we had to keep pushing and really suffer for the last few kms to catch the leaders. I'm happy I managed to get there."
Fisher-Black kicked for the victory from mountain bike star Ben Oliver (NZ Cycle Project) and Strong to complete the podium.