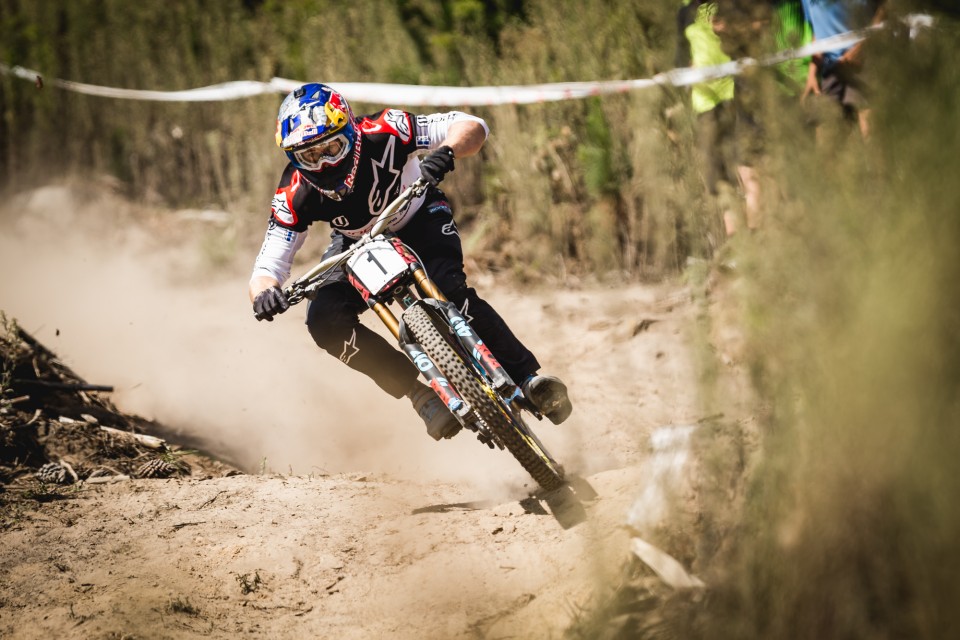 ALTHERM MOUNTAIN BIKE NATIONAL CHAMPIONSHIPS – DOWNHILL WRAP
After finishing runner-up in three of the last four years, the super-popular Hawkes Bay rider Brook Macdonald prevailed to claim the downhill honours at the Altherm Mountain Bike National Championships in Rotorua today.
The MS Mondraker professional, who set the fastest time in the seeding run, powered down the 2km course in the Whakarewarewa Forest in the final in 2:45.380. He beat off the challenges from fellow professionals Keegan Wright (Rotorua), the 2017 national champion, and Wyn Masters (New Plymouth).
Masters, the GT Factory Racing professional, set the standard in 2:50.683 to claim the hot seat until Wright (Unior/Devinci Factory Racing) edged him by nearly two seconds down the fast, dry and testing course.
Visiting professional Max Hartenstern from the Netherlands went faster, but was not eligible for medals and was pipped by Macdonald anyway who grabbed his first national elite title since 2013, also in Rotorua.
"This means a lot. I had only won it once before so to be able to wear the national jersey in the World Cup circuit is an honour and I will wear it with pride," MacDonald said.
"This is my first competition for some time so it is nice to start the year off with a win. Last year was good and consistent for me," said the world number sixth ranked rider. "This gives me some confidence as I move into the international competition ahead."
Auckland's Kate Weatherly defended her elite women's downhill title in emphatic fashion. She clocked 3min07s to win comfortably from Tauranga's Shania Rawson by 17 seconds with Auckland's Virginia Armstrong in third.
"I am so stoked. The track suited me so well and I've been training really hard," said Weatherly. "I get to train here on a regular basis as well so I am used to the terrain around here.
"For me now I will compete at Crankworx this week and look to head overseas for the World Cup circuit and hopefully the World Championships."
There were some outstanding performances from the top age group riders, none more so than Auckland teenager Blake Ross, who won the under-19 boys title. Ross, a member of Cycling New Zealand's Subway National Mountain Bike Performance Hub, clocked 2:50.537s, the fourth fastest time of the finals across all age groups.
Many of the elite competitors will now turn their attention to the international Crankworx competition in Rotorua starting on Tuesday.
Results:
Male, Elite: Brook Macdonald (MS Mondraker, Napier) 2:45.380, 1; Keegan Wright (Unior/Devinci Racing, Rotorua) 2:48.817, 2; Wyn Masters (GT Factory Racing, New Plymouth) 2:50.683, 3.
Under-15: William Harvey (Rotorua) 3:20.967, 1; Jake Earnest (Auckland) 3:21.063, 2; Ryan Hastings (Rotorua) 3:22.620, 3. (GT
Under-17: Marcus Ross (Rotorua) 2:58.170, 1; Guy Johnston (Rotorua) 2:59:647, 2; James Macdermid (Rotorua) 3:01, 3.
Under-19: Blake Ross (Rotorua) 2:50.537, 1; Finn Hawkesby-Brown (Christchurch) 2:55.283, 2; Ethan Blanchard (Auckland) 2:58.803, 3.
Masters 1: Thomas Sinclair (Auckland) 3:04.213, 1; Rhys Telford (New Plymouth) 3:09.107, 2; Matt Hunt (Rotorua) 3:16.977, 3.
Masters 2: Richard Bodle (New Plymouth) 3:32,.103, 1; Andrew Tarplett (Rotorua) 3:36.923, 2; Paul Simkin (New Plymouth) 3:45.883, 3.
Masters 3: John Cobb (Wellington) 3:35.057, 1;
Sport: Sam Blenkinsop (Christchurch) 2:49.123, 1; Stanislav Sehnal (CZE) 2:59.073, 2; Mitch Armstrong (Rotorua) 3:02.137, 3.
Female:
Elite: Kate Weatherly (Auckland) 3:07.950, 1; Shania Rawson (Tauranga) 3:24.453, 2; Virginia Armstrong (Auckland) 3:27.283, 3.
Under-15: Caitlin Flavell (Rotorua) 3:50.487, 1; Sacha Earnest (Auckland) 3:54.023, 2; Awen Lloyd (Nelson) 4:30.410, 3.
Under-17: Jenna Hastings (Rotorua) 3:33.227, 1; Rebecca Hufflett (Nelson) 3:58.568, 2; Hope Gibbard (Tauranga) 4:4.9002, 3.
Under-19: Fiona Murray (Christchurch) 3:51.070, 1; Jessica Blewitt (Queenstown) 3:51.450, 2; Maia Jowett (Queenstown) 4:03.440, 3.
Masters 1: Amanda Monk (Rotorua) 3:50.147, 1.
Sport: Cati Pearson (Rotorua) 3:57.190, 1; Kaytee Campbell (Rotorua) 4:04.527, 2; Liv Jackson (Rotorua) 4:28.350, 3.
CAPTION: Brook Macdonald in typically aggressive form on his way to victory in the elite men's downhill at the Altherm Mountain Bike National Championships in Rotorua. (The image is free for editorial use only. Mandatory credit: Cameron McKenzie Photography)