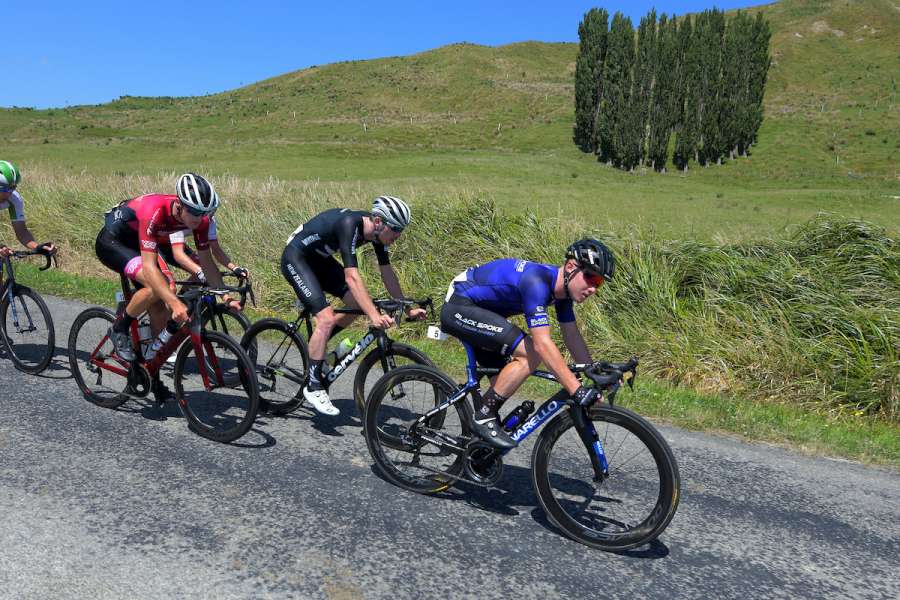 Points race world champion Corbin Strong led the peloton sprint to be in second place overall after stage two of the New Zealand Cycle Classic in Wairarapa.
Strong led the Vantage New Zealand National team on stage two and retains the under-23 green jersey in the 34th edition of the UCI-sanctioned tour.
Luke Mudgway, a former junior world champion on the track, was the lone survivor from the break, holding on for an impressive victory over the lumpy 160km stage with an uphill finish back into Masterton.
The Black Spoke Pro Cycling rider finished 17 seconds clear of the peloton that swept up the remnants of the breakaway riders, with Strong winning that sprint ahead of his fellow Vantage elite trackmate Aaron Gate (Black Spoke) and Vantage New Zealand teammate Finn Fisher-Black.
The Vantage New Zealand team placed Ollie Jones in the break that went clear midway through the stage but gradually thinned down before Mudgway powered clear in the closing stages back to Masterton.
Mudgway takes over the leader's yellow jersey, and with the time bonus, has a 15 second advantage over Strong going into stage three, which includes a multi-lap street race at Martinborough.
Gate is third overall at 25 seconds ahead of the Vantage New Zealand National riders Finn Fisher-Black and Laurence Pithie.
"We were happy to let the break go but Mudgway was too good in the final climb," said Vantage New Zealand team manager Marc Prutton. "The peloton finished fast and caught everyone else with Corbin impressive in that final sprint home.
"Tomorrow will be super-fast and we will look to competitive throughout."
Mudgway also leads the KOM category from Ollie Jones and Bailey O'Donnell while Strong leads the under-23 classification from teammates Fisher-Black and Pithie. The Vantage New Zealand team trails Black Spoke Pro Cycling by just four second in the team classification.
Strong praised his team's mates as well as Mudgway's performance.
"It was quite a nice finish. I like this finish up the wee climb. It was 50:50 if the breakaway was going to come back or not but we were not to stressed as we had Ollie Jones up there. It was a big GC directive from our team, so the break ended up mostly coming back and it was a bunch gallop for second. The team did an awesome job with Regan (Gough) and Laurence (Pithie) leading us into the bottom of the hill.
"I was able to get up for second on this stage and those guys had top 10 finishes which is good, but it was a pretty phenomenal ride by Luke Mudgway to stay away like that and he's going to be a hard man to beat after today."
The 126km stage starts in Masterton to Martinborough before completing nine laps of a 7km circuit around the town
Stage 2 results: Luke Mudgway (Black Spoke) 3:39;41, 1; Corbin Strong (Vantage NZL) at 19s, 2; Aaron Gate (Black Spoke) same time, 3; Finn Fisher-Black (Vantage NZL) at 19s, 4; Ben Oliver (NZ Cycling Project) at 21s, 5; Laurence Pithie (Vantage NZL) same time 6.
General classification: Mudgway 3:51:09, 1; Strong at 15s, 2; Gate at 25s, 3; Fisher-Black at 26s, 4; Pithie at 28s, 5.