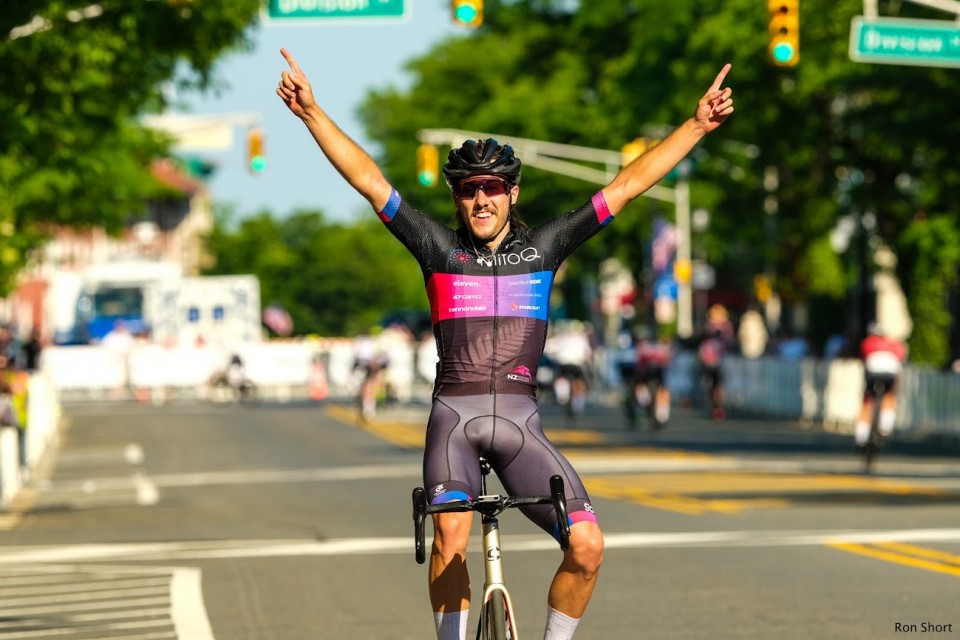 KIWI GEORGE JACKSON WINS NORTH AMERICA'S OLDEST CYCLING RACE
Wellington cyclist, George Jackson (22) of team MitoQ – NZ Cycling Project has confirmed his immense talent by winning the Tour of Somerville, the oldest bike race in USA.
Held on the Memorial Day holiday in Sommerville, New Jersey, the Tour of Sommerville, or as it is fondly known the "Kentucky Derby of Cycling", saw the professional men's peloton race in sweltering 30C degree temperatures for nearly 100kms.
With an average speed of around 47km/hr, the pace was hot as Jackson and teammate Theo Gilbertson attacked the favourites to form a select breakaway early on.
It was a race of attrition as riders dropped from the breakaway, with Jackson having enough in the legs to win the sprint and get his name in the history books.
Jackson said: "It is so special to win Somerville and it is actually the first time I have ever been able to throw my hands up after winning a big bike race. To do it with help of my best mates is something I will never ever forget. I just can't believe it's happened".
Jackson is fresh off winning the King of the Mountains classification at America's largest stage race, the UCI 2.2 Joe Martin Stage Race in Arkansas where teammate, Josh Burnett, won the young rider classification also.
Proving he is a rider of the future, Jackson was recently selected by Cycling New Zealand to race in the UCI Track World Cup in Milton, Toronto where he finished seventh in the Omnium.
New Zealand cyclists have had a long and fruitful history at the Tour of Somerville with past kiwi winners including Julian Dean, Tim Gudsell, Graeme Miller and Gary Anderson. In fact, the winners medals this year were fashioned in the likeness of New Zealand cycling legend Dean.
MitoQ - NZ Cycling Project are three weeks into their three month cycling campaign in USA, and they will look to continue their success next week at the Boeing Armed Forces Classic in Virginia and the brutal 321km Garmin Unbound 200 in Kansas, the biggest gravel race in the world.
Photo: George Jackson winning the 2022 Tour of Somerville;